DVDs from TCM Shop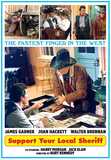 Support Your Local Sheriff! A cowboy drifts into a lawless... MORE&nbsp> $14.96 Regularly $19.95 Buy Now
Articles
SEE ALL ARTICLES
Support Your Local Sheriff! (1969)
Although he said he was sick of Westerns after his long run in the TV series Maverick (1957-1960) and several big screen horse operas, or perhaps because of that sentiment, James Garner was happy to produce this parody of the genre under the aegis of his Cherokee production company. The hilarious Western spoof proved to be such a hit, the star went on to do a sequel, Support Your Local Gunfighter (1971), and another period comedy about a couple of guys, one white and one black, who exploit slavery and American racial prejudice for financial gain, Skin Game (1971).


In Support Your Local Sheriff, Garner plays a man trying to make his way to Australia (a running gag throughout the story) who finds himself financially strapped in a small frontier town. He reluctantly accepts the job as sheriff and hires the town drunk as his deputy. Garner arrests a notorious outlaw and forces him to build a new jail, bringing down the wrath of the outlaw's grizzly old father. In a climactic shoot-out, a fractured version of the legendary Wyatt Earp's gunfight at the OK Corral, the sheriff defeats the gang with the help of an apparently empty cannon. There's a fun homage/spoof here of other serious depictions of Earp's famous fight, especially in Walter Brennan's self-parody of a very similar role he played as patriarch of the Clanton gang in John Ford's My Darling Clementine (1946).


The film knocks the stuffing out of some hoary old Western cliches but also displays affection for the genre, thanks to an amiable script and the direction of Burt Kennedy, who began his career writing screenplays for the small-scale, offbeat Westerns of director Budd Boetticher in the 1950s. Throughout the following decade, Kennedy distinguished himself directing more serious and bloody examples of the genre, including Welcome to Hard Times (1967) and The War Wagon (1967), as well as episodes of the TV series Lawman (1962) and The Virginian (1962).


For a film as lighthearted as Support Your Local Sheriff, the project began with its share of headaches and bad feelings. Paramount Pictures obtained a copy of the script before shooting began and quickly fired off a threatening letter to United Artists, the movie's distributor, noting that the opening sequence of the film in which the female lead, Joan Hackett, finds gold in an open grave closely paralleled the opening scenes of Paramount's musical Western Paint Your Wagon (1969). The studio warned the plot as written constituted a copyright infringement, leading United Artists to shoot a message to Garner and his Cherokee company holding them legally responsible for any problems. Garner's attorney immediately responded that there was no infringement because the disputed passages were taken from a previous printed work, Recollections of the California Mines. Production went forward and although some correspondence between the studios continued, the conflict eventually died quietly without any court battles.


Director: Burt Kennedy
Producer: William Bowers
Screenplay: William Bowers
Cinematography: Harry Stradling, Jr.
Editing: George W. Brooks
Art Design: Leroy Coleman
Music: Jeff Alexander
Cast: James Garner (Jason McCullough), Joan Hackett (Prudy Perkins), Walter Brennan (Pa Danby), Jack Elam (Jake), Bruce Dern (Joe Danby), Harry Morgan (Mayor Olly Perkins), Henry Jones (Henry Jackson), Gene Evans (Tom Danby), Kathleen Freeman (Mrs. Danvers), Willis Bouchey (Thomas Devery).
C-93m. Letterboxed. Closed captioning.

by Rob Nixon


back to top
---