DVDs from TCM Shop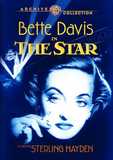 The Star A faded film star fights to... MORE&nbsp> $13.46 Regularly $17.99 Buy Now
USER REVIEWS
See Detailed Ratings
Acting of Lead Performers

Acting of Supporting Cast

Director

Music Score

Title Sequence

Screenplay

Cinematography

Historical Importance

Would You Recommend?

0 Member Ratings
Rate the acting of the Lead Performers

Rate the acting of the Supporting Cast

Rate the Director

Rating of the Music Score

Rating of the Title Sequence

Screenplay

Creatively uses the camera to tell the story

Importance in Cinema history

Would you recommend for fans of this genre
Submit Ratings
Cancel
Write a Review
Read Reviews
NO REVIEWS AVAILABLE
The title has not been reviewed. Be the first to write a review by clicking here to start.
Great Davis & Hayden

Great love interest with Ms Davis & Sterling.Loved the supporting cast,esp Natalie!

Bette Shines in "The Star"

Bette STARS in "The Star" and it would be her last great role for a while, ending her long years of stardom which began with Jezebel in 1938. Here she plays Margeret Elliot, a cinema Diva who's seen better days. Her last three films have been flops and she has no contract. To make matters worse, she's broke and having to auction off her possessions to pay debt. She's plagued by leeching relatives and guilt over a teenage daughter (Natalie Wood) who she can't afford to have live with her. She finally snaps one evening, grabs her Oscar (Come on Oscar, let's go get drunk!) and goes for a joyride around Beverly Hills pointing out the residences of younger stars and finally her own mansion, now displaying a For Sale sign on the gates. "Going, going, gone..." she sobs. She ends up in jail and gets bailed out by an ex-actor who was in one of her films (Sterling Hayden). The production is "B" picture quality, but Bette is magnificent in all her self pity and vanity. She really is the whole show appearing in nearly every scene. It's sort of a lower key "Sunset Boulevard" without the murder. The script is tailored for her and she gets some of the best dialogue she'd had in a while. The ending is trite, she realizes the fame isn't real and finds true love in the arms of a working man, but it doesn't matter. We loved the ride! She claimed in later years to have been channeling Joan Crawford, but the film more closely mirrors her own career woes at the time.

Amazing Performance, Do Not Miss!

Davis is so good, the viewer cringes with embarrassment for poor Margaret's clinging to lost glory and riches.Margaret's drunk driving , ranting, resisting and arrest scene is amazing. Most characters in the film might seem bland compared to Margaret's character, but that is because they are hardworking, pragmatic people who are realistically sympathetic, but do not let her get away with too much.The parasitic relatives are a hoot. Wonderful to see them get a comeuppance.A great ensemble cast.

The Scar

This movie was accurate in its revealing the potential fall that most women experience after age 45 when their facial features are no longer held in place by a firm & flexible complexion while the body's natural metabolism has retired! Most movie/tv stories of interest ,which feature female leads,have nubile actresses as objects of the plot whether suspense, adventure, crime, comedy, etc. & always in the context of romance, sex, or sexual equality sex. Few people can take middle aged to elderly actresses in these roles- although it has been done. The B.D. character realized this harsh truth after youthenizing herself for her film test only to be mortified by her ridiculous image & acting! She was fortunate to have been sought after & comforted by the S.H. character who saw & appreciated the womanly practically of older ladies...Better than nothing!

The Star

I always thought The Star was inspired by Joan Crawford.

The Great Bette!

Bette Davis has her fans and we all have favorite Bette Davis films but few can compare to this great film. Said to be partly based on Bette's great peer Joan Crawford, Miss Davis creates a brilliant portrait of a lonely driven woman. Every time I see this movie I marvel at the peformance. I liked the scene where she awakens and joins the party and inquiring of a part says "How will you create sympathy for the character?" Bette surely does. Kudos to La Grande Bette!

The Star (1952)

Excellent post Warner brothers Bette Davis film. As always, she is marvelous and gives great emotional depth to the role, especially since the subject matter very likely hit close to home with her. Very well written and directed. It's Bette's film all the way and she did deservedly receive an Academy Award nomination. (She lost to Shirley Booth for Come Back Little Sheba.)

...and for her 10th Oscar nomination

Yes, TCM, as the "Of Human Bondage" pagehere states, Bette Davis was nominated for her 1st Best Actress Oscar then; thatmakes her nomination for this film number10 & "Baby Jane" number 11. Speaking ofOscars, Davis uses 1 of her Oscars (she had over a dozen of Best Actress trophiesfrom various orgs. including the NY film critics prestigious ones) in this film.Her character is an actress on the skids& very drunk. In her stupor, she begins speaking to her Oscar then takes it for a ride through the Beverly Hills mansionson a mad tour. This is one of the many memorable scenes Davis creates with meticulous acting skill supposedly duringher "1950's career slump." Of course, when considering that, one has to ask what a career slump is for an actor whosework ethic is "savage"? I guess after making 9 films in 1932, or 1 in 1950 that was nominated for 14 Oscars, one film a year (with awards & nominations still rolling in) might seem sluggish, eh?

Classic Davis Film: 10th Oscar Nomination

The 3 best aspects of this classic film are: Bette Davis, Bette Davis & Bette Davis, in that order. Without the performance of Bette Davis this film would not have become a classic. Bette Davis came out of a great decade in her acting career, the 1940's, full steam forward. "All About Eve," was released first, was 1950's Best Picture & earned Davis another Best Actress Oscar nomination, as well as, the most prestigious Best Actress awards."Payment on Demand" was released a year late in 1951. "Another Man's Poison" is Davis' stunner of 1952. Then, this classic in 1953 earning Davis her 10th Oscar nomination. Followed by yet another classic, "The Virgin Queen," in 1955, etc ....

Script, Cast, Acting & Delivery

"The Star" has all the elements that a great actor like Bette Davis could build upon to earn another Oscar nomination forBest Actress. First, there's a succinct script. Next, the casting is just right with Sterling Hayden, a handsome hunk whois down to earth (and into the sea), and young teenage Natalie Wood as Margaret Elliot's (Davis) daughter, Gretchen. All three main actors are veterans who don'tfall short of expectations that they willdeliver convincing performances. In particular, Bette Davis. She and her realOscar become 'the star' taking a drunken drive around Beverly Hills' mansions. Down and out, Elliott is a character who Bette Davis becomes on a set but never lives the same fate in her real life.

What a good movie!

When I saw that Bette Davis had been nominated for another Oscar for acting out the role of Margaret Elliott I had to have a watch of this movie. Sterling Hayden became a favorite actor of mine after seeing him as Jim Johanson, the man who helps Margaret learn to live outside of Hollywood. Young Natalie Wood's acting as Margaret's daughter Gretchen is so good. I like the script lines in this movie because there doesn'tseem to be wordiness. Bette Davis is such a master of line delivery anyway.

Davis, Hayden & Wood Classic

Bette Davis is the star of "The Star." Her character is named Margaret Elliott. Davis played her so well she was nominated for yet another (of 11) Best Actress Oscars. The cameras' gazes are turned back upon how Hollywood treated women before the 1950's. Writing Hollywood means how men in power over women actors devalued ones who reached middle age. Natalie Wood plays the role of Gretchen, Elliott's pre-teen daughter.Sterling Hayden plays Jim Johanson, the man who comes to Elliott's rescue. Davis' performance is easily Oscar worthy, she's so fascinating as she goes in and out of emotional changes. Plus, Davis is really a treat at acting drunk. She nails that.

Another Oscar Nomination for Bette Davis

Fortunately, Bette Davis was a very self-disciplined & strong-willed woman when she was performing in Hollywood. She didn't experience what her character, Margaret Elliott, did. Instead, Bette Davis defied the expectations of men with power over her by continuing to act consistently throughout her entire career, even up to her death at 81 years of age. She was one of the pioneers in screen acting who broke the age barriers for women actors, along with Lillian Gish (who acted in lead roles until she was 94 years of age). "The Star" is about an actress being dumped by her studio because she's reached middle age & how she struggles to cope with losing her career. Bette Davis gives an Oscar nominated performance. Sterling Hayden makes a good co-lead & Natalie Wood is amazing as Elliott's young teen daughter.The script is loaded with great lines.

An Indictment on Hollywood Men

Why was Margaret Elliott (Bette Davis) no longer wanted to performance on movie making sets? Had she done something wrongto lose her career? No, in a word. Midwaythrough her life, probably when she was at her wisest period, she's too old to still be a 'star', according to the former Hollywood system. Her sex matteredtoo. If she'd been a man who played leading cowboy roles would it have made as much different if she had matured? No, again. Elliott winds up with an Oscar& no career, with a child, Gretchen (Natalie Wood), to support. Enter shipyard owner Jim Johannson (Sterling Heyden) to bail her out of jail after a drunken drive with her Oscar. She's helped him land a part in a film so the way he views, he's returning the favor. They wind up together with Gretchen. The script reveals blatant gender bias against women, deliberately. In the 1950's, many women were viewed in diametrically oppositional terms: either they were content to be women or they were "careers." This is the crux of the plot of "The Star." Exposing Hollywood's men's views of the women whose work lined their pockets.

Another Oscar Nomination for Bette Davis

Margaret Elliott (Bette Davis) can be viewed as a representative of every woman actor who'd experienced Hollywood production companies' agism & sexism. What's a mid-life woman movie star to do when she's treated as if she's over the hill? That's what Elliott faces. What kind of job does an actor go for after they're no longer wanted because of their age & gender? Bette Davis goes way into character to play Elliott as a womanin emotional crisis who's turned to drinking alcohol to numb herself out. At the worst point of her drinking, one night she clutches her Oscar & begins to talk to him in a slurred stupor saying this famous line from the film: "Come on,Oscar, let's you and me go get drunk!" The Oscar Davis used was really one of her own. Sterling Hayden plays the every day guy who helps Elliott learn to live again. A very young Natalie Wood plays Elliott's only child. Great casting, great performances & an unfortunately all too true to reality plot.

Examining Agism in Hollywood

This film could have been entitled, "Any Woman Actor," because the fate of the barely middle-age movie star (Bette Davis) is to be put out to pasture. That used to be common practive in Hollywood production companies. What this film succeeds masterfully well doing is zooming in on one particular woman actor whose career is being systematically faded out. She hasn't suddenly lost her ability to act; she's only become a middle-age woman. That was equivalent to the beginning of the end of a woman's career. It shows how Hollywood was selling women's sexuality, rather like a granddaddy institutional pimp. Beiung displaced from her profession, the woman actor sinks into depression. With0out an alternate plan for beginning a new career in mid-life, she's self-medicatingto cope with her grief. Davis plays the role that she never lives out. Her career didn't depend upon her being a sexual object either on or off screen. Acting skill was always Davis' forte', so aging on screen wasn't a problem for her or the other classic women actors. But for those who used the casting couch to land parts or their youthful looks to have an appeal to audiences, they were cast out of motion pictures. Great story & even better acting by Davis & Hayden.

All About Margaret!

This could have been the sequel to "All About Eve".Sterling Hayden plays a good egg in this one!And a very young but blossoming Natalie Wood!

1953 Oscar Nomination for Bette Davis

As a drunken, has-been actor, allegedly loosely based upon the life of Joan Crawford, Bette Davis delivers an Oscar nominated performance as Margaret Elliott. Her unforgettable line as Davis grabs her own real Oscar is, "Come on, Oscar, let's you and me go get drunk!" The sexism of Hollywood's studio system is the real target of this film. The plot reveals how a woman only had to reach mid-life and she was practically put out to pasture. Look at what's beneath the surface, not just what's going on in the life of Miss Elliot. She wouldn't have been in such a position if not for the studio system's double standards for women actors and men actors as they age. Mind you, Bette Davis was only 44 when she played this role. Hardly 'over the hill" considering she acted up to her death at the age of 81 (October 1989). (Now, Lauren Bacall is still in leading roles at age 84.75!).

Faded at 44yo? Ha! With 35 Years to Go...

Hollywood's male moguls of the studio system were men 1st, professionals 2nd. Gender mattered unequally in 1952 when "The Star" was released. Bette Davis was STILL in her acting prime & remained so throughout her career for the next 35 years! The bios & critiques that speak of her career's slumps seem ridiculous now, in light of her full filmography (not listed here). There wasn't ever a decade in Davis' career when she didn't steadily work; although, she wanted more work, at times. Like Miss Elliot, Davis was career driven. Elliot, the fallen star, shares in Miss Davis' experiences with gender inequality.

A star plays a faded star.

I have only recently been able to view "The Star" on DVD and although it is not one of Bette Davis' better known films, she acquits herself very well playing a formerly successful Oscar winner now down on her luck. Her awful screen test and later her aghast reaction to her bad acting in the test are priceless and no doubt the reason for her Academy Award nomination for this role. A young and hunky Sterling Hayden plays her saviour and love interest and Natalie Wood plays her daughter. A small budget film which is better than its budget would suggest.
*We protect your personal infortmation and will not provide it to anyone without your consent. For a complete explanation, please refer to TCM's Privacy Policy. By submitting your contribution, you agree to TCM's Terms of Use.