DVDs from TCM Shop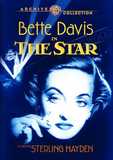 The Star A faded film star fights to... MORE&nbsp> $13.46 Regularly $17.99 Buy Now
Home Video Reviews
Here's a role that many might think would terrify an actress in Bette Davis' position - the tale of a washed-up big-time glamour star incapable of realizing that the Hollywood 'sleigh ride' is over. Davis attacks it with the sincerity she gave all of her film work. The movie verges on melodrama, but Davis emerges as strongly as ever.
Synopsis: Fabled movie star Margaret Elliot (Davis) hits the skids. The millions are gone and she's deeply in debt with her agent Harry Stone (Warner Anderson); she has to scream to get her chiseling relatives to realize that the cash well has run dry. After a wild car ride with her Oscar® and a scandalous night in the Beverly Hills drunk tank, Margaret is at her wit's end. Her bail is paid by Jim Johanssen (Sterling Hayden), a boat mechanic who once played opposite her in an old movie. He tries to make her face up to facts, but she stubbornly gives her illusions one more try. In a screen test for a frowzy 'older sister' role, Margaret foolishly makes a play for the leading part: an 18 year-old ingénue.
Margaret Elliot of
The Star
isn't modeled after Bette Davis, who obviously didn't go broke and had loving relationships with her relatives. It was written more with a Joan Crawford type in mind, the kind of star that thrived on glamorous illusions and would do anything to stay on top of the Hollywood heap. Elliot talks about once having been labeled 'box office poison,' which was Joan's problem, not Bette's.
The Star
charts the descent of a proud woman who finds that her associates and friends either won't or can't help her. Salvation comes in the form of an old admirer Jim. (Sterling Hayden, soon before becoming a Hollywood dropout, is clearly enjoying his sailing scenes). With a conventional marriage Margaret can attend to her family responsibilities with her daughter Gretchen (an amusingly kittenish Natalie Wood), but Jim's biggest contribution is to encourage Margaret to reevaluate herself. After she confronts the harsh truth of her age in her grossly misjudged screen test, the final blow comes from Paul Frees' plain-speaking screenwriter. "I have the perfect part for you," Frees purrs, and proceeds to basically describe the concept for the movie we're watching ¿ a tragedy. Margaret sees the light and runs back to Jim as fast as her feet can take her, cured of her illusions.
Katherine Albert and Dale Eunson's script is less critical of Hollywood than most inside stories, but it does make some good points. Barbara Lawrence plays the newer, younger star that Margaret feels has stolen her spotlight. Margaret's inability to face any reality that doesn't acknowledge her as a top attraction shows that the problem is with her, not Lawrence or some cruel system. Sterling Hayden's character turns out to be a carpenter pushed into acting because of good looks. Like many co-stars for powerful female figures, he was basically a piece of stage furniture that wouldn't compete for the camera's attention ¿ something we've long suspected about many a star's leading men, even those of Bette Davis.
The Star
was an independent acquired for release by Fox, which had just enjoyed a huge success with Davis in
All About Eve
. It doesn't have the look or polish of a studio picture and Davis adapts well to being photographed in harsh outdoor lighting with a real breeze messing up her hair. She's attractive because she still has those eyes, and hasn't forgotten how to play a convincingly imperfect character. Always the actress, Davis maintained a high level of quality to the end of her career.
Warners' DVD of
The Star
is a fine transfer of a rather plainly photographed film. The sharp image allows us to read the street signs on the authentic Los Angeles locations. The pretty theme song
My Foolish Heart
has probably enjoyed a longer life than the film itself.
Extras are a trailer and an efficient featurette that uses the opinions of biographers and critics to separate Davis' image from that of the fictional Margaret Elliot. Unlike many another acting diva, Bette Davis' glowing opinion of her talents was never an exaggeration.
For more information about
The Star
, visit
Warner Video
. To order
The Star
, go to
TCM Shopping
.
By Glenn Erickson