DVDs from TCM Shop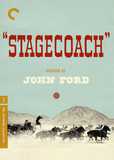 Stagecoach A group of disparate... MORE&nbsp> $25.97 Regularly $39.95 Buy Now
Trivia
Asked why, in the climactic chase scene, the Apache warriors didn't simply shoot the horses to stop the stagecoach, director 'Ford, John' replied, "Because that would have been the end of the movie."
This was the first of many films that 'Ford, John' filmed in Monument Valley. Others were: My Darling Clementine (1946), Fort Apache (1948), She Wore a Yellow Ribbon (1949), _Wagonmaster (1950)_ , Rio Grande (1950), Searchers, The (1956), Sergeant Rutledge (1960) and his last western, Cheyenne Autumn (1964).
The premise of Ernest Haycox's story comes from Guy de Maupassant famous story 'Boule de Suif' which takes place in Normandy during the 1870 war with Prussians.
Orson Wells privately watched Stagecoach about 40 times while he was making Citizen Kane (1941).
Near the end of the movie, Luke Plummer (Tom Tyler) has a pair of black aces and a pair of black eights. This is the notorious "dead man's hand" supposed to have been held by Wild Bill Hickcock before he was killed.
To simulate being shot during the chase sequence, the Apache actors would ride their horses until they were tripped with a rope and thrown off as the horses fell down. This was before the days of "No animals were harmed in the making of this film," and many horses had to be shot because of broken bones.