DVDs from TCM Shop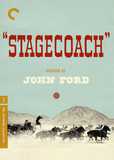 Stagecoach A group of disparate... MORE&nbsp> $25.97 Regularly $39.95 Buy Now blu-ray
Home Video Reviews
It's one thing when all of the elements of a film "click" to produce a superior picture. It's another when a film flies in the face of commercial trends, elevating a C-grade genre to "A" film status and creating a major star from a career-challenged has-been. John Ford's 1939
Stagecoach
does all that and more. This B&W classic has provided lessons in the grammar of good filmmaking for generations. Orson Welles saw it and decided that John Ford was the best director in Hollywood. Critics and film structuralists have taken Ford's drama apart and come up with conflicting theories. Critic Richard Corliss studied the script's stock characters and "miracle" plotting and, like the engineer who concluded that bees can't fly because they don't follow the rules, adjudged
Stagecoach
"a box of faded Hollywood conventions". In interviews Ford often contradicts himself. He's famously quoted identifying himself at a famous Director's Guild meeting by saying, "My name's John Ford. I make westerns". In a later interview (included on this disc) he distances himself from the genre and says he has no particular interest in it.
Stagecoach
rolls nine character clich&e;s and a corny selection of silent western situations into a 'hazardous journey' plot yet somehow comes up with a riveting drama that grabs our emotions. An overland stage to Lordsburg is packed with travelers nervous about the Apache renegade Geronimo, who has broken free of the reservation. Whiskey salesman Samuel Peacock (Donald Meek) is concerned about his family back in St Louis. Pregnant army wife Lucy Mallory (Louise Platt) is anxious to get to her husband, an officer serving in the cavalry. Shifty gentleman gambler Hatfield (John Carradine) goes along to protect her. Doc Boone (Thomas Mitchell) and prostitute Dallas (Claire Trevor) are being ushered out of town by an unpaid landlord and a pack of church ladies. Slipping aboard at the last minute is banker Henry Gatewood (Berton Churchill). The coach driver is Buck (Andy Devine) and riding shotgun is Marshal Curly Wilcox (George Bancroft). Curly has come along to arrest prison escapee The Ringo Kid (John Wayne), who wants revenge on the three men who killed his father and brother.
Ford and scenarist Dudley Nichols make
Stagecoach
a
Grand Hotel
on wheels, but with far better storytelling skills. Introduced as stereotypes, the passengers soon take on back stories, or hints of back stories. The milquetoast whiskey drummer earns our approval as a tenderhearted protector of new mothers and babies. The cowardly coach driver is more than sympathetic to the plight of the outlaw hero. The priggish Eastern woman demonstrates that she's a good soul beneath her social constraints. Ford includes a clownish alcoholic Irish doctor for a few easy laughs, a choice redeemed by Thomas Mitchell's excellent acting.
Oddly, the film's most hackneyed plot turns are its strongest scenes. Doc Boone sobers up to deliver a baby, regaining his self-esteem. The last-second rescue by the cavalry ties in with a "save-the-last-bullet" moment that by all rights should be an intolerable bit of cheap manipulation. It works because Ford fully embraces the gallantry of the shooter, a Southern aristocrat who has chosen to lose himself in the wild west over some unspoken disgrace back home - one that apparently involves Mrs. Mallory. Hinted at with only a few glances and allusions, this hidden drama is a match for the Ethan Edwards - Martha relationship in
The Searchers
. It's Carradine's greatest role and some of John Ford's most sophisticated storytelling. Critic Richard Corliss decided that the director added little to Dudley Nichols' script, a statement belied by Ford's delicate and nuanced handling of every character on screen.
I don't think that
Stagecoach
is the "psychological" western that Peter Bogdanovich describes. That descriptor wouldn't really apply until the 1950s when post-nuclear angst seeped into performances and themes, turning western heroes into bundles of complexes, even if only superficially expressed. But
Stagecoach
is decidedly adult in its outlook, especially considering the fairly infantile roost occupied by the average western programmer of the 1930s. Top-billed Claire Trevor's Dallas is clearly a low-grade prostitute -- she doesn't use a real name, but is known by where she can be found. The screenplay goes in for several 'rehabilitations of the soul', and the essentially innocent Dallas is a prime candidate for regeneration. She's even compared directly to the Virgin Mary. Her hopes for a better life are rekindled by another 'innocent' loser. Fugitive murderer The Ringo Kid has been locked up since he was Seventeen, yet is so unspoiled that he doesn't recognize Dallas for what she is.
Excluding a few noble outlaws, Hollywood's big westerns always starred true-blue good guys and virginal heroines.
Stagecoach
breaks the mold by proposing a whore and an outlaw to represent New Hope in the New Land. Perhaps this is part of Ford's (then) liberal political slant, the same humanist outlook that led him to embrace John Steinbeck's
The Grapes of Wrath
. Ford gleefully identifies the hypocrite banker Henry Gatewood as society's biggest enemy. Viewers always roar with approval when Gatewood is hauled off to the calaboose, but Ford is doing much more than just playing to his Depression-era audience.
Stagecoach
made the western genre more relevant, placing its action thrills in a more compelling dramatic context. John Wayne really earns his newfound stardom, holding his own against a cast of scene-stealers. We know we're dealing with a new cinema icon from his very first shot.
Stagecoach
is as smartly constructed as a Swiss watch, and its cutting patterns have often been analyzed shot-by-shot by academic film theorists. I think I dropped all notion of continuing in grad school critical studies after slogging through a treatise purporting to explain Ford's big chase scene in semiological terms. Not only was the paper a deadly read, it assigned ludicrous intellectual explanations for directing choices that Ford would clearly make on an instinctual basis. It should also be obvious that Ford's stunt expert Yakima Canutt had a big influence on the way the chase was assembled.
The chase sequence is often criticized for breaking the 180° line. The stagecoach moves left-to-right in one shot and in the next is suddenly moving right-to-left. This kind of faux analysis applies a Rule without understanding the reason the Rule was invented. Really glaring screen direction errors are rare in sound films, but crop up more often in silents (where, it is possible, they were once separated by other shots or inter-titles). I tend to find them in films by G. W. Pabst. Louise Brooks will talk to someone off screen, and the cut will reveal her listener facing in the same direction. To us it looks like the camera has cut to a third person that happens to be looking off-screen at the unseen listener.
The 180° line rule is important only when its violation risks viewer confusion. Two people talking in a room suggest an invisible eye line between them, and crossing it might confuse the audience. But a stagecoach racing across a featureless plain doesn't have a "line", only a simple Vector of motion, a big arrow representing the coach. We know that the Indians are all following the coach. When we cut to one of them galloping in the opposite screen direction, we don't for a moment think that he's another Indian riding the other way. We also don't imagine that a second stagecoach has suddenly appeared. When Ford introduces the cavalry riding the other way to intercept the Indians, he cuts very quickly to wide angle from a fixed position. Only then do we see the full scene with the cavalry, coach and Indians all in relation to each other.
Yet
Stagecoach
was once faulted for flawed film grammar. The closest Ford ever came to formalizing a visual choice is when he indicated that he chose his horizon shots based on paintings he admired.
Criterion's DVD and
Blu-ray
of
Stagecoach
is the best-looking home video presentation I've seen of this title. Scores of classic films released by United Artists in the 30s and 40s reverted to their copyright owners. Scattered to various fates, their original printing elements were sometimes poorly preserved, lost or simply thrown away. Criterion confirms that
Stagecoach's
original negative has gone missing for decades. The majority of the film is sharp and well defined, albeit with frequent light scratches, especially at reel ends. The first reel or so of the picture is taken from a source (a print?) without good contrast, and so fares a little worse. But Criterion's cleanup has done wonders with dirt and frame damage. In Blu-ray, many of Bert Glennon's expressive deep focus shots are restored to their original beauty.
Criterion's Curtis Tsui has overseen an impressive selection of extras. Scholar Jim Kitses contributes an informative commentary track. Peter Bogdanovich offers his thoughts in one interview, while a rare 1968 BBC interview shows Ford to be a crochety, uncooperative subject who amuses himself by insulting his interviewer Philip Jenkinson. Ford disingenuously claims to have discovered John Wayne for
Stagecoach
instead of ten years before, when he handed him off to Raoul Walsh for
The Big Trail
. Ford unrepentantly dismisses the entire Civil Rights Movement as a case of outside agitators making things hard for "the negroes". He repeatedly calls Englishman Jenkinson to account for England's oppression of Ireland and slams the interviewer's Manchester background. Ford then praises his cultured English friends in the film industry. This key interview appears to be the source for a number of "Fordisms" oft-quoted in books by critics like Janey Place.
Ford grandson Dan Ford narrates an interesting selection of family home movies, newly restored. Buzz Bissinger hosts an interesting piece about Monument Valley trader Harry Goulding's role in bringing Ford to his favorite desert location. Stunt arranger Vic Armstrong provides a nice tribute to
Stagecoach's
legendary stunt director Yakima Canutt. A rare original trailer accompanies a 1949 radio version of the story starring John Wayne, Claire Trevor and John Ford. The insert booklet contains a smart essay by Scottish arts professor David Cairns (of
Shadowplay
) and reprints the entire source story by Ernest Haycox.
Lastly, a Video Essay by Tag Gallagher conducts a thoughtful visual analysis of sequences in
Stagecoach
. Gallagher explains Ford's precise camera angles in terms of character nuances. Random glances and reactions are actually a careful pattern of shot choices by which Ford encourages us to sympathize with his characters, without identifying with them. Gallagher's demonstration of the effect of subjective and objective angles on our perceptions is both convincing and meaningful: Ford's "intuitive" direction seems to be anything but.
Criterion has released
Stagecoach
in both Blu-ray and standard DVD. The DVD edition places the extras on a second disc.
Reference: Talking Pictures by Richard Corliss, Overlook Press 1974
For more information about
Stagecoach
, visit
The Criterion Collection
. To order
Stagecoach
, go to
TCM Shopping
.
by Glenn Erickson
When you compare 1939's
Stagecoach
with later westerns by John Ford, you can make some negative comparisons: it's not as lyrical as
My Darling Clementine
; its characters aren't as deep as those in
The Searchers
; it's not as majestic as
She Wore a Yellow Ribbon
; its concept of the Apaches as faceless savages is simplistic in comparison with later portrayals of Native Americans. You might be able to criticize
Stagecoach
for what it's
not
. But it's hard to criticize much about what it
is
.
What it is is the archetypal movie western, the most iconic of them all. I doubt there's anything in it that wasn't already in a movie already: rugged locations, predatory Apaches, an arduous stagecoach trip, a fugitive who turns out to be a good guy, a dissipated doctor, a hooker with a heart of gold, a crooked banker, a tinhorn gambler. But what Ford and screenwriter Dudley Nichols do with these stock ingredients is as involving and thrilling as anyone else ever has.
As is often the case in a Ford movie, community is important.
Stagecoach
fills its titular vehicle with a microcosm of frontier society: a cavalry officer's wife (Louise Platt), a dissipated and usually drunken doctor (Thomas Mitchell), the jocular driver (Andy Devine), a lawman riding shotgun (George Bancroft), a businessman (Donald Meek), a banker (Berton Churchill), a prostitute (Claire Trevor), a rakish Southern gambler (John Carradine) and, after flagging the coach down in the desert, a fugitive (John Wayne) who's escaped from prison in order to avenge the murders of his father and brother. Word is that Geromino and the Apaches are on the warpath, and the story seamlessly intersperses action along the coach's route with drama inside the coach. The events inside and out are equally important.
Outside, there's a slow build to a violent crossing of paths with Apaches. A squad of cavalry soldiers accompanies the stagecoach until its first stop, where another squad is supposed to take over. But this second squad has moved on to the next stop. Only when the coach gets there on its own (the passengers vote to continue), they learn the squad has been dispatched to hunt for Geronimo. That night, the Mexican station man's Apache wife leaves with the coach's replacement horses.
Inside, the diverse characters uneasily interact, as the story shows us (and them) that you can't judge anyone by appearance and by the status society has granted them. To put it simply, the scoundrels save the day. When the very proper cavalry officer's wife, a friend of the blue-noses who ran both Dallas (the prostitute) and Doc Boone out of the stagecoach's departure city, faints and turns out to be pregnant (and in labor), they're the ones who help her get through the birth. When the run-in with the Apaches finally comes, in a chase through Monument Valley in which Ford's cuts don't always match, but the action and stunts are still amazing, it's the sharpshooting and quick thinking of The Ringo Kid (Wayne) that saves the day. Not only does the cavalry officer's wife have to rethink her assessment of Dallas (who she's frequently dissed early in the ride), but the banker who flexes his power at every opportunity is an embezzler.
But rather than a mere moral victory of the scoundrels,
Stagecoach
is a coming-together of its little community. Those who come to the aid of others and those who recognize the goodness of others (including the officer's wife) are redeemed. The Ringo Kid and Dallas fall for each other, he stands by her even after he finds out more about her and the lawman shows there's an alternative path to justice than just doing his job and taking Ringo in.
Stagecoach
is one of Ford's most optimistic westerns, and it's remarkably free of the corniness that can creep into the director's work. The humor here, deeply stitched into the story, works extremely well, and comes mainly from squeaky-voiced Devine, who can never get a word in edgewise when a decision is being made, and Meek, whose character is a liquor salesman, despite everyone always thinking he's a clergyman (perhaps as an inside joke, the following year's W.C. Fields-Mae West western comedy
My Little Chickadee
also includes a gag in which a Meek character is assumed to be a clergyman).
The new two-disc
Stagecoach
special edition DVD adds in worthy extras (the movie's previous single disc had none). Among them is the recent PBS-aired
John Ford/John Wayne: The Filmmaker & the Legend
, which gives a good overview of the ups and downs of the pair's lengthy relationship onscreen and offscreen. The half-hour featurette
Stagecoach: A Story of Redemption
looks at that relationship within the context of
Stagecoach
, and how Ford, who'd been grooming Wayne for an acting career, stopped being friendly to him after he starred in Raoul Walsh's early western talkie
The Big Trail
and rescued the actor from eight years of Grade-C westerns (after
Trail
was a big flop). Ford gave him one of the all-time great movie close-ups as an entrance and Wayne responded with a relaxed, confident and enormously likeable performance as the sort of flawed hero who would become the hallmark of the western. A great partnership was born, and the western was also rescued from black-hat/white-hat formulas.
The featurette also notes how, in adapting Ernest Haycox's short story, Ford and Nichols worked in elements from Guy de Maupassant's
Boule de Suif
, the same story later adapted in Val Lewton's
Madamoiselle Fifi
. The new
Stagecoach
disc, available solo or in the
John Wayne-John Ford Film Collection
, also has an audio commentary by Ford biographer Scott Eyman and a 1946 radio adaptation of the movie starring Trevor and Randolph Scott. Although the last is divided into chapters from which you can switch ahead or back, you can't pause it or rewind back just a few seconds if you miss something.
For more information about
Stagecoach
, visit
Warner Video
. To order
Stagecoach
, go to
TCM Shopping
.
by Paul Sherman