DVDs from TCM Shop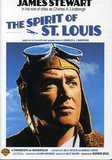 The Spirit of St. Louis Charles Lindbergh risks his... MORE&nbsp> $14.95 Regularly $19.98 Buy Now
NOTES
After the opening credits, the following written prologue appears: "In 1927 a young man alone in a single engine airplane flew non-stop from Roosevelt Field in New York across the entire North Atlantic to Le Bourget Field in Paris, a distance of three thousand six hundred and ten miles. In this triumph of mind, body and spirit, Charles A. Lindbergh influenced the lives of everyone on earth-for in the 33 hours and 30 minutes of his flight the air age became a reality. This is the story of that flight." Several flashback sequences are interspersed throughout the film. Most of the flashbacks are introduced by the voice-over narration of James Stewart, who as "Lindbergh" provides intermittent narration throughout the film. As noted in the Motion Picture Herald review, footage from an actual 1927 newsreel, showing the "unbelievable adulation which marked the stupendous New York parade when Lindbergh returned home" was shown at the end of the film.
As depicted in the film, in 1919, when aviation was in its infancy, a prize was offered by French-American New York hotelier Raymond Orteig, to the first aviator to fly nonstop from New York to Paris. Not until the mid-1920s had developments in aircraft made that kind of flight possible. Even then, however, the dangers remained, among them: fuel shortages; inclement weather; ice weighing down planes, stalling engines or bursting fuel lines; pilot fatigue; and loss of direction. Several pilots attempted to win the Orteig prize, usually flying in teams of two and in multi-engine planes; many died or were injured in the attempt, and none had been successful. When twenty-five-year-old airmail pilot Charles A. Lindbergh registered with the National Aeronautic Association as a contestant for the prize, he was considered a long shot. According to his autobiography, he was eager to prove the potential of air travel to the public and felt that his Midwestern airmail route, which required nighttime flying in the snow, ice and fog, was adequate preparation for the challenges of trans-Atlantic flight.
Many of the characters in the film were real persons. As shown in the film, St. Louis, MO businessmen financed the building of Lindbergh's plane, which Harold Bixby, the president of State National Bank and the St. Louis Chamber of Commerce (portrayed by David Orrick), named Spirit of St. Louis. According to modern sources, Lindbergh did attempt to purchase a Bellanca and, failing that, was directed to the Ryan Airlines, Inc. by his backers. The employees of the company, headed by B. F. "Frank" Mahoney, worked long hours to complete the plane in sixty days. Although the work of Ryan's chief engineer, Donald Hall, is underplayed in the film, according to modern sources, Hall and Lindbergh worked closely together in designing the plane.
Two days before Lindbergh flew the newly tested plane to St. Louis, French pilots Charles Nungesser and Francois Coli disappeared mid-flight in their attempt to travel from Paris to New York. According to modern sources, Lindbergh's flight from the San Diego area to Roosevelt Field, NY, with one stop in St. Louis, broke the transcontinental record of that time.
Most incidents in the film are historically accurate: The placing of the fuel tank in the front of the plane, the spectator who offered her mirror to Lindbergh, the inclement weather and muddy runway at Roosevelt Field and Lindbergh's sleepless night before the flight are true events. The gathering of thousands of people waiting for Lindbergh at Le Bourget airfield at the end of his flight was also a true occurrence. The song, "Rio Rita," which Stewart sings briefly, was from the 1927 Broadway show of the same name. According to a modern source, Lindbergh and Mahoney were on their way to the theater to see the play on May 19, 1927 when they learned that the Weather Bureau had predicted a change in the weather. Believing that Lindbergh would be able to take off early in the morning, they returned to the hotel without seeing the play. On May 20, 1927, Lindbergh took off for France, arriving at Le Bourget on 21 May, thirty-three and a half hours later.
Lindbergh's journey popularized aviation, enticing many men into the field, and proved the future potential of air travel. In the following years, the number of applicants for pilot's licenses, licensed aircrafts and American landing fields and airports increased dramatically. Dubbed "Lucky Lindy" by his fans, Lindbergh became an international hero. His feat inspired the popular song "Lucky Lindy" as well as a dance, "The Lindy Hop," which was named for him. His dedication to commercial aviation continued throughout his life, during which he helped to develop transcontinental aviation and flew survey flights for passenger and airmail routes.
Two years after the events of the film, following his marriage to the future author Anne Morrow, the couple flew survey flights together. Although Lindbergh remained in the news, he was not always happy or popular. The highly publicized kidnapping and murder of the first of their six children, Charles A. Lindbergh, Jr., prompted him and Anne to move to Europe for privacy and the safety of their second child. While there, Lindbergh toured German aircraft factories at the request of the United States government and developed an admiration for the Germans. When he returned home, he supported America First, an organization that called for non-intervention in World War II and for which he was criticized. However, after the attack on Pearl Harbor, he served as a test pilot and engaged in combat missions.
In 1953, Lindbergh published an autobiography entitled The Spirit of St. Louis. An October 1953 Hollywood Reporter news item reported that the film rights to the work, which was being offered for $1,000,000 and rigid script control, interested several production companies, among them, Goldwyn, Twentieth Century-Fox, King Vidor Productions and Columbia. In March 1954, a Los Angeles Times news item announced that Warner Bros. had purchased the rights and planned for Leland Hayward to produce and Billy Wilder to write and direct the script.
The film was shot between July 1955 and March 1956. According to a modern source, the script was shot in reverse order, allowing the Paris sequence, which was set in May, to be filmed in summer. According to a February 1956 Hollywood Reporter "Here and Now" column, portions of the film were shot on location at Platt Ranch in Canoga Park, CA, and a November 1955 Hollywood Reporter news item added the Santa Monica airport as a location site. A December 1955 Hollywood Reporter news item reported that the troupe spent four weeks on location at Santa Maria, CA. An October 1955 New York Times news item announced location shooting on a runway of the Flushing, NY airport and outside the Woolworth Building on Broadway in New York City. In February 1957, a New York Times news item noted that some scenes were shot on location in Santa Ana, CA. In addition, New York Times and Hollywood Reporter news items reported that aerial shots were filmed over Long Island; Boston; Nova Scotia; Newfoundland; Greenland; Cherbourg and Le Havre, France; Killarney, Ireland; and Spain. According to studio production notes, Le Bourget airfield was recreated at Guyancourt near Versailles, France.
Although their appearance in the film has not been confirmed, Hollywood Reporter news items add the following actors to the cast: Josh Weiner, Bartlett Robinson, Creighton Hale, Joan Lee and Charlotte Portnoy. According to a New York Times news item, the film marked the screen acting debut of playwright Marc Connelly, who portrayed "Father Hussman." An April 1957 Los Angeles Mirror article reported that prop master Herbert Plews used three "fly wranglers" to collect the 4,200 flies used to portray "Jasper" in fourteen pages of script.
According to a February 1956 HR news item, Harlan A. Gurney, who served as technical advisor for the flying circus sequence, was a former barnstormer and associate of Lindbergh, and was a United Airline pilot at the time of the film's production. Stewart, although more than twice the age that Lindbergh had been in 1927, had piloted B-17s and B-24s during World War II, and was in the Air Force reserve at the time of the film. He watched newsreels of Lindbergh to learn his mannerisms, according to a January 1956 Los Angeles Herald Express article, and appears with uncharacteristic blonde hair, like Lindbergh's, in the film. A February 1956 Hollywood Reporter news item reported that Lindbergh visited the studio to review scenes, and a February 1957 New York Times news item, stated that Lindbergh, Stewart and Gurney did some stunt flying. Producer Hayward, a former airline executive and talent agent, was also an amateur pilot.
According to studio production notes, Paul Mantz reconstructed Lindbergh's plane, which had already been acquired by the Smithsonian Institution, using original Ryan blueprints, adding copies of the pilot's wicker seat and periscope arrangement. According to a modern source, three replicas were used in the film. One of the planes was later owned by Stewart and donated by him to the Henry Ford Museum in 1959. For his work on the film, Louis Lichtenfield was nominated for an Academy Award for Special Effects, but lost to Walter Rossi in The Enemy Below.
Noting the long shooting time and costly location work, reviews reported that Warner Bros. spent $6 million in the making of The Spirit of St. Louis, which was atypical among films made by Wilder, who was known for his wry humor and often biting satire that explored the darker side of human nature. Despite the Hollywood Reporter review's prediction that "exhibitor prospects for good grosses...are excellent," the film was one of the studio's biggest financial failures in its history. A February 1957 Time article reported that the studio polled sneak preview audience members and learned that people under forty years of age were unaware of Lindbergh and his accomplishments. According to a March 1957 Motion Picture Herald article, the studio recruited Tab Hunter, who did not appear in the film but was popular with young audiences, to make a twelve-city tour, speaking at high schools and colleges on behalf of the film.
Before his death from cancer in 1974, Lindbergh became an advocate of the rocketry experiments of Robert Goddard, and co-developed a pump that became a predecessor of the artificial heart. In his later years, according to modern sources, he was dedicated to the preservation of the environment, wildlife and native peoples. However, his biggest achievement was the flight he took on a rainy day, May 20, 1927, after which he became one of the most famous pilots in the history of aviation.
On the seventy-fifth anniversary of Lindbergh's flight in May 2002, Erik Lindbergh, who is a commercial pilot and flight instructor, recreated his grandfather's flight in a Lancair Columbia 300, dubbed "The New Spirit of St. Louis." The flight was made to raise awareness of rheumatoid arthritis, from which he suffered for fifteen years, and also to promote the X Prize Foundation, a St. Louis-based non-profit offering $10,000,000 to the first private group to successfully build and launch a manned spacecraft.