DVDs from TCM Shop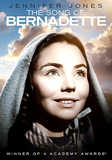 The Song of Bernadette A French peasant... MORE&nbsp> $7.46 Regularly $9.98 Buy Now
NOTES
The opening title card of this film reads: "Twentieth Century-Fox presents Franz Werfel's The Song of Bernadette." After the opening credits, a written prologue reads: "This is the story of Bernadette Soubirous who lived in Lourdes, a village in southern France close to the Spanish border. For those who believe in God, no explanation is necessary. For those who do not believe in God, no explanation is possible." According to his introduction in his fictionalized biography of St. Bernadette (1844-1879), Werfel, who was Jewish, wrote about the peasant girl to fulfill a vow he made while he and his wife were escaping from the Germans in 1940. The couple hid in Lourdes for several weeks during their flight, and there Werfel learned the story of Bernadette, who saw visions of the Virgin Mary and discovered a spring at the grotto of Massabielle. Bernadette's description of The Lady as wearing a white dress and a blue girdle, with roses on her feet, has been used frequently in Roman Catholic iconography. The grotto, to which thousands of visitors still come each year, is regarded by the faithful as having miraculous healing powers. Werfel vowed that if he and his wife arrived safely in the United States, he would "sing, as best [he] could, the song of Bernadette," who was canonized in 1933. During his journey to the United States, Werfel began work on his book, which was published to great acclaim.
According to September 1941 Hollywood Reporter and Los Angeles Times news items, International Artists, Inc., which specialized in promoting "package deals," was the first company to acquire the rights to Werfel's novel and intended to hire William Dieterle as director. According to a June 1, 1942 Hollywood Reporter news item, Dieterle purchased an option on Werfel's book "a year ago in Europe but allowed his option to lapse," and Twentieth Century-Fox purchased the screen rights for $82,500. Modern sources list the book's selling price as $125,000. In July 1942, Hollywood Reporter announced that Werfel had started work at the studio, where he was to serve as a "production advisor, gathering materials and assisting" on the screenplay. Also in July 1942, Hollywood Reporter revealed that Twentieth Century-Fox had "opened negotiations for Lillian Gish to become the star of Song of Bernadette, with her wistful personality type believed ideal." In August 1942, Hollywood Reporter news items stated that Beatrice Pearson was being "secretly tested" for the lead role, and that producer William Perlberg was talking with Agnes Moorehead about performing the role of "Sister Marie Therese Vazous."
In August 1942, when Hollywood Reporter announced that Henry King had been set as the film's director, it was also noted that Anne Baxter was the "only definite cast assignment to date." A October 27, 1942 Hollywood Reporter news item revealed that Twentieth Century-Fox was receiving approximately 1,000 letters per week from the public with suggestions about the casting of "Bernadette" and the presentation of the story. The item stated that the studio had received approximately 20,000 letters to date, and that the "preponderance of letters from Catholic prelates favor Rita Quigley" to play the lead role. In a November 16, 1942 Hollywood Reporter news item, the studio reported: "The screen treatment of the book recently received the imprimatur of approval from the Catholic church after Monsignor Vincent Sheehan and two other Catholic prelates traveled to Hollywood to pass on the story." Although the news item announced that Jennifer Jones "definitely" had won the lead role, a 23 November Hollywood Reporter news item stated that Jones had merely been tested for the role, for which Mary Anderson would also be tested that week. The next day, Hollywood Reporter noted that Linda Darnell and Baxter would be tested as well. On December 9, 1942, Hollywood Reporter announced that Jones had been "handed the plum role of the year." Although the onscreen credits "introduce" Jones, and a number of reviews referred to her as a "newcomer," she had previously appeared in two Republic productions under the name Phylis Isley. Bernadette was Jones's first starring role, for which she was loaned to Twentieth Century-Fox by David O. Selznick, who agreed to share her contract with the studio in exchange for her being awarded the role. According to a modern source, Teresa Wright was one of the actresses who competed with Jones for the role.
According to a February 1943 Hollywood Reporter news item, Barbara Bushman, who was appearing in the studio's photographic still layout of the story for Life magazine, would be tested for the role of "Jeanne Abadie," which she was portraying for the magazine. March 1943 Hollywood Reporter news items noted that Mona Maris had been cast as "Empress Eugnie," and that before the casting of Charles Bickford as "Peyramale," the ten actors tested for the role included Donald Crisp, Walter Hampden, Lee J. Cobb [who appears in the film as "Dr. T. Duzous"], Thomas Mitchell and Sir Cedric Hardwicke. A studio publicity release stated that Lynne Roberts had been cast as "Sister Natalie," although the character does not appear in the completed picture. Both Roberts and Maris are listed on Hollywood Reporter production charts. Another press release lists Darnell in the role of "Sister Ramey," a character that is also not in the finished film. A June 25, 1943 Hollywood Reporter news item noted that Darnell's appearance as "The Lady" was not advertised when the film was released because the studio thought that "it would shatter the illlusion to have an actress connected with the part of the Virgin Mary." According to a August 6, 1943 Hollywood Reporter news item, when the picture went back into production for additional sequences, Jo-Carroll Dennison was included in the cast as "a young nun." Her appearance in the completed film has not been confirmed, however.
Numerous news items noted that King went on extensive location trips in search of locales to film the picture, but eventually a two-acre set, representing Lourdes and Massabielle, was built at the studio. News items cited transportation difficuties, labor shortages and the logistical problems of dealing with a very large cast as the reasons behind the studio's decision not to film on location. A May 2, 1943 New York Times article reported that one of the set requirements was a "450-foot-long section of the Gave River...thirty feet wide and three feet deep. At the top of the manufactured river bed is a reservoir which holds 170,000 gallons."
The picture received high praise from motion picture critics and Catholic organizations. Joseph I. Breen, head of the PCA, particularly liked the film, which he praised extensively. In a January 1944 letter, contained in the MPAA/PCA Collection at the AMPAS Library, Breen, in writing to a Chicago priest, reported that "Archbishop [John J.] Cantwell [of Los Angeles] was so favorably impressed with the picture that he sent out a letter to all the parish priests throughout the Archdiocese asking them to urge their people to see the picture at all costs." Breen received a letter from producer Perlberg in March 1944, thanking him for sending a clipping about the film that appeared in Columbia magazine. Perlberg confided: "Although I have never saved a clipping about my private life or any publicity on any motion picture I have made, I confess I am saving everything I can get hold of which has been written about 'Bernadette.'" Modern sources note that the popular novel was run as a daily comic strip in the San Francisco Herald Examiner after the film's release. An eighty-three by forty-two foot reproduction of Norman Rockwell's portrait of Jones as Bernadette hung over the marquee at the Rivoli Theatre in New York. Rockwell's portrait also appeared as the cover of the Decca record of the film's score.
Although the picture did not go into general release until 1945, it played extensive "roadshow" dates at advanced prices and was eligible for the 1943 Academy Awards. The film received the following Academy Awards: Best Actress (Jennifer Jones); Best Art Direction (b&w: James Basevi, William Darling, Thomas Little); Best Cinematography (b&w: Arthur Miller); and Best Music (scoring of a dramatic or comedy picture: Alfred Newman). The film also received the following Academy Award nominations: Best Picture; Best Supporting Actor (Charles Bickford); Best Supporting Actress (Gladys Cooper and Anne Revere); Best Direction (Henry King); Best Film Editing (Barbara MacLean); Best Sound Recording (Twentieth Century-Fox Studio Sound Department: E. H. Hansen, Sound Director); and Best Writing (Screenplay: George Seaton). The film was awarded a Golden Globe as the best picture of 1943, and Jones was named the year's best actress. The Song of Bernadette was also listed as one of the ten best films of 1944 by Film Daily Year Book and the National Board of Review.
Hollywood Reporter news items in late 1948 noted that the film was receiving "spectacular support" from the Catholic Church in Germany and Austria, with special buses carrying viewers from East Germany to the West for showings of the picture. The news items also claimed that Pope Pius XII, who "frequently" saw American films, had viewed The Song of Bernadette and was reported to be "enthusiastic" about it.
Charles Bickford reprised his role as Peyramale for two Lux Radio Theatre broadcasts. The first, co-starring Anne Baxter, aired on April 11, 1949, and on October 26, 1954, Ann Blyth was Bickford's co-star. Other versions of Bernadette's story include an hour-long television drama that aired on October 13, 1958. Ralph Alswang and Claudio Guzman directed the Quinn Martin production, entitled Bernadette, which starred Pier Angeli. Another television version, entitled Bernadette Soubrous, was produced by the BBC and aired in December 1958, with star Mary Webster. In 1988, Cannon France released Bernadette, a theatrical film produced in France by Jacques Quintard. Directed by Jean Delannoy, the French version starred Sydney Penny and Jean-Marc Bory.