DVDs from TCM Shop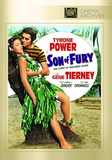 Son of Fury A young adventurer seeks his... MORE&nbsp> $14.95 Regularly $19.98 Buy Now
NOTES
DVDs from TCM Shop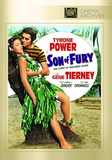 Son of Fury A young adventurer seeks his... MORE&nbsp> $14.95
Regularly $19.98 buy now
The working title of this film was Benjamin Blake, and the onscreen subtitle is The Story of Benjamin Blake. A condensed version of Edison Marshall's novel appeared in Cosmopolitan in April 1941. According to information in the Twentieth Century-Fox Records of the Legal Department, and the Produced Scripts Collection, both located at the UCLA Arts-Special Collections Library, Allan Scott submitted revisions to Philip Dunne's screenplay. The extent of Scott's contribution to the completed film has not been determined, however.
According to Hollywood Reporter news items and studio records, Ida Lupino was originally cast as "Isabel." After Lupino was instead placed in Moontide, she was replaced by Maureen O'Hara, who was unable to play the role after undergoing an emergency appendectomy. O'Hara was replaced by Cobina Wright, Jr., who, according to a studio press release, contracted "a serious throat infection shortly after starting work in the picture." Frances Farmer was then borrowed from Paramount for the production. A July 10, 1941 Hollywood Reporter news item noted that Edmund Gwenn had been cast in the picture but was released so that he could appear in a play in New York. A September 2, 1941 Hollywood Reporter news item stated that Virginia Gilmore had been cast as "a voluptuous servant girl," but she does not appear in the finished picture. A modern source states that Gilmore had originally been cast as "Helena Blake," but was replaced by Kay Johnson after it was determined that she looked too young for the part. Johnson was married to director John Cromwell at the time of filming. Modern sources include Marilyn Knowlden (Isabel as a girl) in the cast.
A October 21, 1941 Hollywood Reporter news item noted that the Tahitian sequences in the picture had been expanded at the request of producer Darryl F. Zanuck, who alloted an additional $125,000 to satisfy the public's "increasing penchant for films with a South Seas locale."
According to information in the MPAA/PCA Collection at the AMPAS Library, the Hays Office initially objected to the relationship between "Benjamin" and "Eve" on the island. Stating that the relationship was one of "illicit sex," the PCA demanded that it be firmly established through showing native customs that Benjamin and Eve considered themselves officially married. In discussing the film's censorship difficulties, a September 27, 1941 Los Angeles Daily News article incorrecly stated that the "censors decreed that no white man can marry a Polynesian," and that the Hays Office was not going to "quibble over an illicit relationship" as long as there was no hint of miscegenation.
The article correctly pointed out, however, that Marshall's book had been changed so that Eve did not commit suicide, and Benjamin returned to her instead of staying in England with Isabel. According to the article, the change was made to please the public, which would not want Benjamin to desert his Tahitian sweetheart. A October 19, 1941 New York Times article also reported that the change in Eve's fate had been made in response to public outcry over the death of Tyrone Power's character in the 1941 film Blood and Sand. New York Times noted that Zanuck had declared that no other Twentieth Century-Fox films in 1941-1942 would have sad endings. Conference notes in the studio scripts collection also reveal that Zanuck set the film later in time than the book's setting in order to prevent the historically accurate need for wigs. In July 1941, Zanuck declared, "We are not going to handicap ourselves by using wigs, which have proved to be a detriment to every picture they have adorned."
Studio records note that second unit director Otto Brower filmed background footage in Honolulu, HI, and that other sequences were filmed on location at Busch Gardens in Pasadena, CA. A September 22, 1941 Hollywood Reporter news item stated that James Havens directed another unit, which obtained footage for the film "off the coast of Lower California."
According to the legal files, Lux Radio Theatre wanted to broadcast a radio adaptation of Son of Fury in February 1943, but canceled the show after being unable to obtain the services of Tyrone Power. In 1953, Twentieth Century-Fox remade the story as Treasure of the Golden Condor, which was directed by Delmer Daves and starred Cornel Wilde and Constance Smith.
Son of Fury marked the last screen appearance of actress Frances Farmer until the 1958 Paramount picture, The Party Crashers, which was her final film. Farmer began her film career at Paramount in 1936, and had achieved success on both the stage and screen by the time of Son of Fury. Farmer's abandonment of her acting career was the result of a number of personal setbacks, including relationship problems, several arrests for drunken driving and violent behavior and a series of incarcerations in mental hospitals. In 1970, she died from cancer, and her posthumously published autobiography became the basis for a 1983 made-for-television film entitled Will There Ever Be a Morning? which starred Susan Blakely. Farmer's life was also dramatized in two feature films: the 1982 EMI/Brooksfilm production Frances, for which actress Jessica Lange received an Academy Award nomination for her performance as the troubled actress; and a 1984 independent picture called Committed, which starred Sheila McLaughlin.