DVDs from TCM Shop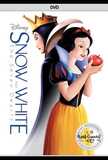 Snow White and the Seven Dwarfs From the old fairy tale, a... MORE&nbsp> $24.75 Regularly $29.99 Buy Now blu-ray
Quotes
DVDs from TCM Shop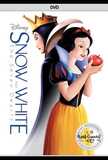 Snow White and the Seven Dwarfs From the old fairy tale, a... MORE&nbsp> $24.75
Regularly $29.99 buy now
Grumpy


Angel, ha! She's a female! And all females is poison! They're full of wicked wiles!

Grumpy


Ask her who she is, and what she's doing here!

Doc


Ah, yes. What are you, and who are you doing here?

Snow White


You're Sleepy!

Sleepy


How'd you guess?

Happy


This is Dopey, he don't talk none.

Snow White


You mean he can't talk?

Happy


He don't know, he never tried.

Queen


Magic Mirror, on the wall, who is the fairest of them all?

Queen


Dip the apple in the brew. Let the Sleeping Death seep through.

Queen


Look! On the skin! A symbol of what lies within. Now, turn red, to tempt Snow White, to make her hunger for a bite.

Queen


Have a bite?

Queen


It's not for you, it's for Snow White. When she breaks the tender peel, to taste the apple in her hand, her breath will still, her blood congeal, then I'll be fairest in the land!