DVDs from TCM Shop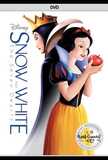 Snow White and the Seven Dwarfs From the old fairy tale, a... MORE&nbsp> $24.75 Regularly $29.99 Buy Now blu-ray
Alternate Versions
DVDs from TCM Shop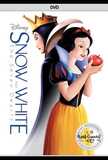 Snow White and the Seven Dwarfs From the old fairy tale, a... MORE&nbsp> $24.75
Regularly $29.99 buy now
Non-English versions show the names on the dwarfs' beds and the witch queen's book of magic written in the language of the country of release (italian in Italy, french in France etc.)

The Special edition DVD includes five deleted scenes:- An argument between Grumpy and Doc over whether Snow White goes or stays- A song ("Music in your soup") in which the dwarves sing about the soup Snow white just made, she shows them how to eat properly, and Dopey swallows his spoon.- The dwarves argue over what to make as a present for Snow White, deciding on a bed.- The dwarves make the bed for Snow White- The witch makes the poison apple

Prior to 1958, Disney's films were distributed by RKO radio pictures. The original opening title sequence featured the RKO logo in it. In 1958, Disney created and started using Buena Vista Pictures Distribution. For the 1958 reissue, the opening title cards were replaced, with the RKO logo removed, and the Buena Vista logo inserted.