DVDs from TCM Shop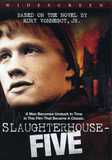 Slaughterhouse-Five "Listen: Billie Pilgrim... MORE&nbsp> $11.95 Regularly $14.98 Buy Now
NOTES
DVDs from TCM Shop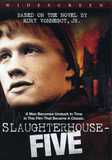 Slaughterhouse-Five "Listen: Billie Pilgrim... MORE&nbsp> $11.95
Regularly $14.98 buy now
According to a March 1969 Daily Variety news item, producer Paul Monash purchased the rights to Kurt Vonnegut, Jr.'s novel Slaughterhouse-Five shortly after its publication. The novel would go on to become one of Vonnegut's most popular and a significant American literary work of the twentieth century. Many of the wartime incidents experienced by "Billy Pilgrim" are autobiographical details of Vonnegut's time in the army during World War II, during which he survived the Dresden bombing.
An April 1970 Daily Variety item noted that Monash and director George Roy Hill would be reteamed on Slaughterhouse-Five after their success with the 1969 Twentieth Century-Fox production Butch Cassidy and the Sundance Kid. A May 1970 Daily Variety article on the film's production described Monash's concern with adapting Vonnegut's non-linear tale with its unusual mix of satirical social commentary, set against a wartime and science fiction background. The article indicated that Monash discussed the adaptation with William Goldman, who wrote the screenplay for Butch Cassidy and the Sundance Kid, but the writer was skeptical that Vonnegut's novel could be adapted successfully. Daily Variety also indicated that both Hill and Monash expected to polish Stephen Geller's script as location shooting dictated. Although Monash mentioned in the Daily Variety article that he and Hill were considering presenting the war scenes in the past in black and white or monochromatically to set them apart from sequences that might be construed as "fantasy," the film is presented entirely in color. Slaughterhouse-Five marked the motion picture debuts of Michael Sacks, who appeared in only a few films before retiring from the screen in 1984, and of Perry King. King also appeared in The Possession of Joel Delaney, which was shot prior to Slaughterhouse-Five but was released one month later.
As shown in the film, on February 13, 1945, the British RAF bombed Dresden, an open city and cultural center that had suffered little during the war. The resultant firestorm from the heavy carpet bombing caused the deaths of tens of thousands, mostly civilians. Due to the complete destruction of the city and the inability to identify the victims, accurate death figures have never been established. Because the nearly six-years-long war in Europe was near its end, with a German loss certain, the bombing of strategically unimportant Dresden has come to represent for many historians an unnecessary, and even criminal, display of excess force by the Allies.
Slaughterhouse-Five was filmed in Prague and Most, Czechoslovakia as well as Minneapolis, MN, according to Filmfacts which also reported that interiors were shot at Barrandov Film Studios in Prague and at Universal City. Director Hill produced and released a one hour documentary on the making of Slaughterhouse-Five, which was released in 1973. The film won Cannes Film Festival's Jury Prize for 1972, and the same year, Vonnegut was given an award for the film by The Academy of Science Fiction, Fantasy and Horror Films.
Some reviews of the film noted that the novel's key narrative ploy of "Billy's" "time-hopping" back and forth to events in his life, many times in mid-scene, lost much of its effect because "jump" cuts and other film editing devices used to "jar" viewers had become so conventional. According to modern sources, "Ilium" the fictitious upstate New York town used by Vonnegut as the setting for several of his novels, was modeled on Troy, NY. Ilium is the Ancient Greek word for Troy. The character of "Howard W. Campbell, Jr." was the central protagonist in an earlier Vonnegut novel, Mother Night, published in 1966, and a 1996 Fineline film production starring Nick Nolte directed by Keith Gordon.