DVDs from TCM Shop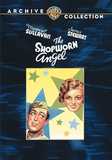 The Shopworn Angel A showgirl gives up life in... MORE&nbsp> $14.95 Regularly $17.99 Buy Now
FULL SYNOPSIS
DVDs from TCM Shop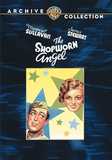 The Shopworn Angel A showgirl gives up life in... MORE&nbsp> $14.95
Regularly $17.99 buy now
In 1918, Daisy Heath, the popular star of a Broadway revue, callously dismisses the soldiers who flock to her show before they are shipped to France to fight in World War I. Daisy's manager, Sam Bailey, who is in love with her, is worried about her increasingly jaded view of life. One night, when Daisy's car accidentally bumps naive soldier William Pettigrew, she offers him a lift and Bill tries to impress his friends by saying that she is his girl. Later, when Bill puts Daisy's picture up in the barracks and brags about her, his pals trick him into arranging an introduction for them. Worried that his friends will know he has been lying, Bill goes to Daisy and begs her to help him. She is at first reluctant, but finally agrees and even goes with Bill for an ice cream after meeting his friends. When they part, she says that he can "pretend" to call her once in a while if he wants.

Soon Sam notices that Daisy's attitude toward life is softening and likes the change. One morning, when Bill calls Daisy's apartment, her maid Martha tells him that she is too sick to come to the phone. Not knowing that Daisy merely has a hangover, Bill buys flowers and candy and rushes to Daisy's apartment. He meets Sam there, who doesn't reveal his true relationship to Daisy. Although Daisy tells Sam that she is merely fond of Bill, Sam worries that her feelings are deeper. A short time later, Sam arranges for Daisy to give a show at Bill's camp. After the performance, Daisy is touched by Bill's peaceful fatalism towards death in the war and agrees to show him the sights. The next night, Bill and Daisy return to her apartment after their happy excursion on the town and Sam is waiting. After Bill leaves, Sam jealousy accuses Daisy of being in love with Bill. Daisy is shocked at his outburst and tenderly assures him that there is no need for jealousy because she only loves Bill as a friend.

The next day, Bill learns that he is being shipped out and goes AWOL to see Daisy at the theater. Though she has promised Sam never to see Bill again, she leaves the show to spend the evening with Bill. Returning to her apartment, they are again met by Sam, who is hurt that Daisy broke her promise. Not realizing how Sam and Daisy feel about each other, Bill asks Sam for his blessing to propose to Daisy. After asking Bill if she can speak to Sam alone, Daisy tells Sam that it was Bill's sweetness that softened her enough to realize her love for Sam. Because she wants to give Bill something to live for while he is at the front, she says that she must marry Bill, but promises to tell him the truth as soon as he returns. Though hurt, Sam cannot bring himself to shatter Bill's illusions and reluctantly goes to the wedding.

Some months later, while Daisy is performing in a nightclub, Martha gives Sam a letter that has arrived for Daisy from the war department, revealing Bill's death. When Daisy sees Sam's reaction to the letter, she knows what has happened, but bravely finishes singing "Pack Up Your Troubles in Your Old Kit Bag and Smile, Smile, Smile," as tears fill her eyes.