DVDs from TCM Shop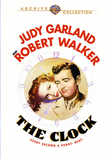 The Clock A G.I. en route to Europe... MORE&nbsp> $18.95 Regularly $21.99 Buy Now
NOTES
News items in Hollywood Reporter indicate that director Jack Conway worked on the film for one week in June 1944 "lining up background shots" of New York City. According to a studio memo dated June 27, 1944, Conway withdrew from the film due to illness and was replaced by Fred Zinnemann. The extent of Conway's contribution to the final film has not been determined. A June 21, 1944 Hollywood Reporter news item indicates that M-G-M originally wanted Tay Garnett to replace Conway. Zinnemann directed the film until the end of August 1944, when he was replaced by Vincente Minnelli, whom Garland married in 1945. According to modern sources, Zinnemann's removal from the picture stemmed from his strained rapport with Judy Garland, and came about shortly after Garland had complained to producer Arthur Freed about their incompatibility. Modern sources also note that M-G-M bought the screen rights to Gallico's unpublished short story in 1943 for $50,000 and assigned Margaret Green to write the screenplay. In January 1944, Freed, unhappy with Green's script, replaced her with Joseph Schrank and Robert Nathan.
Although their appearance in the released film has not been confirmed, various news items in Hollywood Reporter list the following actors in the cast: Florence Allen, Jessie Arnold, Paulita Arviza, Estelle Aterre, Charles Bates, Jack Baxley, Mary Benoit, Margaret Bert, Mary Bovard, Volta Boyer, Steve Brodie, Ralph Brooke, Sally Ann Brown, Joan Carroll, Tony Carson, Douglas Carter, Lucille Casey, Alfredo Ceraldi, Wheaton Chambers, Eddy Chandler, Lyle Clark, Lucille Curtis, Kay Deslys, Joe Dominguez, George Dudley, Major Farrell, Nellie Farrell, Julie Gibson, Palmer Gran, Tom Herbert, Gertrude Hoffman, Reed Howes, Teddy Infuhr, Milton Kibbee, Charlotte Knight, Patricia Knox, Michael Knudsen, Helen Koford, Nolan Leary, Jack Lee, Babe London, Grace Lord, Frank McClure, Beryl McCutcheon, Gordon McDonald, Leila McIntyre, Gloria Marlen, Nita Matthews, Sybil Merritt, Robert Milasch, Phillip Morris, Tom Murray, John Mylong, Alix Nagy, George Nakes, Jack Orkin, George Peters, Lee Phelps, June Terry Pickerell, Whitten Platt, Rudy Rama, Robin Raymond, Naomi Scher, Michelle Rae Slaboda, Larry Spears, Florence Stevens, Doris Stone, Henry Sylvester, Ethel Tobin, Brad Towne, Alice Wallace and Cecil Weston. Hollywood Reporter production charts list Hume Cronyn, Louis Jean Heydt and Audrey Totter in the cast, but they did not appear in the final film.
The Clock marked Judy Garland's first dramatic, non-singing role in a film. The song "If I Had You," which was used in the film as background music, was recorded by Garland and The Merry Macs and released by Decca in 1945. James and Lucile Gleason, who play "Al Henry" and his wife, were also husband and wife in real life. Rogers Edens, who is seen playing the piano in one scene, was the well-known composer and musical arranger who worked on many of Garlands M-G-M musicals. Producer Arthur Freed also has a brief role in the film, as a man lighting a cigarette for "Joe Allen." Although background footage was filmed on location in New York City, contemporary news items indicate that many sequences were filmed at M-G-M's Culver City lot, where reproductions of the interiors of famous New York City landmarks, including Pennsylvania Station and the Metropolitan Museum of Art, were constructed. A biography of Minnelli notes that New York City was recreated through the use of photographic plates. The plates served as backdrops displayed through rear projection while the live action took place in front. Judy Garland recreated her role for the Lux Radio Theatre version of the story, which was broadcast on January 28, 1946. John Hodiak co-starred with Garland in the radio version.