DVDs from TCM Shop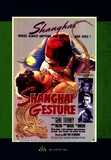 The Shanghai Gesture A gambling queen uses... MORE&nbsp> $10.95 Regularly $14.99 Buy Now
Home Video Reviews
Now available on DVD from Image Entertainment is
The Shanghai Gesture
(1941), director Josef von Sternberg's decadent exercise in morality and vice, released just after America's entry into World War II as the new "genre" of film noir was starting to grow in Hollywood.
Considered by critics to be von Sternberg's last great work (although
Macao
, released in 1952, shouldn't be forgotten),
The Shanghai Gesture
stars Gene Tierney as Poppy Smith, a party girl with a past that she'd nevertheless like to forget. Poppy finds escape in 'Mother' Gin Sling's (Ona Munson) casino, where she meets a duplicitous, oily playboy named Doctor Omar (Victor Mature). Gin Sling is a dragon lady, who in contrast to Poppy, comes from humble beginnings. Gin Sling's usual guests include figures from both sides of the law, including prominent city politicians, some of whom are part of a plan to close down Gin Sling's hall of vice. That plan is started by real estate tycoon Sir Guy Charteris (Walter Huston), who wants to force Mother Sling to close her casino-bar so that he can put up his own property, which is ironic, since Charteris is portrayed as a political chief, not a powerful businessman. It seems corruption still has the same smell, no matter how legitimate it aspires to be. However, Sling is privy to a valuable secret (or two) about Poppy: that she is really Charteris's daughter. So Gin Sling uses this bit against Charteris, both as a weapon against his business plans, and as a mysterious axe to grind against him personally. Gin Sling uses Doctor Omar to push Poppy into a downward spiral of gambling debt, drug addiction (she's not called 'Poppy' for nothing...), and other suggested rock-bottom vices, until Gin Sling is able to secure Charteris' attention long enough to spring her trap on him. But her nefarious plan doesn't work out exactly as she planned.
From the opening scenes on a Shanghai street (actually a powerfully evocative set at Hal Roach studios), the film is steeped in a weird, languid mood that seems drug-induced itself. Even the traffic cop looks like he's deep in an opium stupor. From the production design to the acting, this dreamy pace is never lost, never more evident than in the scenes set in the gambling den's main room. There is an insomniac grind to it. We're never sure if it is day or night, and neither are the characters. Von Sternberg uses slow, deliberate dissolves and abrupt close ups to keep things interesting, not that he needs to; practically every line of dialogue is loaded with innuendo and carnal sneers. "Allah be praised for always providing new women," a line said by Mature's Doctor Omar that could be interpreted several different ways.
Mother Gin Sling, played with knowing sexual menace by Ona Munson, is the kind of part that Marlene Dietrich might have played for von Sternberg. There are some instances where von Sternberg frames Munson in the same way he shot Dietrich in
The Devil is a Woman
(1935) and
The Scarlet Empress
(1934). Gene Tierney plays a tricky part that calls for innocence willingly lost. Walter Huston (who would play a Chinese character himself in
Dragon Seed
in 1944) brings to the dark and seedy story a professional gravitas as one of Hollywood's most revered actors. And a who's who of Hollywood character actors make the story more than just about the principal actors. Eric Blore (on crutches, for some reason) is Gin Sling's bookkeeper; Clyde Fillmore is her bridge to corrupting local officials; Maria Ouspenskaya, her stoic assistant; Mike Mazurki, her Pidgin-English-speaking henchman; and Marcel Dalio plays the croupier, two years before he took the same job at Rick's Café.
The film, based on a 1925 play by John Colton, required over 30 revisions before it passed muster with the censoring Hays Office, which actually discouraged studios from making the film at all. In one unreleased censored version, attributed to writer Jules Furthman, Mother Gin Sling retains the play's name for her, "Mother Goddamn," and runs a brothel instead of a casino. What remains is the suggestion that gambling is not the only vice taking place behind the walls of Gin Sling's house of sin.
As one critic put it,
The Shanghai Gesture
is "a delirious masterpiece of decadence and sexual depravity." It's too bad this DVD release could not look the part. The visual quality of the DVD is shockingly murky and washed out, especially for a film by Josef von Sternberg, who was listed in the credits as "Directed by Josef von Sternberg, ASC." Coming from the masterful eye of someone like von Sternberg, the visual quality is of the utmost importance. This DVD release does not uphold that expectation. The special features are bare-bones, made up mostly of a photo gallery.
For more information about
The Shanghai Gesture
, visit
Image Entertainment
. To order
The Shanghai Gesture
, go to
TCM Shopping
.
by Scott McGee