DVDs from TCM Shop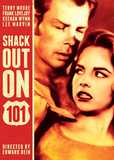 Shack Out on 101 A greasy spoon diner provides... MORE&nbsp> $17.47 Regularly $24.95 Buy Now blu-ray
Articles
SEE ALL ARTICLES
Shack Out on 101 (1955)
The Psychotronic Video Guide calls it "One of the oddest movies of the fifties," Leonard Maltin's Movie Guide deems it a "trash classic," and any movie buff who's ever seen it will probably concur that Shack Out on 101 (1955) is easily the nuttiest B-movie to emerge in the Cold War era when paranoia over communist infiltration provided Hollywood with a new type of villain. In many of these films, "The Red Menace" was a lot closer than you thought. A Marxist enemy agent could be your new husband (The Woman on Pier 13 [1949, aka I Married a Communist]), a family member (My Son John [1952]) or even an alien life form (Invasion of the Body Snatchers [1956]). In Shack Out on 101, the Commie threat is represented, god forbid, by a short order cook at a greasy spoon diner. As impersonated by Lee Marvin in one of his most entertaining performances, this character, known as Slob, passes himself off as a Neanderthal knucklehead but is in reality a cunning and deadly saboteur.

Barry Gifford, whose novel Wild at Heart was adapted to the screen in 1990 by David Lynch and who co-wrote the screenplay for Lost Highway (1997) with that same director, had this to say about Shack Out on 101: "It's as if William Inge were forced by the government to rewrite some Chekhov play, but set in McCarthy-era America, and he took twenty Valium, washed them down with Old Crow, and dashed it off as the drug grabbed his brain and put him in Palookaville." Indeed, the main protagonists of Shack Out on 101 exist in their own tiny, claustrophobic universe which is a grubby little pit stop on an isolated stretch of the Pacific coast. Like some surreal version of The Petrified Forest (1936), most of the narrative unfolds on an interior set where a mounted marlin, fishnets, portholes, a jukebox and a few barstools provide the minimalistic decor. One of the few exterior scenes occurs in the unexpected opening as a sexy blonde (Terry Moore) sunbathes on the beach and suddenly finds herself in extreme lip-lock mode with a stranger (Lee Marvin). Or so it seems. What starts out looking like a potential rape becomes clumsy horseplay as we realize the wrestling couple are co-workers at a hamburger joint and the waitress Kotty is experienced in routinely rebuffing the advances of Slob, the cook.

One of the more preposterous plot devices in a movie that is overflowing with them is the idea that Slob is using the diner as a front for his subversive activities which involve stealing secret formulas from a nearby research facility. His partners in espionage include Perch (Len Lesser), a local fisherman, Professor Claude Dillon (Frank DeKova), a scientist who works at the nearby laboratory, and Professor Sam Bastion (Frank Lovejoy), a nuclear physicist turned traitor against his own country. Additional subplots involve George (Keenan Wynn), the sarcastic diner owner, his old army pal Eddie (Whit Bissell) who is still suffering post-traumatic shock from D-Day, two wisecracking truck drivers, Pepe (Donald Murphy) and Artie (Jess Barker), and Kotty, the only woman in the vicinity, who is lusted after by all the men but is only interested in Sam. Unfortunately, he appears to prefer discussing sea shells with Slob most of the time.

Hardcore fans of Shack Out on 101 are often hard-pressed to pick their favorite scene since there are so many; it's an embarrassment of riches. Still, there are two which deserve some sort of "Hall of Fame" award. The one in which Sam and Kotty do some heavy pawing and kissing while discussing the Bill of Rights is a first of some kind. Likewise, the weirdly homoerotic sequence where George and Slob strip down and work out together, comparing their pecs and then scurrying nervously for their shirts when they are interrupted by Kotty.

A low-budget release from Allied Artists, Shack Out on 101 was directed by Edward Dein from a screenplay he penned with his wife Mildred. While none of Dein's other work approaches the eclectic nature of this, a few titles such as Curse of the Undead [1959], a horror/Western with a gunslinging vampire, and The Leech Woman [1960], with Coleen Gray as a woman who discovers the secret to eternal youth, display traces of a singular and offbeat talent. But the real star behind the camera on Shack Out on 101 is cinematographer Floyd Crosby, who won the Oscar® for his first film (Tabu: A Story of the South Seas [1931]) and also lensed High Noon [1952] and countless films for American International Pictures (Attack of the Crab Monsters [1957], Pit and the Pendulum [1961], Bikini Beach [1964]).

The original poster for Shack Out on 101 was a no-frills affair with the boldly direct tag line - "Four men and a girl!" If I had been the marketing director on this, I would have taken a much more exploitative angle. "Meet Kotty, the blonde bombshell desired by every man," "Sam, seashell fetishist or secret agent?", "See the ferocious mouth-to-mouth tug-a-war with a dirty dish towel!" "Watch as scuba divers practice deep sea fishing in a truckstop bar!" Or you could try capitalizing on your name cast. "See Whit Bissell armed with a deadly harpoon gun!" "Experience Keenan Wynn and Lee Marvin's Hot and Sweaty Workout Routine," or "Frank Lovejoy is Back - Tougher, Braver and Smarter Than He Was in I Was a Communist for the FBI (1959)."

Producer: Mort Millman
Director: Edward Dein
Screenplay: Edward Dein, Mildred Dein (screenplay and story)
Cinematography: Floyd Crosby
Art Direction: Lou Croxton
Music: Paul Dunlap
Film Editing: George White
Cast: Terry Moore (Kotty), Frank Lovejoy (Prof. Sam Bastion), Keenan Wynn (George), Lee Marvin (slob/Mr. Gregory), Whit Bissell (Eddie), Jess Barker (Artie), Donald Murphy (Pepe), Frank DeKova (Prof. Claude Dillon), Len Lesser (Perch), Fred Gabourie (lookout).
BW-80m.

by Jeff Stafford
back to top
---
Shack Out on 101 (1955)
The working title for the film was originally Shack Up on 101 but after lead Terry Moore allegedly complained, it was changed to Shack Out on 101.

The exterior scenes of the movie were shot on location in Malibu, California.

The opening credits give a special screen credit to "A Sunday Kind of Love" (written by Barbara Belle, Louis Prima, Anita Leonard and Stan Rhodes) but it is not heard as a vocal number or in its entirety in the actual film. The few scenes where music is used usually occurs in the shack bar where a jukebox is situated. Composer Paul Dunlap is credited with these selections.

A soundtrack album for Shack Out on 101 was also released (now out of print).

Lee Marvin and Keenan Wynn were lifelong best friends who first met in the early fifties and shared a love for motorcycle riding after Marvin developed a taste for it while filming The Wild One (1953) with Marlon Brando.

Shack Out on 101 was Marvin and Wynn's first film together but they would later appear together on numerous TV programs and reunite in 1967 on the big screen in Point Blank.

The original tagline for the film's poster was "Four men and a girl!"

by Jeff Stafford

SOURCES:
Lee Marvin: His Films and Career by Robert J. Lentz (McFarland & Co.)
Marvin: The Story of Lee Marvin by Donald Zec (St. Martin's Press)
Lee: A Romance by Pamela Marvin (Faber and Faber)
IMDB

back to top
---
Shack Out on 101 (1955)
Shack Out on 101 was one of several melodramas and thrillers made in the fifties that exploited the public's fear of the "Red Menace" and Communist infiltration. Other infamous titles in this subgenre include Big Jim McLain (1952) with John Wayne, My Son John (1952), Prisoner of War (1954) starring Ronald Reagan and Jet Pilot (1957).

Terry Moore, who was born Helen Koford, was under contract to 20th-Century-Fox at the time she was cast in Shack Out on 101, an Allied Artists Picture. It was a studio loanout and she was being promoted at the time as a sex symbol in the Marilyn Monroe mode.

Moore is best known for her role in the RKO fantasy-adventure, Mighty Joe Young (1949). She also attracted considerable publicity for her claims that she secretly married Howard Hughes in 1949 and even though she couldn't produce any evidence of it, the Hughes's estate paid her a settlement in 1984.

Moore's leading man in Shack Out, Frank Lovejoy, spent most of his film career playing detectives, reporters, soldiers and various authority figures. I Was a Communist for the FBI (1951) is one of his most quintessential roles.

Keenan Wynn, who had been an MGM contract player for years, quit the studio in 1954 and began freelancing in films and television, with Shack Out on 101 being one of his first movies as an independent actor.

As Slob, Lee Marvin was already a well-established character actor by the time he made Shack Out on 101, thanks to memorably villainous roles in The Big Heat (1953) and Bad Day at Black Rock (1955). He had already begun the switch to leading roles from supporting ones in 1952 with Eight Iron Men but it wasn't until he starred in Cat Ballou (1965) and won the Best Actor Oscar that he began to command top billing.

One of the most prolific character actors in Hollywood, Whit Bissell has more than 250 film and television credits to his name. While his traumatized war veteran Eddie in Shack Out is one of his more colorful performances, he is probably best known for the cult horror films, I Was a Teenage Werewolf, I Was a Teenage Frankenstein (both 1957) and Monster on the Campus (1958).

Len Lesser, who plays Slob's partner in crime in Shack Out, is still working and is well known for his TV appearances as Gavin in Everybody Loves Raymond and as Uncle Leo on Seinfeld.

Jess Barker, who appears as Artie, had just divorced his wife, actress Susan Hayward, when he made Shack Out and was involved in a bitter custody battle with her for their two sons.

Edward Dein, writer and director of Shack Out on 101, toiled mainly in the B-movie industry with a few detours into television (The Wild, Wild West, Hawaiian Eye). Among the genre films he worked on are Boston Blackie's Rendezvous [1945], Curse of the Undead [1959], The Cat Creeps [1946] and The Leech Woman [1960]. He also contributed additional dialogue on Val Lewton's The Leopard Man [1943].

Among the entire behind-the-camera crew of Shack Out on 101, cinematographer Floyd Crosby is easily the most distinguished and prolific, having received an Oscar® nomination for his very first film, Tabu: A Story of the South Seas (1931). He has worked on everything from Robert Flaherty's landmark documentary The Land (1942) to High Noon (1952) to countless cult favorites in later years when he found steady work at American International Pictures (House of Usher [1960], X: The Man with X-Ray Eyes [1963]).

by Jeff Stafford

SOURCES:
Lee Marvin: His Films and Career by Robert J. Lentz (McFarland & Co.)
Marvin: The Story of Lee Marvin by Donald Zec (St. Martin's Press)
Lee: A Romance by Pamela Marvin (Faber and Faber)
IMDB

back to top
---
Shack Out on 101 (1955)
"Since Edward and Mildred Dein have fashioned dialogue that is occasionally adult and funny and have the services of principals who can accentuate these humorous lines and situations, Shack Out on 101, which was unveiled at the Globe yesterday, avoids the stigma of being a sub-standard spies-vs-F. B. I. imbroglio. But Mr. Dein, who also directed this minor intrigue, has too many issues simultaneously confronting a viewer. Shack Out on 101, in short, is not only bursting at its foundation with muscle men but with romance, idealism and a smidgin of silly plotting. It is slightly diverting but it is also enough to make an observer's head swim...Credit Lee Marvin with a polished portrayal as the tough, sinister and seemingly thick-witted cook, Terry Moore is a pleasing eyeful as the waitress who attracts all the males in the vicinity."
- Bosley Crowther, The New York Times

"...trash classic...Absolutely one of a kind, with most of the action taking place on a single shabby set (Wynn's beanery)."
- Leonard Maltin's Movie Guide

"One of the oddest movies of the fifties...It has amazing dialogue, sax music, and skin diver suits."
- Michael J. Weldon, The Psychotronic Video Guide

"What comes out of this silly little Red Scare spy drama from the smack-dab middle of the 1950s is an almost perfect, semitrashy set piece; everybody has a good time...The movie is a dead-on minimalist portrait of America at its most paranoid. It's the one to show the history class."
- Barry Gifford, The Devil Thumbs a Ride & Other Unforgettable Films

"Among the last of the Red-scare movies, this is also one of the most hilarious. It's in the so-bad-it's-great category. In what other genre could a grease-stained, lecherous cook named 'Slob' also serve as Mr. Big in the Communist Party?"
- Arthur Lyons, Death on the Cheap" The Lost B Movies of Film Noir!

"...Lee Marvin, who is easily the most repulsive object that Hollywood has dug up in recent years, is such a skillful performer that when he starts hacking away at a bacon-lettuce-and-tomato on toast, the spectator has all the visceral sensations of watching an MVD interrogator do work on an enemy of the people."
- Time Magazine

"...Lee Marvin's delightful portrayal of a simple-minded short order cook, who turns out to be the menace of the film...Marvin will certainly gain in importance as a marquee name with this picture."
- Motion Picture Herald

"Modest suspenser which seemed at the time to have some fresh and realistic attitudes."
- Halliwell's Film & Video Guide

"This is probably the strangest film in which Lee Marvin ever appeared, topping even Gorilla at Large [1954] for eccentricity...Shack Out on 101 is a melodrama with a message: Communist agents can be, and are, anywhere...It truly is an oddity, with its uneven mixture of exploitation, political message and comedy."
- Robert J. Lentz, Lee Marvin: His Films & Career

"A snappy entry into those Red Scare movies from the Cold War paranoid period of the 1950s in America. Writer-director Edward Dein and his wife Mildred who is co-writer, provide a very funny take on those kind of superpatriotic films while at the same time preaching to the choir. It's also helped by a fine cast, with Lee Marvin excelling in his role as a lecherous greasy-spoon short-order cook named "Slob"..."
- Dennis Schwartz, Ozus' World Movie Reviews


back to top
---
Shack Out on 101 (1955)
Slob: I've got a good mind to drop these dishes.
George: You've got a good mind?
Slob: Every time I talk about the tomato you get busy.
George: The tomato's got a name - Kotty. Everybody's got a name.
Slob: Then how come you call me Slob when my name's really Leo?
George: Because you look like a slob. Even when you're clean you look dirty.

Eddie (to Sam): You know something. If you told me to jump off a building, I'd take off like a jet job.

Sam: Eddie, I told you the fish are cold-blooded.
Eddie: This I want to hear straight from the fish's mouth.

George: Well fellows, what'll it be?
Artie: I'll have the Egyptian dancing girl.
Pepe: Yeah, me too.
George: Sorry, they're out of season but how about cherry pie and coffee as if I didn't know.

Sam: Slob's got an eight cylinder body and a 2 cylinder mind.

Sam: Will you tell me something?
Kotty: Anything, Sam, anything.
Sam: What are the first amendments to the Constitution called?
Kotty: The Bill of Rights.
Sam: That's right. What form of government is this?
Kotty: The best!

Slob: You smell nice, what is it?
Kotty: Soap, you should try it sometime.

George: The last time the cash register rang, I answered the phone.

Sam: The apes have taken over...while we were busy watching television and filling our freezers, they've come out of the jungle and moved in! And what's worse, they've begun to dress like us and think like us. We're just where we were in the beginning. The animals have begun to hunt men."

George: It's all a bunch of slop.
Eddie: You just finding that out? Life's 90 percent walking through slop to get to the roses.

Eddie: How long ago was D-Day? You have a lot to be grateful for. Did'd ya ever see two guys with more holes in 'em? I still remember how choppy the channel looked through your chest.

Kotty: Funny. A truck driver with soft hands.

Eddie (to George): Even if you were Cary Grant she shouldn't give you a second look. The whole thing is chemistry.

Slob (admiring George's chest): Hey, that's great. What a beautiful set of muscles.
George: How many times have I told you not to call them muscles. Ya wanna sound like an amateur? Call 'em pecs.

Slob: I don't go for those guys at Muscle Beach. The waist is so thin there's no room for any food.

Slob: You know what I want? A big thick neck.

George: Don't you want a stomach like mine?
Slob: Well, I go for your triceps and your biceps. They look great. But I wouldn't have your legs if you'd give 'em to me.

Slob (to Kotty as he and George compare legs): Which one's got the best?
Kotty (pulling up shirt to display her legs): In this establishment, I have.

Sam: Kotty? Now what's wrong?
Kotty: Nothing. I just don't want to stand between you and your shells. You don't need a woman. You should go steady with a clam. I don't get it. A grown-up man and you still play with seashells.

Sam (to Slob): How can I explain to you the secret of a new element that may obsolete the power of the hydrogen force?

Slob: You like my cooking?
Kotty: Not bad.

Slob: You like me?
Kotty: Like I like garbage.

George (after being shot in the arm): Hey, Slob, have you lost all your buttons?

Kotty (to Slob): What have we ever done to you? Why do you want to change our lives? You got your own place. Build it up. Tear it down. If you want to eat each other, eat each other. Just leave us alone.

Kotty: So all the time the professor was only playing a game?
Sam: That's right.
Kotty: And me too?
Sam: In the beginning, yes but you're too much ammunition for me.


back to top
---