DVDs from TCM Shop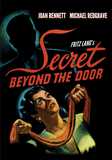 Secret Beyond the Door A new bride becomes obsessed... MORE&nbsp> $17.47 Regularly $24.95 Buy Now blu-ray
NOTES
DVDs from TCM Shop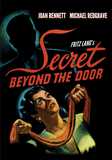 Secret Beyond the Door A new bride becomes obsessed... MORE&nbsp> $17.47
Regularly $24.95 buy now
Rufus King's novel Museum Piece No. Thirteen, upon which the film was based, also appeared in the December 1945 issue of Red Book magazine under the title The Secret Beyond the Door. The film opens with a voice-over narration spoken by Joan Bennett. Contemporary sources indicate that British actor Michael Redgrave made his U.S. film debut in the picture, although RKO's production of Mourning Becomes Electra, which Redgrave filmed immediately afterward, was released just prior to Secret Beyond the Door. According to contemporary sources, director Fritz Lang wanted Milton Krasner as director of photography, but Bennett, a partner with Lang and producer Walter Wanger in Diana Productions, insisted that Stanley Cortez be used. Contemporary sources reveal Lang's first choice for Mark Lamphere was James Mason. In addition, modern sources note that Ring Larder, Jr. was initially considered as the film's screenwriter and that the final script, by Silvia Richards and Lang (uncredited), took nearly a year to complete.
As a result of the formation of Universal-International in the summer of 1946, executives Leo Spitz and William Goetz were put in charge of studio production, a fact that significantly influenced post-production of this film. After what contemporary sources indicate were "disastrous previews" of Secret Beyond the Door, Goetz took over the film and made cuts (as much as seventeen minutes worth) and had Bennett dub the entire voice-over track, which was originally recorded by actress Colleen Collins. Lang had no part in the re-editing and modern sources disclose that Lang attempted to take legal action against Bennett, as a partner in Diana Productions, for dubbing the voice-over. According to a Hollywood Reporter news item, Lang appealed to the Screen Director's Guild regarding the changes and cuts and their executive committee ruled that recutting rights did not extend to adding new scenes or narration shot by other directors, especially when the new material replaced scenes for arbitrary reasons. The news item mentioned that the matter of these eliminations was settled to Lang's satisfaction, but did not reveal any details.
Files at the USC Cinema-Television Library note that animator Walter Lantz was originally assigned to do the film's opening dream sequence. Later the sequence was given to abstract visual artist and animator Oskar Fischinger, but his tests were considered unsatisfactory and work was eventually produced entirely by the Walt Disney studios. Secret Beyond the Door was Diana Productions' final film. According to Hollywood Reporter, the film lost almost its entire production cost of $1.5 million. In 1953, Bank of America foreclosed mortgages on ten independently produced pictures on which money was still owed, one of which was Secret Beyond the Door.