DVDs from TCM Shop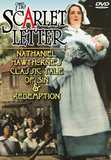 The Scarlet Letter At the end of the 17th century... MORE&nbsp> $6.95 Regularly $6.98 Buy Now
Home Video Reviews
How many hapless filmmakers have been lured to disaster by Nathaniel Hawthorne's
The Scarlet Letter
? The basic story elements would seem dramatic enough: adultery, religious hypocrisy, collective versus individual will, secret identities, and so on. The real problem instead lies with the novel's dialogue--Hawthorne had his characters speak in a deliberately archaic manner to evoke 17th-century Puritan New England. While the dialogue looks passable on paper, even the most experienced actor will be sorely challenged to make it all sound natural, or even convincingly stylized. So when well-meaning screenwriters and directors strive to remain faithful to the novel, the results are often fatally stilted. Robert G. Vignola's 1934 adaptation is a textbook case study in this regard, though Image Entertainment's new DVD release at least offers a luminous video transfer of restored picture elements.
Vignola's
The Scarlet Letter
was a prestige production, relatively speaking, for Larry Darmour's Majestic Producing Corporation--also commonly known as Majestic Pictures--a short-lived venture in the mid-1930s. Although it was shot on a low budget compared to the major studios, the costumes and settings are mostly convincing, and James S. Brown, Jr.'s photography is every bit as good as that found in big studio productions of the time. If anything, the film looks
better
today than popular studio releases of the era such as MGM's
Mutiny on the Bounty
(1935), precisely because it was less financially successful and its negative was thus less heavily used.
But the whole enterprise falls apart once the actors open their mouths. Colleen Moore may have been a talented comedienne, but here she never quite achieves the dramatic intensity that the role of Hester Prynne requires, nor does she succeed in projecting the inner strength of her character. Hardie Albright is even weaker as the Reverend Dimmesdale. But not all the blame can be placed on the actors; in general, the director makes them speak too slowly and distinctly, and much of the drama is undercut by consistently flat line delivery. Why should we assume that people in olden times always spoke pompously, even in intimate moments? Vignola also doesn't make sufficient use of the film medium to suggest the characters' inner conflicts through gesture and facial expressions. Even at 73 minutes the film becomes a chore to watch, particularly during the too-frequent Laurel and Hardy-style comic relief. Seeing films like this makes one sigh nostalgically for the gangster films of the early Thirties, with their lively street slang and pop psychological tragedy--now there was an original and wholly American art form.
For those seeking superior adaptations of
The Scarlet Letter
, Victor Sjostrom's silent 1926 version starring Lillian Gish is easily the best of the lot. Not only is Lillian Gish predictably the better actress, but I suspect that this version works precisely because it's silent and thus circumvents the problem of having actors recite Hawthorne's dialogue. I for one am also curious to see Wim Wender's 1972 German-language adaptation, which will soon appear on DVD.
While the Vignola film itself earns low marks and remains little more than a historical curio, the Image Entertainment DVD boasts an excellent transfer based on Robert Gitt's UCLA Film and Television Archive restoration. According to Sam Sherman, the film's current distributor, the original camera negative was practically untouched when he purchased the rights to the film. It's not difficult to see that this is the case, since the black-and-white image has fine detail and contrast, making it stand apart today from most films during that era, which tend to look more dupey and battered. There are only a few minor speckles and scratches on the print; otherwise it is pristine. My main complaint is that Sherman has replaced the Majestic Pictures title card with his own Signature Films logo, compromising the film as a historical artifact. Also, the hastily designed cover art on the disc's case makes it look like a cheap public domain knockoff, which it most emphatically is not.
Sherman also provides an oddball commentary track in which he reads excerpts of letters from the film's stars, talks about his experiences as a film distributor, and has trouble pronouncing the word "ignominy" when he stumbles across it in a trade review. Although it's not terribly informative about the film itself, Sherman's commentary has, shall we say, a certain anthropological appeal. Other special features include a photo gallery and marvelously campy reissue trailer that makes the film look more like Ed Wood than Nathaniel Hawthorne. (
Madman's Torture! Shameless Lust!
) As for the film itself, whatever historical value it may have is trumped by its exceptional condition, making the DVD a recommended purchase for those building a systematic collection. High school students who are understandably terrified by Hawthorne's tortuous prose will also score a better quiz grade renting this plodding but relatively faithful account instead of Roland Joffe's racy 1995 "free love conquers all" version starring Demi Moore and Gary Oldman.
For more information about
The Scarlet Letter
, visit
Image Entertainment
. To order
The Scarlet Letter
, go to
TCM Shopping
.
by James Steffen