DVDs from TCM Shop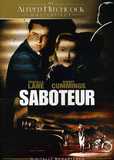 Saboteur A young man accused of... MORE&nbsp> $10.47 Regularly $14.98 Buy Now blu-ray
NOTES
In the film, there is some confusion over the fate of the battleship U.S.S. Alaska. After the explosion at the christening, the ship is seen upright, sailing into the harbor; however, as "Frank Fry" makes his escape from the movie theater, his taxi drives by a shipyard in which a battleship is seen lying on its side, and his smile of satisfaction insinuates that this ship is the Alaska.
According to Hollywood Reporter and New York Times news items, in November 1941, producers Frank Lloyd and Jack Skirball purchased the screenplay for Saboteur, as well as the services of director Alfred Hitchcock, from producer David O. Selznick for $20,000. Modern sources credit Hitchcock with the original story idea for Saboteur. Robert Cummings was cast in the lead role of "Barry Kane" as the first film under a new contract with Universal, while Priscilla Lane was borrowed from Warner Bros. for the role of "Pat Martin." Lane missed the first few weeks of production, however, due to an extended filming schedule on the previous film she had been making, Arsenic and Old Lace (see entry above). In a modern interview, Hitchcock stated that Lane was not his choice for the female lead, and was cast by Lloyd and Skirball without the director's input or approval. According to modern sources, Hitchcock had originally wanted Gary Cooper for the role of "Barry Kane," and Harry Carey in the villainous role of "Charles Tobin." Cooper, however, was unavailable, while Carey turned down the role because his wife objected to him playing a Nazi. Saboteur marked the feature film debut of Norman Lloyd, a noted New York stage actor who would gain renewed popularity in the 1980s as "Dr. Esterhaus" on the acclaimed television drama St. Elsewhere.
Hollywood Reporter news items state that three different units worked on Saboteur at the same time: Hitchcock with the main unit on a Universal sound stage; 2d unit director Vernon Keays and cinematographer Charles Van Enger shooting exterior footage in Lone Pine, CA; and John Fulton, the head of Universal's special effects department, shooting background footage in New York City with actor Lloyd. Universal press materials also state that some scenes were shot in an Arizona desert.
Hollywood Reporter news items and Universal press materials state that contract player Guy Kibbee turned down the role of "Tobin" because he felt it was "too unsympathetic." John Halliday was cast in Saboteur, but was unable to arrange transportation from his home in Hawaii to Los Angeles in time for the beginning of production, according to Universal press materials. While early Hollywood Reporter production charts list Edward Curtiss as the film's editor, Otto Ludwig assumed that position in later charts and received screen credit. Universal press materials also incorrectly credit actress Ann Shoemaker in the role of "Mrs. Mason." According to a New York Times obituary of stuntman Russell M. Saunders, Saunders acted as Robert Cummings' stunt double. Hitchcock makes his customary cameo in the film as a man standing in front of a drugstore.
The film was originally set to premiere in Washington, D.C. on April 15, 1942, but the opening was delayed one week due to wartime problems in scheduling a private press train. Along with Hitchcock, Cummings and Lane, the premiere was attended by eighty U.S. Senators, as well as 350 U.S. Congressmen.