DVDs from TCM Shop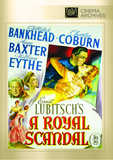 A Royal Scandal Catherine the Great falls in... MORE&nbsp> $12.95 Regularly $19.98 Buy Now
NOTES
DVDs from TCM Shop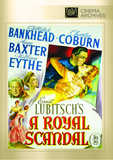 A Royal Scandal Catherine the Great falls in... MORE&nbsp> $12.95
Regularly $19.98 buy now
The working titles of this film were Czarina and The Czarina. An October 1944 New York Times news item reported that the studio was going to change the title Czarina, "as it is feared too few movie patrons these days will know what a Czarina is-or was." The following written prologue appears onscreen after the opening titles: "This picture is about Catherine of Russia. Her people called her the 'Mother of all the Russias.' Her biographers called her 'The Great.' Our story takes place at the time of her life when she was not so much of a mother-But when she was especially great." The film is very loosely based on the life of Catherine the Great (1729-1796), a tempestuous, saavy monarch whose favorites sometimes obtained a significant amount of political power. According to an October 11, 1944 Hollywood Citizen-News article, the studio emphasized the "historical inaccuracy" of the picture in order to highlight its comedic nature.
A October 1944 New York Times news item noted that producer Ernst Lubitsch, who was recovering from heart problems, supervised the actors' rehearsals, while director Otto Preminger oversaw the actual filming. According to a studio press release, Lubitsch had originally wanted to direct the film as well as produce it, but was ordered by his doctors to limit his activities. According to a March 6, 1944 Hollywood Reporter news item, Joseph Mankiewicz was scheduled to write the picture's screenplay. Some modern sources note that Lubitsch wanted Greta Garbo to play Catherine, even though Tallulah Bankhead had already been signed for the part. Preminger insisted that Bankhead be retained, however. One modern source asserts that Lubitsch originally offered the role of "Alexei Chernoff" to Charles Boyer. Although a October 25, 1944 Hollywood Reporter news item stated that Gregory Ratoff had been signed to play "a stooge" to the "chancellor," he does not appear in the completed film. John Emery was announced for the role of "Catherine's ex-lover" by a October 30, 1944 Hollywood Reporter news item, but that part is played in the finished film by Don Douglas. Evelyn Mulhall, Martha Montgomery, Ellen Hall, Elaine Langan and Betty Boyd are included in the cast by a September 1944 Hollywood Reporter news item, but their appearance in the completed picture has not been confirmed.
According to a August 9, 1944 Hollywood Reporter news item, "background scenes" for the picture were shot on location at Cedar City, UT. A August 20, 1944 New York Times article noted that Columbia had sought an injunction against Twentieth Century-Fox to delay the start of production of A Royal Scandal, as Charles Coburn was already working in a production for Columbia, and that studio did not want him to be working on two pictures at once. Columbia dropped the threatened legal action, however, when Twentieth Century-Fox agreed to postpone its starting date, which originally had been set for July 31, 1944, and then 15 August 1944.
Information in the MPAA/PCA Collection at the AMPAS Library indicates that the PCA rejected the initial draft of the picture's screenplay. On August 8, 1944, Lubitsch sent a rewritten draft to the PCA and asked for a prompt response, as he had had "to postpone the starting date of the picture on account of these rewrites." The PCA approved the rewritten screenplay, although PCA head Joseph I. Breen noted that "great care must be taken to avoid any offensive suggestiveness."
After completing A Royal Scandal, Bankhead did not appear in another film until the 1953 Lester Cowan production Main Street to Broadway. The Hungarian version of Lajos Biro and Melchior Lengyel's play, A carno, was copyrighted in Budapest on November 22, 1912, and presumably opened in Budapest shortly thereafter. The English-language adaptation, entitled The Czarina opened in New York on January 31, 1922. An operetta based on the play was written by Alfred Gruenwald, Oscar Straus and Julius Brammer. Entitled The Pearls of Cleopatra, the operetta opened in Vienna on November 17, 1923. The play has been filmed two other times. The first picture, Forbidden Paradise, was released in 1924 by Paramount and was directed by Lubitsch and starred Pola Negri and Rod La Rocque (see AFI Catalog of Feature Films, 1921-30; F2.1906). The second filmed version, Catherine the Great, was released by United Artists in 1934 and was directed by Paul Czinner and starred Douglas Fairbanks, Jr. and Elisabeth Bergner (see AFI Catalog of Feature Films, 1931-40; F3.5298).