DVDs from TCM Shop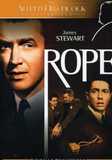 Rope Two wealthy young men try to... MORE&nbsp> $13.97 Regularly $19.98 Buy Now blu-ray
Trivia
on a neon sign in the view from the apartment window.
Story was very loosely based on the real-life murder committed by University of Chicago students Leopold and Loeb, which was also the (fictionalized) subject of Compulsion.
The film was shot in a series of 8-minute continuous takes (the maximum amount of film that a camera could hold). Every eight minutes, the camera alternates between zooming into a dark object and making a conventional cut (to allow a projector switchover in the theatre). Most of the props were on castors and the crew had to wheel them out of the way as the camera moved around the set.
Hitchcock's inspiration for the long takes came from a BBC Television broadcast of Rope in 1939. The producer, Dallas Bower, decided on the technique in order to keep the murder chest constantly in shot.
Although the film lasts 80 minutes and is supposed to be in "real time", the time frame it covers is actually longer - a little more than 100 minutes. This is accomplished by speeding up the action: the formal dinner lasts only 20 minutes, the sun sets too quickly and so on. The September 2002 issue of Scientific American contains a complete analysis of this technique (and the effect it has on the viewers, who actually feel as if they watched a 100-minutes movie).
Contributions
Holz (2008-11-07)

Source: not available

Alfred Hitchcock's first color film.