DVDs from TCM Shop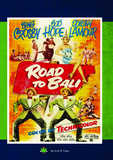 Road to Bali Two song-and-dance men on the... MORE&nbsp> $10.95 Regularly $14.99 Buy Now
NOTES
DVDs from TCM Shop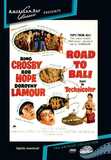 Road to Bali Two song-and-dance men on the... MORE&nbsp> $10.95
Regularly $10.99 buy now
The working title of this film was The Road to Hollywood. Voice-over narration is heard at the beginning of the film, describing the city of Melbourne, Australia. Intermittently throughout the film, Bob Hope addresses the audience directly, and in the final scene, tries to shove the "The End" title card off the screen. When he fails, the title card changes to "Positively The End." Paramount stars Dean Martin and Jerry Lewis appear briefly in one scene in the picture, as does Bing Crosby's brother Bob, playing himself. Jane Russell, dressed as her character from the 1952 Paramount release Son of Paleface , also makes a cameo appearance in the film. In one scene, footage of Humphrey Bogart, as his Academy Award-winning "Charlie Allnut" character from the 1952 United Artist release The African Queen , is intercut with shots of Hope and Crosby. During the scene, Hope picks up an Oscar statuette "dropped" by Bogart and begins making an acceptance speech.
Road to Bali was the first Bob Hope-Bing Crosby "Road to..." picture since the 1947 Paramount release Road to Rio (see AFI Catalog of Feature Films, 1931-40). It was the sixth and penultimate entry in the series, and the last to co-star Dorothy Lamour. The last film, The Road to Hong Kong, was released in 1962 and starred Hope, Crosby and Joan Collins, with Lamour in a minor role (see AFI Catalog of Feature Films, 1961-70). For more information about the series, see the entry for Road to Singapore in the AFI Catalog of Feature Films, 1931-40.
According to a December 1950 ParNews item, when the project was known as The Road to Hollywood, Paul Jones was set as producer and Valentine Davies as writer. Jones was the producer on three previous "Road to..." films. A May 1951 ParNews item announced that Don Hartman, an executive at Hope's company, was set to produce the picture. As noted in the New York Herald Tribune review, the film was a three-way venture of Bing Crosby Enterprises, Hope Enterprises and Paramount Pictures, and cast and crew members received paychecks from all three corporate entities. Hollywood Reporter news items add Joan Whitney, Harry Wilson, Jim Davies, Steve Calvert, Suzanne Ridgeway and Abdullah Abbas to the cast, but their appearance in the final film has not been confirmed. Although publicity materials included in the copyright records for the film note that a song entitled "The Road to Bali" was recorded for the picture, it was not heard in the final film.