DVDs from TCM Shop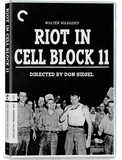 Riot in Cell Block 11 Prison inmates riot to protest... MORE&nbsp> $16.21 Regularly $24.95 Buy Now blu-ray
Trivia
Leo Gordon (I) had once served time for armed robbery at Folsom Prison. The guards remembered him as a troublemaker, and always made him enter and exit the prison separate from the cast and crew, and always strip-searched him.
Producer Walter Wanger served a prison term for shooting a man he suspected of having an affair with his wife. The experiences he had in prison so unnerved him that upon his release he resolved to make a film about what prison was "really" like, not the typical Hollywood prison film made by people who had never been anywhere near a prison or who had never had any experience with the justice system. He shot the film at California's Folsom Prison and used both guards and inmates as extras and technical advisors. Wanger's cast and crew also differed from the Hollywood "norm"; among them were actor Neville Brand, a Marine veteran of WW II who had personally killed dozens of Japanese soldiers in battle and was the third most decorated American soldier of the war; actor Leo Gordon (I), another combat veteran who had once served a stretch in Folsom Prison for armed robbery; and then-production assistant Sam Peckinpah, whose father, Denver Peckinpah, was a widely known and respected law-and-order judge in northern California (and whose name alone was enough to get the warden to allow the film to be shot in Folsom).
This was such a hit that Walter Wanger teamed with Don Seigel two years later for the now classic Invasion of the Body Snatchers (1956).
This was such a financial and critical success for Allied Artists (formerly Monogram) that they were able to book the film into theatres well into the late 1950s.