DVDs from TCM Shop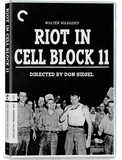 Riot in Cell Block 11 Prison inmates riot to protest... MORE&nbsp> $16.21 Regularly $24.95 Buy Now blu-ray
NOTES
DVDs from TCM Shop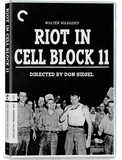 Riot in Cell Block 11 Prison inmates riot to protest... MORE&nbsp> $16.21
Regularly $24.95 buy now
The film opens with an offscreen narrator relating a semi-documentary account of the riots that have been sweeping U.S. prisons. The film then cuts to a news conference in which Richard A. McGee, a spokesman for the American Prison Association, states that the riots are the result of primitive conditions that are widespread throughout the prison system, conditions that need to be corrected in order to bring an end to the violence. The following written acknowledgment is included in the onscreen credits: "We wish to thank Mr. Richard A. McGee and his staff of the California Department of Corrections, Warden Heinze, Associate Warden Ryan, Correctional officers and the inmates of Folsom Prison for their cooperation."
According to the reviews, the film was shot entirely at Folsom State Prison in Represa, CA. The production used an empty two-story cell block at the prison. In his autobiography, director Don Siegel stated that Leo Gordon, who played " Crazy Mike Carnie," was an ex-convict who had been imprisoned at San Quentin for five years for robbery. For this reason, Heinze, the Folsom warden, originally objected to Gordon appearing in the film, but Siegel was able to convince him that Gordon was no threat to the prison.
Riot in Cell Block 11 was the first feature film of director-screenwriter Sam Peckinpah (1925-1984), who worked as a production assistant on the picture. Peckinpah, whose full name was David Samuel Peckinpah, was listed as David Peckinpah in some contemporary sources. As noted in a July 1953 news item in Los Angeles Daily News, producer Walter Wanger served three months and nine days at the Los Angeles County Honor Farm for shooting well-known theatrical agent Jennings Lang, whom he suspected of romancing his wife, Joan Bennett. A March 1954 Los Angeles Times news item notes that writers Peggy and Walter McGraw sued Wanger for $3,015,000, claiming that Riot in Cell Block 11 was based on material they wrote. The outcome of that suit has not been determined.