DVDs from TCM Shop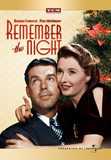 Remember the Night An assistant D.A. takes a... MORE&nbsp> $18.95 Regularly $19.98 Buy Now
USER REVIEWS
See Detailed Ratings
Acting of Lead Performers

Acting of Supporting Cast

Director

Music Score

Title Sequence

Screenplay

Cinematography

Historical Importance

Would You Recommend?

0 Member Ratings
Rate the acting of the Lead Performers

Rate the acting of the Supporting Cast

Rate the Director

Rating of the Music Score

Rating of the Title Sequence

Screenplay

Creatively uses the camera to tell the story

Importance in Cinema history

Would you recommend for fans of this genre
Submit Ratings
Cancel
Write a Review
Read Reviews
NO REVIEWS AVAILABLE
The title has not been reviewed. Be the first to write a review by clicking here to start.
Even my dad liked this.

Long ago, the last night that ended Christmas vacation, I was just beginning to become film buff. We had a black and white 19 inch, which should tell you how long ago that was. My dad was waiting in the living room, where we had the one phone. He always wanted to be an attorney, a big fan of Perry Mason, but not so much the rest of TV. But he got into the film because of the court room scenes. At first he scoffed at idea of bringing home a thief. But here is what makes this film great. Its so unlikely, yet the way that genius Preston Sturgess could manage to turn fantasy into a believable story makes this film a Christmas Classic. If my tough as nails Dad would watch this to the end, after his call came, Sturgess had one over one more fan.

True love, or syrupy sentimentality?

What a terrific little movie. If you like good comedy and/or romance stories, or any of the terrific cast/crew, you are in luck with this gem. To get the little cons out of the way: Why was Fred McMurray given so little to do? Ben said in his intro that a lot of the dialog Sturges had written for McMurray's character was chopped. Certainly Stanwyck or Bondi could have carried the good script alone on their shoulders, but they didn't need too. All the parts were fleshed out as appropriate, and performed beautifully. All but Fred's, though he had more than enough ability to play the part full-sized. And why has this movie been so hard to come by for so long? It's in pretty good shape, but it needs a GOOD restoration, as well as easy availability. The big pro: This movie illustrates love. Real love. Not the chemical or purely sexual variety that is commonly touted and shown, but true love. Love means putting someone ahead of or above yourself. That is so out of style now, I know. And familial love is the same thing, and so poignantly colored in by Bondi's character (among others) when she has her private talk with Stanwyck's character. Mrs. Sargent is certain that the bad girl is gone for her beloved son, and fearful that her beloved son is falling hard for the bad girl, but she still talks to the bad girl with gentleness, sweetness, kindness...love. She demonstrates to Lee the love that Lee has never experienced. Lee recognizes that it is true love, not the primarily selfish "love" that is, and always has been, the kind most people talk, sing and emote about. Lee can compare it to the "love" her mother and she had for each other, if any, ever. I feel bad for those that think it insipid sentimentality, but, like Lee Leander, they probably never gave, got or appreciated any real love, and don't recognize it when they see it. Plus, selfish "love" is so much more fashionable and cool. This little movie is truly a jewell.

A Great Christmas Movie

To me, "Remember the Night" is a timeless, classic holiday movie. A redemptive tale wrapped around a tender love story that has Barbara Stanwyck tugging at our heart' strings by the end of the movie. The structure of the story is so symmetrical and balanced that the viewer doesn't realize this effect until the story ends. A jewel thief, Stanwyck, is on trial just before Christmas in NYC and is prosecuted by lawyer MacMurray. He finagles a delay in the trial until after Christmas knowing that he could never win the trial this close to Christmas. But is a good guy who feels bad about sending Stanwyck to jail over the holidays. So, he gets her out of jail and buys her a fancy dinner to assuage his conscience. They discover that they grew up in Indiana, in small towns a few miles apart. They then embark on trip to Indiana for MacMurray to see his mother and Stanwyck to visit her estranged mother. Soon, MacMurray's character realizes what a powerful influence a mother's love makes in the life of a young child. He sees himself in Miss Stanwyck's character as a young girl and finds out that as kids they both "borrowed" their mother's saved money from the "cookie jar" for their own selfish reasons. But the big difference is how each mother reacted to these two acts of thievery. When MacMurray's character realizes the tremendous difference between the characters of the two mothers, his defenses against Stanwyck character's feminine charms evaporate. He falls in love with her. But then of course, complications ensue.Miss Stanwyck's superior acting abilities take over and she thoroughly entrances us. Watch it and see for yourself.

Excellent Hollywood Pair!

This power couple really stretched their comfort zones to make this the best of their four movies together. As a Hollywood pair they are, in my opinion right up there with Bogie and Bacall, Hanks and Ryan, etc. If you like the classics from the 30's and 40's this is a must see movie!

Best from this talented pair!

Of the movies they did together this is the best! They both had to stretch their comfort zones and as a result they give us their best. In my opinion they are up there with the best, Bogey and Bacall, Hanks and Ryan etc.A must see for those who love the classis of the 30's and 40's.

remember the night

So so romantic comedy slash Christmas movie. It starts off well, with Preston Sturges' writing at its best; fast and funny, with the blowhard defense lawyer and the obnoxious hicks who try to jail Fred McMurray and Barbara Stanwyck basically for being big city folk whom they instinctively don't like. Then it takes a very interesting turn into edgy darkness, with Stanwyck's mom who, as played by a wonderful character actress I've never seen before named Georgia Caine, is positively Dickensian in her malevolence. After that, though, the movie goes all Capraesque on us and Sturges does not do Capra very well, as you would expect, and the film really flattens out. Afraid you also have to blame director Mitchell Leisen for this loss of comic energy in the middle. The movie picks up somewhat in the last third, once the scene shifts back to NYC, but it's never as good as the first third. As far as the two leads go, Stanwyck is wonderful, with her transition from amoral to very moral, which is not easy to do without being corny, and Stanwyck has never been guilty of that particular sin. McMurray, on the other hand, is decent as a big city lawyer with country roots, and maybe it's the Capra thing again, but all the time I was watching him I couldn't stop thinking how much better Jimmy Stewart woulda been. And he was a little too convincing when he makes that nasty, racist remark to his valet, which caused me to muse on how McMurray is always better when playing heels ( i.e. "Indemnity" "Caine Mutiny" "The Apartment") than when he's a good guy. So, let's give it a B minus for the first third and Stanwyck.

Remember to watch!

This is a wonderful Christmas movie and a fine romance. Fred MacMurray plays a charming young lawyer, too kind hearted to leave shoplifter Barbara Stanwyck in jail over the holidays, so he takes her home to Indiana for Christmas. The two fall in love, of course, but the story line is original and the acting in this is just extraordinary, particularly as we watch Stanwyck's character soften from cynical con artist to a sincere young woman determined to change. If you've seen these two play ruthless people in "Double Indemnity," this is the flip side of their brilliant acting range.There are a few scenes that the modern viewer would like to cut; Fred's character is condescending to his African American butler who is playing his scenes for laughs in the broad manner of 1940's vaudeville. It's very uncomfortable to today's sensitivities. Sterling Holloway's barn dance scene is a bit silly, too, but he more than compensates for it when he sings, "The End of a Perfect Day," while Miss Stanwyck plays the piano and her whole life passes over her face. That has to be one of the loveliest scenes ever put on film.

Cute Christmas movie

This movie is your standard Christmas sentimental fare, but that being said, who doesn't mind that once in a blue moon, right? Watch this film for the great chemistry between Stanwyck and MacMurray--it foreshadows a tinge of the synergy you'll see in "Double Indemnity"--and another memorable "Momma" performance from Beulah Bondi. However, "Christmas in Connecticut" really is the better of Stanwyck's Christmas films...

Remember to watch

Nice holiday season film, though a bit odd. Somewhat screwball, somewhat cynical, and somewhat sentimental. The script has the Preston Sturges touch but I agree with many reviewers the film is uneven. The first third set in NYC is pure Preston, the middle third is both dark and sentimental (almost like It's a wonderful life) and the third part seems like a standard 30's court room melodrama. In that sense this is an odd film. But the Fred and Barbara make it a night well worth seeing, so please do. Their scenes together are excellent. Real chemistry, no wonder Billy Wilder matched them so well for Double Indemnity a few years later.

Remember

Leisen's Christmas classic explores the sanctity of love, marriage and family, from the format of a Preston Sturges comedy. The cast's extraordinary chemistry is among the miracles that this film bestows.

Great Movie

Well, I loved this movie and clearly this was a great pairing.

Remember the Night (unless I can help it)

It's hard to watch Fred MacMurray as the complete insensitive in the racially offensive scene with his valet. I used to be able to write off depictions like this as an unavoidable sign of the times, but I've seen too many classic movies now to buy that argument any longer. I see now that it totally depends on the individual production, and I'd rather the filmmakers didn't go so merrily down that racist path. Aside from that, I usually really like Mitchell Leisen's movies - Midnight, Arise My Love, and No Time For Love are superb ... Easy Living and Golden Earrings are also very good. Remember the Night, however, is far from the quality of those productions. It starts out ploddingly only to quickly turn sentimental (as is the nature of the beast with these xmas movies) and ends depressingly.

I Love It

This Story is just wonderful i cant begin to sum it up all i can say is that I - I Love Love Stories.

Wonderful Movie!

This a great film and so little known. I first saw it years ago and loved it, and look forward to whenever it pops up. Barbara Stanwyck and Fred MacMurray are both superlative, as are the rest of the cast, especially Beulah Bondi and the marvelous Elizabeth Patterson. What a wonderful Christmas classic! Please schedule it again soon.

Brilhante

Este filme como um diamante de to bom e raro. O elenco, o roteiro tudo de alto nvel. Lindo.

Song Question from Remember the Night

I loved this film. The first time I saw it, I cried at the end. I love the Christmas scenes and the heart rending love story. Such a hidden classic. My questions is regarding "The End of a Perfect Day." I love that scene in the film and was wondering if anyone knows if it was written for this film or if it is an independent song?Thanks and Merry Christmas to all!

Misidentified song in movie

The song from the nightclub (and also referenced in additional parts of the movie score) originally identified by Fred McMurray as "My Indiana Home" is actually titled "(Back Home Again in) Indiana." Although it has become well-known due to its inclusion in the televised portion of the pre-race ceremonies for the Indianapolis 500, it is not Indiana's official state song; that status belongs to the earlier song "On The Banks of the Wabash, Far Away," although similar phrases and imagery are present in both songs.

Great Holiday Film

I've watched this movie at Christmas time for many years and always enjoy seeing it again. In response to Mary Anne's question, the nightclub singer was Martha Mears. Apparently she did voice dubbing for actors in many films during the 1940's. I assume that it is actually her whom we see in this film since her only appearance here is as the singer.

Who is the Singer in Remember the Night

This lady sings My Indiana Home in the night club scene. She is the only singer in the movie but doesn't get a credit. Is she Dinah Shore? Are the back-up singers the Ames Brothers?

How does it end??

The same thing happened to me that happened to Kelly. My DVR didn't record the entire movie. Please show it again!! I missed about the last ten minutes.

How's it end?

I absolutely loved this movie. I hope that TCM will show it again. I watched this movie on my DVR, and wouldn't ya know?!? The dog-gone DVR pre-arranged for the movie to be exactly 1:30 in length, and then it just shut off!! So, with the credits, and the pre-movie TCM shots, it ran out of time! Now, I missed the last of the movie! Waahhhh!! Maybe the library has a copy....

Enchanting, Charming Christmas Classic!

I don't understand why this movie has never been released, even in the category of classic Christmas Movies. Besides the fine acting and wonderful actors, it has real heart and humor. This is a movie I never get tired of watching and is one of my Barbara Stanwyck favorites.

Amazing movie, with wonderful depth

This was absoloutely an amazing film. I remember searching through old TCM archives trying to remember the name of this wonderful movie i caught sometime ago... that was before i got into the habit of writing down the titles of my favorite TCM movies...But the amount of depth in this movie, the comedic relif and troubleing turmoil of family dynamics on both sides of the "tracks" was great to watch....truly a classic, and every christmas, this is one of the movies I look forward to watching.

Sterling Holloway's Singing Voice

On Christmas Eve I watched Remember theNight for the first time, even though I have been a movie fan since 1929. I heardSterling Holloway sing "When you come to the end of a perfect day" (a favorite of mine since childhood, I'm 88), and it wasvery touching. I was amazed at the pure quality of his voice. I would like to know if he sang in any other of his films.

Should Be On DVD!

I've loved this movie ever since the first time I saw it (on TCM in Dec.2007). I couldn't believe it was never added to the regular "Christmas Classics" on network TV; it really does illustrate the true meaning of Christmas, IMHO. As a previous poster phrased it, "love not based on material things, but by being truly giving & thoughtful, building fond memories" with those you love. I wish everyone (including all my friends & family) could see this movie. If it were on DVD, I would give it to everyone I know--a present from the heart. :D

Luv This Film!!

I have been waiting for years to have this film released on DVD. It is one of the best classic movies I have ever seen. It ranks right up there with "It's A Wonderful Life" as a Christmas classic, please consider releasing it on DVD and thanks soooo much for airing it, you made our Christmas!!

Barbara Stanwyck

I absolutely adore this film. Thank you for showing it. It is such a deeply moving film and so well done. Both Barbara and Fred are wonderful together and so is Beulah Bondi! I love her. This is a perfect holiday film and I voted for it to be on DVD I have to own this film. Great Holiday message.

What More Can I Say?

The first time I saw this movie was on TCM, oh my gosh I was so blessed to have seen it. I was so glad thatI remembered to tape it; however I accidentally recorded another movie over it, oh I was hurt to core. When I saw that Robert picked this for our viewing for the holidays I was over joyed it was as if someone had given me a million dollars thats how much I love this movie.They don't make em like this anymore.I wished that we could be kinder to one another as this movie portrays.God bless you Robert for showing us this movie again.

An Overlooked Holiday Classic

This movie, written by Preston Sturges, should be better known. It was directed by Mitchell Leisen, but bears the hallmarks of Sturges: wonderful dialogue, some madcap situations but, most of all, a real sense of human connection. Stanwyck and MacMurray are wonderful together, and the movie builds to a wonderful mood of longing and hope for repentance, the perfect holiday message. Long overdue for DVD release, but well worth clearing out the DVR/TiVo to find the room to record it and cherish this beautiful film.

AN UNKNOWN CHRISTMAS CLASSIC!

This is one of the best Christmas movies of all time. The acting - not only of Barbara Stanwyck and Fred MacMurray, but also Beulah Bondi, and the rest is wonderful. The story is both funny and very touching. The true spirit of Christmas giving and love shines through. I love this movie, and hope that it will be released on DVD very SOON!!

Flawed, But Memorable

Fred McMurray and Barbara Stanwyck always work well together, and the first half of this film reminds me of Preston Sturges at his best. Some of the early lines and situations are comedic gems. Alas,comedy gives way to a cloying sentimentality in the second half of the film, and the melodramatic resolution tends to grate on contempoary sensibilities. Yet McMurray and Stanwyck make this a memorable film despite its flaws by the sheer credibility of their acting. A deft screenwriter could easily rewrite the script and turn the basic premise into a delightful modern comedy. But where would they find stars like this?

One of the best Christmas movies!

What a great story and what an excellent cast!It begins not like the usual Hollywood Christmas movie. And then becomes a "true" Christmas story. A family making a stranger welcome in their home. Barbara Stanwyck has made two excellent Christmas movies, Christmas in Conn and Remember the Night.However, Remember the Night is not on the "typical" broadcast lists for TV.Please TCM, make it so!Michele Perron

Not your typical Christmas fare

Lawrence Jagdfeld

11/19/07

This movie is the real thing as it embodies the true spirit of the season. The character portrayal is excellent; each member of the cast turning in a stellar performance. Although TCM reports that it is not available on Home Video, I have the VHS. Hopefully it will be published on DVD in the near future.

New York Times Review

THE SCREEN; Paramount Tops the Season With 'Remember the Night'--Barbara Stanwyck, MacMurray Stars Print Save By FRANK S. NUGENT Published: January 18, 1940 After dallying too long with the leftovers of 1939, the screen has awakened finally to a new year and new entertainment responsibilities. "Remember the Night," presented at the Paramount yesterday, is the real curtain-raiser for 1940, the first word of reassurance Hollywood has offered since '39 went into the past. It is a memorable film, in title and in quality, blessed with an honest script, good direction and sound performance. Perhaps this is a bit too early in the season to be talking of the best pictures of 1940; it is not too early to say that Paramount's nomination is worth considering.A GREAT MOVIE WORTHY OF DVD!

The Greatest Christmas Movie of Them All

This largely unseen film is by my review profound and earth-shattering in its portrayal of romantic redemption. I hadn't seen it in about 25 years(Seattle Film Society showing) and now am mature enough to understand its inspiring message. It demands multiple viewings to appreciate its depth. I teared up three or four times when realizing the impact of its overwhelming heart. Several situations skirt the censorship of the time and that probably had a lot to do with the ending, which by the way, was perfect. This is one of those films you wish would run for another half hour it is so good. The acting by Stanwyck, MacMurray and the entire cast was also top-drawer. This is a film that should have won for best screenplay, but shows signs of being suppressed for censorship reasons. Why else has it not been seen very much all these years? This movie needs to be on DVD right now.

"Remember the Night"

Just wanted to say how much I enjoyed this movie. TCM picked a winner--& I thought there wouldn't be much new to watch after years of enjoying this era of movies. I agree whole-heartedly with the prior reviews. This should definitely be a staple of holiday viewing and I'd buy the CD also. It was heartwarming to see how the holidays were spent in this family & made me want to recreate some of that for mine. It highlights the true meaning of Christmas--sharing unconditional love in a variety of ways that do not revolve around the exchanging of material objects but through sharing everyday experiences & building fond memories. What an uplift for the spirit & great reminder for the season and beyond.

TCM gave me a Christmas Present!

Christmas is nearing, and a skillful NY prosecutor is trying a case of theft committed by a young woman. He manages to have the case continued until after the holiday when he sees that the jury intends to acquit her. Afterwards, he feels a little guilty that she will be spending Christmas in jail, so he posts her bond. By a series of events, he ends up taking her home to Indiana with him for Christmas, and guess what? Yup -they fall in love!What sounds like a typical contrivance of the era turns out to be nothing of the sort. It has a believability and an emotional truth from start to finish. The dialogue isn't bright and brittle, but realistic - as is the way in which the plot unfolds. You see why these people fall in love, and you believe it. The film also has moral ambiguity and complexity, and instead of a happy ending, you get a <i>hopeful</i> one - much more satisfying. But the best part to me, is the authentic portrayal of a loving family at Christmas - complete with a little crabbiness here and there. I wrote in several weeks ago asking that TCM show this film and was delighted to see it tonight. It's almost never shown, which is a pity. It ought to be right up there with Wonderful Life & 34th St. as a must-see. I loved it as much this time as in years past. Thanks so much for a wonderful gift!

"Remember The Night"

My sister and I just finished watching, "Remember The Night" and we absolutely LOVED IT!!!! We had never seen or even heard of this move and we are faithful watchers of TCM Network.This movie was beautiful, loving, inspiring and restores your faith in the true goodness in people that we're missing. The characters were so heartwarming and honest. A wonderful holiday film. Thank you so much for showing it. Would love for "Remember The Night" to be released on DVD. One that we would love to add to our collection.Denise Smith

remember this movie

" Remember The Night" What a wonderful movie, I would love to have A copy to add to my collection of old favorites. I haven't seen this movie in so many years, and every time Christmas comes around I am reminded of how much I want to see it again. The spirit of Christmas is felt in the performance of each character. My mother, my aunt and myself we can't wait to see it again. Thank you TCM for playing such great movies for us. Sincerely, Pauline Stringer

"Remember the Night"

Among the many Christmas holiday films that have become to take on beloved/classical status, I would love to have "Remember the Night" included. Starring Fred MacMurray and Barbara Stanwyck, it is a warm story of hardened hearts softened and a slightly different beginning to a relationship. It is most apropos to the season. Only a few of my friends (and I) remember having seen it on T.V. We'd love to see it again with its spirit of renewed hope and genuine family caring.
*We protect your personal infortmation and will not provide it to anyone without your consent. For a complete explanation, please refer to TCM's Privacy Policy. By submitting your contribution, you agree to TCM's Terms of Use.