DVDs from TCM Shop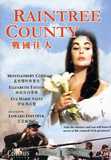 Raintree County In this sumptuous Civil War... MORE&nbsp> $9.95 Regularly $15.99 Buy Now
USER REVIEWS
See Detailed Ratings
Acting of Lead Performers

Acting of Supporting Cast

Director

Music Score

Title Sequence

Screenplay

Cinematography

Historical Importance

Would You Recommend?

0 Member Ratings
Rate the acting of the Lead Performers

Rate the acting of the Supporting Cast

Rate the Director

Rating of the Music Score

Rating of the Title Sequence

Screenplay

Creatively uses the camera to tell the story

Importance in Cinema history

Would you recommend for fans of this genre
Submit Ratings
Cancel
Write a Review
Read Reviews
NO REVIEWS AVAILABLE
The title has not been reviewed. Be the first to write a review by clicking here to start.
Warmed-over GWTW

Raintree County fails miserably to be like Gone With The Wind from the Northern point of view. Even though their circumstances are different the main characters are similar with Elizabeth Taylor like Scarlett O'Hara, Montgomery Clift/Ashley Wilkes and Eva Marie Saint/Melanie. Taylor tries her best as the neurotic Southern Belle, but can't save this pitiful film. GWTW only fell apart in its last hour while this is tedious throughout.

Too drawn out

The story was good, but I don't care for the southern drawl from Elizabeth. I think it was too much. I just finished watching it and noticed that when she was with Cliff the last time, she had dropped the accent, maybe not realizing it, and I was relieved. She retrieved it when she went back upstairs to say goodbye to her son. I love Elizabeth but don't care for the southern accents on her, and that would include her movie with Paul Newman for a similar reason.

the real time bandit.

from the last couple of gems it has brought to the world.. history channel will present really soon.. how the civil war and world war 2 interfered with the personal life of the characters monty cliff played.

Read the Novel

By reading the novel following my first viewing of this film has inspired me to watch the film, again. One may discover a renewed interest in this fine film. Capturing all of, like GWTW was, in film? Hardly possible. Yet, and in both instances the film makers did a very good job of capturing the complexities and atmosphere of a time since past. This reader enjoyed Raintree over Wind, but this viewer equally enjoyed both films. But,,and since Wind was made 20 years prior, and thus deprived of technological advances, and experience, compared to Raintrees film? Gone With the Wind is thus the greater of both films based on its inspiration and innovation, alone.

response to rosa

To the previous reviewer, who muses on the unlikelihood of there being any points of comparison between the rather plodding "Raintree County" and the immortal GWTW, let me suggest three obvious ones: First, the juxtaposition of Scarlett and Susannah, both smoldering Southern brunettes of rather unstable disposition. Second, shrinking violets Melanie and the character played by Eva Marie Saint as moral counterweights to the smoldering, Southern brunettes of unstable disposition. Third, both films are based on huge, sprawling best sellers about the Civil War era. And while I agree that the racial/miscegenation concerns evident in "Raintree" are absent in GWTW, considering that both films were products of MGM I would hazard a guess that the earlier blockbuster was very much in the minds of studio execs as they were developing this dog.

Just One Drop

Susanna briefly speaks about "one drop", how what is worse than being an abolitionist is "being a nigra", even if it just one drop. Her cousin tells Johnny that Susanna isn't the "right type", explaining why she did not get married before. That is what the understory is about throughout the film although the film is filled with rumors, innuendo, Susanna's self-doubt, the birth of her son (thinking she had twins and the darker one was destroyed). I don't see how this could have in any way been an attempt to be another GTTW, although the Johnny Susanna Nell love triangle is similar.

best movie eva!!

Elizabeth Taylor's best, great story, great cast. The DVD offered is from China and the sound is not in sync with the video. When is there going to a well-made DVD for this well-made film?

Susanna was ill, like her mother

None of the four pages of reviews mentioned that this movie is really about mental illness. And prophetically, the matron at the mental hospital, says something like, no one cared about them (the patients) before the war or during the war, and now that the war is over, no one will care. War or no war, no one cares. Unfortunately, still true for the most part.

response to denscul

Let's see. Sounds like ol Denscul's following the Trump line. You know, Hispanic judges can't rule on white defendants. Same for non hetero actors playing hetero love scenes. Aside from being homophobic this posting is also stupid. I think if Denscul goes back and looks at the scenes between James Dean and Julie Harris in "East Of Eden" and the scenes between Monty and Liz in "Place In The Sun" he'd be forced to admit they're pretty damn hot.

Finally Saw Full Movie

Can't wait to see again in August,Summer under the stars!Not a great film,loved Lee Marvin & always a Rod Taylor fan!Liz okay,prefer wholesome Eva Marie,Susanna comes across as immature b_,but is it bi___ or brat?Monty does respectable job,no complaints,esp his circumstances due to a near fatal accident,thank God for his friends rescuing him.ABSOLUTELY LOVED Deforest Kelley in a bit part as a captured CSA soldier,who dies in an exchange with Lee Marvin,whose character also succumbs.The rest is so-so.Think Monty,in spite of this film,deserved an Oscar for having the courage to go on starring (or is it staring) after that horrific accident.I doubt many others would have fared any better after what must've caused lasting PTSD until the end of his life.Nigel Patrick was also FANTASTIC as the Professor,what a character!

Bad fim

Bad film based on mediocre book and screenplay trying to correct the faults.The more I see this film, and I saw it when it first came to the theaters when I was a teen, I didn't know why I didn't like it. What I didn't know was no matter how great an actor is, its hard to overcome your sexual preferences in the love scenes. I was in a few plays in college, and played opposite a lesbian. There was just no connection on a physical level. Granted we wee amateurs, but it has left a belief that people like Clift, Dean, and Rock Hudson never matched the force between two humans, who were humans before they were actors. As an example, as much as this film is loved by the critics, and not a box office sucess, let us compare it with the film To Have of Have Not. The first of the Bogart films with his eventual wife Lauren Bacall. There great acting had the added dimension of the audience seeing the sexual attraction between the two. In word, they were hot for each other, and it showed on the screen and in the commercial and critical success.Considering the almost legendary acclaim James Dean won for such a few roles, he never showed anything but a moody, pouting, effeminate, even when he tried to act masculine and brave. He couldn't act outside his natural self.As for Montgomery Cliff, after the real accident, the producers had a change to redo his role with another. In Gone With the Wind, they replaced the original director with two others. Such changes are made to save films, great or small. The film is lavish, with great score, director, and a town that was enthralled with the actors in their town. Unfortuately for the Producers, they almost had another Cleopatra on their hands, even with Taylor and Burton.

Oh What Could Have Been

Richard M Krueger

11/4/15

I always approach any movie with the hope that there is at least something to like. Years ago (the late 50's and early 60's) I was so enamured of what Hollywood could create, that it took a lot for me not to like a film at all. Films were usually so well designed, costumed and scored that even if the film was a total dud dramatically, I could always find something to like. Stereophonic sound and wide format film making only enhanced the glamour and usually classy goings on on screen. Incredibly gifted cinematagrophers learning to use those vast wide frames for some pretty dramatic and beautiful compositions were turning out some astounding work and being a very visual person, I didn't mind if the story was a bit shy as long as I could look at the world in Todd-AO, Super Panavision or VistaVision? So, we come to RAINTREE COUNTY. It is, to be fair, not the best of films. What was imagined and what transpired, can only spur thoughts about what it could have been. Montgomery Clift's terrible accident during the filming only made matters worse. Because of this film I sought out the book on which it was based. I read it and realized that there was just too much book for one film. Still, the condensation of the parts of the story the screenwriters did use was efficient, and for me, captured the feel and essence of the book. To be honest, I actually wish the film were a good 10 to 15 minutes longer to have been able to take care of some loose ends. Taylor is Taylor. So, my point is that even though this film falls a bit short, it's an absolutely beautiful one and for some reason, never tire of watching when I can find it on TCM!

Curiously Inept

This tedious three hour drama, containing about an hour and a half's worth of actual dramatics, never comes to life. Made by the Olympus of Hollywood filmmaking, MGM, at the height of its powers, it is odd how incompetent the film is, despite its lavish production and top stars. As a Civil-War era romantic tragedy, this film is compared to GONE WITH THE WIND, but in style and impact the two films are worlds apart:-In GWTW, the viewer experiences the relentless swirl of events. In RTC, critical events in the story often take place off-screen. -In GWTW, the camerawork carries us into the midst of the drama. In RTC, the camera is passive and distant, never bringing us into the passions of the characters or the heart of the action. -GWTW's canvas is the defeat of the South, and the characters suffer according to the fortunes of the Confederacy to which their personal fortunes are inextricably bound. In RTC, the character's troubles have no implications beyond their private domestic tragedy. -Pacing is one of GWTW's compelling strengths. Whereas GWTW is in high gear from the sweep of the opening titles, RTC squanders the entire first hour on extraneous characters and their shenanigans before the plot AT LAST gets underway. -GWTW, for all its angst, has a lot of humor that buoys it up over its almost four hour length. RTC has none. It humorless adds to its sense of interminability. -One similarity RTC does have to GWTW is that the African-Americans are the most admirable characters. RAINTREE COUNTY is in fact the anti-GONE WITH THE WIND. GWTW was made under conditions of near-chaos by people who in many instances didn't know what they were supposed to be doing, but nevertheless produced a masterpiece. RTC was made by expert filmmakers who appeared to be in complete control (perhaps too much so, given the soporific results) and produced a dud.

Three hours I'll never get back.

This was a GWTH knock off. Laughable dialogue. A lot just did not make sense. Taylor does a horrible Vivian Leigh impression. Someone else mentioned that this was a before and after of Montys accident. There are quite a few shots that don't show the injured side of his face. We kept watching it hoping it would get better, then after awhile had to finish it since we already put so much time in it.

raintree county

A feeble attempt by MGM to rebottle "Gone With The Wind", with Taylor/Clift in place of Leigh/Gable. That it is only half as successful is due to the fact that Edward Dmytryk is about half as good a film maker as David Selznick. (the true auteur of GWTW) The result is three hours of tedium, (with occasional flashes of interest when Taylor and Clift are on screen together) that is mostly notable for featuring the pre and post car crash face of Monty, sometimes in the same scene! It wastes the considerable talents of not only the two leads, but Eva Marie Saint, Lee Marvin, and Rod Taylor as well. Let's give it a C. P.S. I do agree with previous reviewers that the music by Johnny Green and the photography by Robert Surtees are lovely.

Watch for the filming done on location in Kentucky

Best thing about this movie is the beautiful scenery shot in Danville Ky. Elizabeth Taylor stops the movie every 20 minutes or so with the most annoying, whinny monologues, yet when she is not on the screen the movie is really boring. Eva Marie Saint's character is a big "stick in the mud" and she doesn't deserve Montgomery Cliff. "Raintree Country" is nowhere in the universe with "Gone With The Wind", and if they were trying to approach it they failed completely. Just shows what a miracle GWTW was. Oh, the Raintree is real and I have one in my Kentucky yard.

RAINTREE COUNTY

Great Elizabeth Taylor Film..Needs to be released on Blue Ray or Dvd, How about it TCM

poor movie, great film score

Raintree County was impossible to film. If you read the book, you will realize that. No relationship to the Lockridge novel. His life and death more worthy of film treatment. Taylor was never more beautiful, best actor was Lee Marvin. Johnny Green score exquisite. I cannot recommend the film. I would recommend a purchase of the novel and a cd of the film score.

RAINTREE COUNTY BLURAY

Come on TURNER/WARNER/MGM, please release the well overdue RAINTREE COUNTY in its original format and running time, preferably on BluRay, in the original Camera 65mm style of the BluRay of BEN HUR. I note there is a 188 minute Roadshow version print in the TURNER Vault.Nothing professional has been released to Home viewing from a formal MGM USA print, since the Laser Disc many years ago - which was only the General Release version at two hours and forty eight minutes, and only at 2.35:1.Regards, and hoping.Eric GLASBY Australia

Raintree County

I didn't mind the length of the movie at all, intermissions are cool......but it could have been better scripted. Overall I consider it an epic film and the novel a classic. My only faults with the movie are:Was john Shawnessy in love with Susanna or did he stay with her out of pity and the feeling of responsibility. I think he really did love her, yet he loved Nell as well. I think they should have taken a break in filming when Montgomery Clift was in the horrific car accident so that he would have been better prepared and less ill, giving him the opportunity to show the great character of John Shawnessy that Ross Lockridge Jr portrayed in the book. This movie is begging to be remade!

Raintree County Review

I consider this film one of the all time classics. It deserves it place on DVD and Blu-Ray for our young generation to view. All the wonderful actors of this time period are just about gone, and we need to review what real acting was allabout!!!!!!

Please show again.....

As many others unable to have viewed this movie, I would really like to have been able to, I was disappointed to have only caught a small part, due to the time....but has me writing this post to hopefully ensure to see it in it's entirety . I enjoyed what I had seen.(and made sure not to watch the ending) so it wouldn't spoil the whole film.

Raintree County

Marilyn Dollinger

8/22/11

This is one of my favorite classic movies! However the last airing was 5AM my time and I missed the entire movie. Wouldn't another airing at a prime time befit this wonderful classic? I'm sure many viewers would greatly appreciate it!

Observation

Just finished watching Raintree County. Question/Observation:When John and Susanna are visiting the ruins of her burned out childhood home, she says she was 3 or 4 years old when the tragedy happened. Much later in the movie, she tells John she wrote a note to her mother and left it on the dressing table - a note that would be too substantial for a 3 or 4 year old to compose. Should I assume that the age she earlier stated was misinformation on her part, as part of her mental state?

Is it too long?

This flic has great everything. Great Stars like Liz Taylor, M. Clift, Eva MarieSaint, ect. A great Director, and sumptious color. So why didn't I like it when I saw it for the first time, at age 15? And now that I'm 68, it still isn't in my rather large collection. Maybe its a chick flic. Maybe something is wrong with the plot. Or is it because it seems to plod along. Maybe a better edit would have helped, cutting it down about 30 minutes. I have the same problem with South Pacific. Love the music and scenery, but as much as I've tried, I have never watched it from begining to end. Same thing with Raintree County. Is it the fact that so many critics fawn over it, and expectations are too high? Is it because I loved E. Taylor when she and I were young, and before she developed into a beautiful woman with a voice that must have driven her many husbands crazy. Is it because M. Clift, always seems like he's trying to get a good grade from acting school? There are some "actors who make you forget they are actors, and come across as real people.

Lisa Dragon ~ Raintree County

Many civil war movies at the time dealt with the the social, political & emotional aspects of the effects of the war. This one focused on the psychological impacts. I liked that it showed this angle.

Encore! Do This Classic Justice....

The last airing was in the 6 a.m.(CT) slot which was not in favor of this great movie, or most potential viewers.This is truly a classic and I would appreciate, along with many other fans of Elizabeth Taylor, the opportunity to view it in its entirety during a more favorable primetime slot.

Sumptuous

I didn't get a chance to see the entire film this morning when it was on TCM...so maybe I shouldn't comment until I've seen it in its entirety. But the word 'sumptuous' does describe this film. After the airing, TCM showed a two and a half minute promotional film called 'Operation Raintree.' The promo was in black and white and had not been restored, and looked very crude compared to the finished product. It made me appreciate just how beautiful the final film is and how much money and effort went into making 'Raintree County' a film that could outlive the technological limitations of its age. I won't comment on Monty and Liz, because I read their working relationship as a deep friendship and I don't exactly look at them as lovers on screen. But there is always something about both of them, in individual ways, that exceeds the celluloid image and resonates with me long after the film is over.

I was Monty Clift's Stand-in!

This Civil War classic holds special significance for me. I worked in the film (as an extra) for 8 weeks and the experience of watching Hollywood professionals at work...and meeting such stars as Elizabeth Taylor and Montgomery Clift was exhilerating. I watch it now on VHS and a flood of warm memories starts to flow once again. It was a great moment in time for me.

Rate this one with Gone With the Wind

Yet another Civil War movie?? NOT !! Can be referred to as the North's version of Gone With the Wind. Superb performances by entire super cast. Elizabeth Taylor, Mongomery Clift, Rod Taylor, Eva Marie Saint, Agenes Moorehead.... The entire cast. Beautiful color photography in wide screen, most beautiful music score by Johnny Green.. Everything about this movie will appeal to the senses. AND can be watched with non-diminishing interest, over and over and over again... Please re-issue this on DVD.... Would be a sell out.

Best Movie

Shirley Willoughby

2/22/09

I love this movie because of the Civil War theme and it was filmed in my home state of Kentucky. I attended the Raintree County Festival in Danville Ky in August of 2007 it was great and I even got to see the movie showed at one of the schools there. It was the best three hours ever. Even my teenagers were spell bound.

Not Bad!

Originally I was put off by the thought of a 3 hour movie. However I wanted to see it because of Montgomery Clift, as I really enjoy his movies and the storyline sounded good. Well, I do think this movie would have been better served as a 2-2 1/2 hour movie, but made it to the end. Montgomery is his usual best, and so are the others actors. Worth seeing at least once.

This Civil War Classic on DVD

I might like this movie on DVD. It stars Elizabeth Taylor, Montgomery Clift, and Eva Marie Saint.

Literally Gone with the Wind

A good try, but way too long. The screenplay could not sustain the 3 hour plus length. What overshadows the movie itself, is that well into the filming, Montgomery Clift suffered a disfiguring car accident that changed him emotionally for the rest of his film career. You will notice the difference in his appearance between the early scenes and the ones that were shot after the accident. Uneven performances by the principles; and quite good ones by the supporting cast. A beautiful, poigniant score by Johnny Green.

Acting, score and costumes are WOW!

Raintree County is the rare combination of story telling and music all coming together to recreate a time of upheaval in America. Yet, the film also captures the familiar yearning for a new Camelot that inspires the dreamers amongst us.The acting, sets, costumes, and score combine to recreate the Civil War era with a story line that engages and challenges one to see beyond the obvious into some dark recesses of a troubled heroine's mind and soul. A truly great film!

Too long but still good

I found Raintree slow-moving (although still interesting) but they could have done it in two-thirds the time. Taylor's character was as annoying as could be; this is the only movie I've seen her in where I wanted to slap her in every scene she was in. Rod Taylor was under-used, he's a great actor. No Civil-War-set movie could ever compare to GWTW and this one doesn't try, except perhaps in length. Clift's character should have chosen the girl who was well-grounded ("Nell") instead of the girl who was easy.

Great film

This is a wonderful movie. The location and score are beautiful. I don't know why people keep saying this is like "Gone With the Wind". It is nothing like GWTW. The only similarities are that both films are set during the Civil War and it has something to do with the South. This movie has a comepletely seperate plot from GWTW and the characters are comepeltely different. I think this film is incredible.

The Next GWTW?

Though it was proported to be the next GWTW for MGM , it fell short at the box office as well as in the overall impact. It is especially noteworthy to Liz and monty fans out there aqfter seeing them in Place in the Sun and in this film when he is clearly "pained" looking due to his recent car crash. What a face he once had!!The music I find truly haunting every time I hear the opening credits. It takes us back to our own roots in perhaps a small town such as Fairhaven when things seemed idealic and summers were long and and we were innocent.Costumes are great throughout and worn with great flair by Liz who can reaaly carry off a hoop skirt and banana curls.

Watch it only Because of Liz and Monty

This was suppose to be another "Gone With the Wind" type film-- Not! The only good thing about it was the acting, as the storyline did'nt have enough bite to it and felt my mind wandering away from this very long film. Regardless of that, it was still worth the watch in seeing Liz Taylor and Monty Clift together again.

The Essential Movie

Liz Taylor and Montgomery Clift are perfect in this movie. He came back from a serious accident and used it to make this performance so much better. It should be on DVD.
*We protect your personal infortmation and will not provide it to anyone without your consent. For a complete explanation, please refer to TCM's Privacy Policy. By submitting your contribution, you agree to TCM's Terms of Use.