DVDs from TCM Shop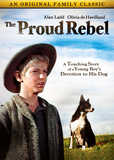 The Proud Rebel A rancher tries to raise money... MORE&nbsp> $5.95 Regularly $3.99 Buy Now
NOTES
DVDs from TCM Shop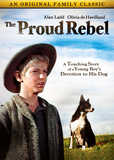 The Proud Rebel A rancher tries to raise money... MORE&nbsp> $5.95
Regularly $3.99 buy now
Although David Ladd's credit in the opening credits reads "and introducing," he had previously appeared with his father, Alan Ladd, in the 1957 Warner Bros. film The Big Land. According to studio press materials, producer Samuel Goldwyn, Jr. persuaded his father, Samuel Goldwyn, to sell him the rights to the James Edward Grant story on which The Proud Rebel is based. A April 23, 1958 Hollywood Reporter article noted that, after two years of work on the script, Goldwyn, Jr. turned to United Artists for financial backing, but was told that he would be limited to a budget of $1,200,000. Instead, he financed the film himself for $1,600,000, after which he sold the domestic distribution rights to Buena Vista. According to the SAB, Loew's, Inc. handled foreign distribution.
Adolphe Menjou was originally cast in the film, but Los Angeles Times reported on September 7, 1957 that he had torn ligaments in his leg and groin and would have to be replaced. Studio press materials note that King, the border collie who plays "Lance," was a Western champion sheep dog; press materials also state that, during production, Olivia de Havilland ended a highly publicized feud with her sister, actress Joan Fontaine, that had started over a perceived slight to de Havilland's first husband. A August 27, 1957 Hollywood Reporter news item notes that production was halted temporarily when director Michael Curtiz had an emergency appendectomy. Although the press notes state that The Proud Rebel was shot in wide-screen, contemporary reviews indicate that it was released in standard format. Hollywood Reporter news items in September 1957 state that the film was shot partially on location in Cedar City and Kanab, UT. As noted in press notes and news items, University of Utah coed Marcia Wilson won a studio contest to play "John Chandler's wife." Her only appearance in the completed film, however, is in a photograph.
Although October 1957 Hollywood Reporter news items and production charts add Bert Grant, Ricky Murray, Mike Ladin, Hugh Corcoran, Percy Helton and Geoff Parish to the cast, their appearance in the final film has not been confirmed. Contemporary reviews praised the picture highly, noting especially the performances of de Havilland and David Ladd. An April 1958 Hollywood Reporter article stated that, although The Proud Rebel was "a better picture" than Disney's Old Yeller, the 1957 film benefited from promotion via the Disneyland television program, to which The Proud Rebel would not have access.