DVDs from TCM Shop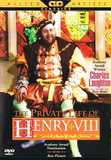 The Private Life of Henry VIII The famed English monarch... MORE&nbsp> $14.95 Regularly $19.99 Buy Now
NOTES
Immediately following the onscreen credits are two written statements. The first reads: "Henry VIII had six wives. Catherine of Aragon was the first; but her story is of no particular interest-she was a respectable woman. So Henry divorced her." The second note reads: "He then married Anne Boleyn. This marriage was also a failure-but not for the same reason." The film's opening credits differ somewhat from the end credits. In the opening credits, the "wives" and the "king's nurse" are listed last, and the wives are given numerical designations, such as "Anne Boleyn, the second wife" and "Jane Seymour, the third wife." Although the cast credits spell Robert Donat's character name as "Culpepper," it is spelled "Culpeper" in an onscreen note, and several reviews also spell it as "Culpeper." Publicity items note that clothes worn by Charles Laughton in the picture were reconstructed from period portraits, and interior sets were reproductions of interiors at Hampton Court and other Tudor palaces. The film won Laughton an Academy Award for Best Actor, and the movie was nominated for Best Picture. It was chosen as one of the "Best Foreign Films" of 1933 by the National Board of Review, made New York Times's "ten best" list of 1933, and was voted one of the ten best pictures of 1933, according to a Film Daily critic's poll.
Modern sources add the following information about the production: The idea for the picture came to director Alexander Korda after he heard a London cab driver sing a music hall song about King Henry VIII. Seven complete scripts were written and discarded. Initially only the story of Henry and Anne of Cleves was to be dramatized, but the story was eventually expanded to include five other wives. Korda had a difficult time finding financing, as period projects were then regarded as box-office poison. He was even told to leave Henry's name out of the title and instead use the title The Golden Bed. Finally, with the help of Richard Norton and Murray Silverstone, 12,000-20,000 were secured from United Artists, which was looking for new product to distribute. Although producer Herbert Wilcox had an exclusive contract with United Artists for British films, Korda overcame this restriction, and his film was shot at Wilcox's British and Dominion studios between late spring and early summer 1933. Even after production had started, Korda lacked sufficient funds to complete the picture. To save money, sets were constructed cheaply, the same costumes were worn throughout the picture, and actors reduced their salaries or waited until completion for their compensation. The London opening took place at the Leicester Square Theater on October 24, 1933, two weeks after the New York opening. The picture grossed around $500,000 in America alone, and much more overseas, thus proving that a British sound film could match Hollywood product in popularity. Following the success of The Private Life of Henry VIII, film production in England blossomed, and Korda's London Films was placed under contract by United Artists. His next two pictures, Catherine the Great and The Private Life of Don Juan, were also biographical costume pictures. According to modern sources, the cast included Judy Kelly (Lady Rocheford).
Other pictures dramatizing Henry VIII's personal life include Cardinal Wolsey, a 1912 Vitagraph film, directed by Stuart Blackton and Lawrence Trimble and starring Hal Reid; The Six Wives of Henry VIII, a 1971 BBC mini-series, directed by Naomi Capon and John Glenister and starring Keith Michell, Annette Crosbie and Angela Pleasance; and Henry VIII and His Six Wives, an Anglo-EMI production, directed by Waris Hussein and starring Keith Michell and Charlotte Rampling.