DVDs from TCM Shop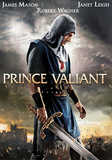 Prince Valiant A young Viking prince strives... MORE&nbsp> $7.46 Regularly $9.98 Buy Now blu-ray
NOTES
DVDs from TCM Shop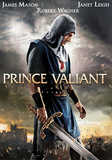 Prince Valiant A young Viking prince strives... MORE&nbsp> $7.46
Regularly $9.98 buy now
The film begins with an offscreen narrator describing the betrayal of Viking king Aguar at the hands of Sligon, and his subsequent retreat to Britain, where he was sheltered by King Arthur of Camelot. According to a November 1946 Hollywood Reporter news item, the rights to Harold Foster's popular comic strip were first purchased by Eagle-Lion, with Leonard Picker assigned to produce. In May 1952, a M-G-M News article announced that M-G-M was going to make a picture based on the "Prince Valiant" character, which was to be produced by Carey Wilson with a screenplay by Alec Coppel. According to Twentieth Century-Fox publicity, M-G-M's option on the material ran out before the studio could complete a satisfactory screenplay. The rights were then purchased at the behest of producer Robert L. Jacks, who had pursued the project for three years. Studio publicity also reported that the film's costumes, art direction and set direction were all based on Foster's original drawings for the comic strip.
According to January 1953 Hollywood Reporter news items, Twentieth Century-Fox originally intended to film Prince Valiant in 3-D. On April 2, 1953, Hollywood Reporter announced that in addition to Robert Wagner, Robert Newton and Michael Rennie (who does the opening voice-over narration) were under consideration for "top roles." Victor Mature was suspended by the studio for refusing the role of "Sir Gawain," according to a July 8, 1953 Hollywood Reporter news item. Although Hollywood Reporter news items include the following actors in the cast, their appearance in the completed picture has not been confirmed: Clint Dorrington, James Dime, Robert St. Angelo, James Water, Fred Aldrich, Paul Bakanas, Jack Bellin, Guy Buccola, Lloyd B. Dawson, Will Duffy, Milton Freibrun, Philip Herron, Pete Kellett, Bill Sinley, Bill Swing, Tom Gilson, Boyd Ackerman, Clyde Courtright, Chuck Hamilton, Paul Kruger, Bill Wallace, Michael Grace, Whitey Haupt, Mary Carroll, Karl Davis, Nestor Eristoff, Edward Mundy, Fred Fisher, Kit Guard, Jean Gale, Bo-Peep Karlin, Eleanor Moore, Sally Yarnell, Rosemary O'Neill, Robert Henry, John Kennedy, Dorothy Philips, Joe Evans, Ace Hudkins, Alan Pinson, Jack Mather, Bud Cokes, Jimmy Gonzales, Richard Kiser and Stephen Hase. A August 6, 1953 Hollywood Reporter news item reported that "Hap" Henry, Walter Pietila and Jerry Chiat would perform a "sword-diving act" in the picture, but they were not in the viewed print.
According to Hollywood Reporter news items, some location shooting for the picture was done at the Arroya Sequit, Sherwood Forest and the Rowland V. Lee Ranch in the San Fernando Valley of CA. Studio publicity noted that numerous locations in Great Britain were used, including the village of Dornie, Braemar Castle at Aberdeenshire and Eilan Donan Castle at Loch Duich in Scotland; Alnwick Castle, Northumberland and Warwick Castle, Warwickshire in England; and Caernarvon Castle in Wales. A February 1, 1954 Hollywood Reporter news item announced that a musical short of Haydn's "Farewell Symphony," directed by Otto Lang and conducted by Alfred Newman, was being shot to accompany Prince Valiant in theaters, but no other information about the short has been found. In connection with the film's publicity, James Mason left his hand-and footprints in the forecourt of the famed Grauman's Chinese Theatre on March 30, 1954. On November 30, 1953, Hollywood Reporter's "Rambling Reporter" column asserted that "Fox agreed to hold up its release of Prince Valiant till M-G-M had its crack with [the similarly themed] Knights of the Round Table".
Foster's comic strip was also the basis for a 1997 English-language feature filmed in Germany. Directed by Anthony Hickox, the picture, also named Prince Valiant, starred Stephen Moyer and Katherine Heigl.