DVDs from TCM Shop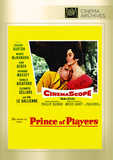 Prince of Players Acclaimed tragic actor Edwin... MORE&nbsp> $12.95 Regularly $19.98 Buy Now
NOTES
DVDs from TCM Shop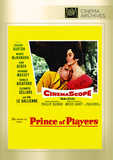 Prince of Players Acclaimed tragic actor Edwin... MORE&nbsp> $12.95
Regularly $19.98 buy now
Following the opening credits, a written statement reads: "A hundred years ago, the plays of William Shakespeare reached their height of popularity on the American stage. Actors traveled in Shakespearean repertory from the palatial theatres of the East to the brawling mining camps of the West. Stars were made by their ability in the well-known and well-loved roles: Hamlet, King Lear, Richard and Othello. This is the true story of a famous theatrical family of that era-a family which made history on stage and off."
The film is based on the lives of Edwin Booth (1833-1893), his brother, John Wilkes Booth (1839-1865) and their father, Junius Brutus Booth (1796-1852), one of the foremost acting families in the United States. Following in his father's footsteps, Edwin, called "Ned," became renowned for his subtle approach to acting and his use of the full text of Shakespeare's plays. Edwin was married to Mary Devlin from 1860 until her death in 1863. Edwin's highly successful tour of England was followed by a record-setting, 100-night run of Hamlet in New York in 1864, although he was forced to retire from acting for a year after John Wilkes assassinated President Abraham Lincoln in 1865. Edwin married another actress, Mary McVicker, and continued acting until 1891. The film's title comes from a line in the poem "Sargent's Portrait of Edwin Booth at 'The Players'," written by Thomas Bailey Aldrich.
According to a January 28, 1953 Hollywood Reporter news item, when Twentieth Century-Fox acquired the rights to Eleanor Ruggles' best-selling novel about the Booth family, Sol C. Siegel was set to produce the project, and was hoping to cast either Laurence Olivier or Marlon Brando as "Edwin." In June 1954, Philip Dunne was set to produce the picture, which marked his debut as a director. According to Hollywood Reporter news items and studio publicity, Dunne was aided in the staging of the Shakespearean scenes by noted stage actress Eva Le Gallienne, who made her screen debut in Prince of Players. [Le Gallienne made only two other feature film appearances, in addition to appearing in several television productions.] Although a July 26, 1954 Hollywood Reporter news item stated that Otto Lang would be shooting background scenes in England, France and Morocco for the picture, it is unlikely that any of this footage was used in the released film. Studio publicity reported that some location footage was shot at Lone Pine, CA, and that exact replicas of Ford's Theatre in Washington, D.C. and the Booth home in Maryland were recreated for the production.
A August 17, 1954 Hollywood Reporter news item announced that Sheila Ryan was being tested for a role, but she does not appear in the completed picture. Other Hollywood Reporter news items include the following actors in the cast, although their appearance in the finished film has not been confirmed: Frank Fowler, Nick Frank, Howard Hoffman, John Dodsworth, Ruth Clifford, Rube Schaffer, Yvonne Pattie, Jim Hayward and Louise Robinson. In a April 14, 1955 ad in Hollywood Reporter, Dunne thanked a number of the film's cast and crew, including Grace Hicks and Al Hix, whose exact contribution to the picture has not been determined.
In a January 1955 Hollywood Reporter news item, Dunne stated that "stereophonic sound was used as an integral part" of the film's production, with a "number of scenes having sound effects especially for theatres having surround horns." Prince of Players received excellent reviews, both for the acting and for Dunne's staging of the scenes in CinemaScope. The Variety review called the picture "one of the handsomest and most perfectly composed CinemaScope productions to date." In praising Burton's performance, the Motion Picture Herald Prod Digest reviewer asserted: "Perhaps for the first time in his film career, Burton is able to show himself to be the actor of range, power and intensity that he is." Burton went on to establish himself as one of the twentieth century's most highly regarded interpreters of the role of "Hamlet." After having previously played the role in 1953 in England, Burton agreed to play Hamlet on Broadway in 1964, in a production directed by Sir John Gielgud. Their modern dress, scaled down interpretation was the longest-running production of Hamlet in Broadway history, and Burton was nominated for a Tony Award for Best Dramatic Actor.