DVDs from TCM Shop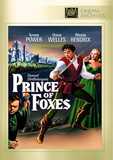 Prince of Foxes In 1500, Duke Cesare Borgia... MORE&nbsp> $14.95 Regularly $19.98 Buy Now blu-ray
NOTES
DVDs from TCM Shop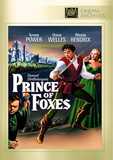 Prince of Foxes In 1500, Duke Cesare Borgia... MORE&nbsp> $14.95
Regularly $19.98 buy now
The film's main title card reads: "Samuel Shellabarger's Prince of Foxes." A prefatory title states: "This motion picture was produced in Italy. All scenes, both exterior and interior, were photographed wherever possible in the actual historic locale associated with the story." The surname of sound recordist Charles Hisserich is misspelled as "Hesserick" in the credit titles. According to documents in the Twentieth Century-Fox Records of the Legal Department at the UCLA Arts-Special Collections Library, on May 18, 1946, the studio paid $15,000 as an option on Shellabarger's novel Prince of Foxes, which was scheduled to be delivered not later than July 1, 1947. (The studio was at that time in pre-production on Shellabarger's previous novel, Captain from Castile). Prince of Foxes was published July 14, 1947, but the studio had not renewed its option, which expired on June 2, 1947. According to the legal files, Fox production head Darryl F. Zanuck felt that a the novel would be too costly to adapt at that time. However, in February 1948, the studio bought the rights to the novel for $125,000. This change was probably due to the availability of company funds that had been frozen in Italian lire. (Time reported that the film cost $4,500,000 to make, and about half of that sum was paid in Italian lire.)
The production was based at the Cinecitt Studios in Rome, but was shot on location in various parts of Central and Northern Italy, including the mountain republic of San Marino, San Gimignano, Siena, Florence and Venice. Toward the end of the long shoot, production manager Booth McCracken suffered a massive stroke. The studio flew his wife and daughter to Italy to be with him, but he died in Rome on December 3, 1948. McCracken, who had joined Fox in 1932 as an assistant director, was only forty-three years old when he died. Studio records suggest that at least one sequence involving Everett Sloane was redone in Los Angeles in February 1949, and it is possible that the sequence in which Eduardo Ciannelli appears was shot there at the same time.
According to a Hollywood Reporter news item, a budget of $300,000 was allotted for national advertising, the highest in the history of the studio, but the film was not particularly successful. Prince of Foxes was nominated for Academy Awards for best black and white cinematography and costume design. A radio version of the film, starring Douglas Fairbanks, Jr. and Joyce MacKenzie, was broadcast on Screen Directors' Playhouse on January 4, 1951.