DVDs from TCM Shop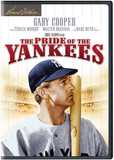 The Pride of the Yankees Baseball legend Lou Gehrig... MORE&nbsp> $10.95 Regularly $14.98 Buy Now
NOTES
Working titles of the film included The Lou Gehrig Story; The Great American Hero; The Life of Lou Gehrig; and Lou Gehrig, An American Hero. Within the onscreen credits, prior to the names of the producer and director, a title card appears with the following statement: "Appreciation is expressed for the gracious assistance of Mrs. Lou Gehrig and for the cooperation of Mr. Ed Barrow and the New York Yankees, arranged by Christy Walsh." William Cameron Menzies' credit and name appear just below Sam Wood's, and is the last credit before the following written prologue: "This is the story of a hero of the peaceful paths of everyday life. It is the story of a gentle young man who in the full flower of great fame, was a lesson in simplicity and modesty to the youth of America. He faced death with the same valor and fortitude that is now being displayed by thousands of young Americans on far flung fields of battle. He left behind him a memory of courage and devotion that will ever be an inspiration to all men. This is the story of Lou Gehrig.-Damon Runyon."
As depicted in the film, Lou Gehrig (19 June 1903-2 June 1941), was born in New York City of German-American parents. After a successful athletic career at Columbia University, Gehrig was hired by the New York Yankees. Gehrig played briefly with a farm club in Hartford, then went to the Yankees and played first base from 1923 to mid-1939. As some reviews of the film noted, Gehrig was left-handed, while Gary Cooper was right-handed. The character "Sam Blake" is loosely based on Gehrig's longtime business manager and friend, Christy Walsh. Gehrig, who was known as "The Iron Horse," played for the Yankees until the effects of a delibilitating, fatal disease, amyotrophic lateral sclerosis, forced his retirement. His record of 2,310 consecutive games remained unchallenged until 1995 when it was broken by Baltimore Orioles infielder Cal Ripkin, Jr. In addition to holding the record for consecutively played games, Gehrig was voted the most valuable American League player in 1936 and had thirty-three lifetime grand slam home runs, a record that remains intact [as of 1998].
Gehrig appeared as himself in the 1938 Principal Production Rawhide (see AFI Catalog of Feature Films, 1931-40; F3.3638). The Western was Gehrig's only feature film, although he had been considered by producer Sol Lesser to star in Principal's "Tarzan" series. New York Yankees baseball teammates Babe Ruth, Bill Dickey, Bob Meusel and Mark Koenig, who appear as themselves in The Pride of the Yankees, constituted a group of players popularly known as "Murderers' Row." The film's last scene, in which Gehrig recites his famous farewell speech, took place before a game at Yankee Stadium on July 4, 1939. Acccording to contemporary sources, over 60,000 fans attended. Amyotrophic lateral sclerosis became more commonly known as "Lou Gehrig's disease" following the ball player's death. No cure has yet been discovered for the disease. According to her obituary in Los Angeles Times on March 9, 1984, Eleanor Gehrig spent many years lecturing, fundraising and working for a cure for the disease. The article also notes that, as the film implies, Mrs. Gehrig never told her husband that she knew his disease was fatal. In her autobiographical book, My Luke and I, Mrs. Gehrig, who never remarried, wrote, "I would not have traded two minutes of my life with that man for 40 years with another."
According to a June 30, 1941 Hollywood Reporter article, producer David O. Selznick had secured the rights to Lou Gehrig's story from Eleanor Gehrig. The same article noted that the title The Great American Hero had previously been registered by author Richard Vidmer, who was working on a Gehrig biography, and that Paramount Pictures had registered the title The Life of Lou Gehrig "some time ago." A July 15, 1941 news item announced that Samuel Goldwyn "won the rights to the Gehrig picture" and that Paul Gallico was to write the screenplay. A few days later, William Wyler was announced as the film's probable director, and Spencer Tracy and Gary Cooper, who were favored by Mrs. Gehrig, were being considered for the lead. A July 25, 1941 news item announced that Mrs. Gehrig was collaborating with Gallico on a first draft of the script; however, Mrs. Gehrig is not credited as a writer and her contribution probably was more in an advisory capacity, as acknowledged in the onscreen credits. Lester Cohen was announced as Gallico's collaboraor in late September 1941, but the extent of his contribution to the released film has not been determined. Also in September 1941, Sam Wood was named the film's director.
Hollywood Reporter news items add the following information about the production: In addition to Tracy and Cooper, other actors tested or considered for the lead were Eddie Albert, Brian Donlevy, Cary Grant, former middle-weight champion boxer Billy Soose and former New York Yankee pitcher Waite Hoyt. A October 2, 1941 news item noted that Goldwyn was planning to film the 1941 World Series with six different cameras to incorporate footage for the film. Leo Durocher was considered to play himself in the picture, but was not in the film, as an actor or a character. According to various Hollywood Reporter news items, Wrigley Field in Los Angeles, CA was used for many of the baseball park scenes, and Babe Ruth missed several days of shooting at various intervals during the production, due to various illnesses.
The film received many exceptionally positive reviews and was one of the top ten box-office films of the year. Daniel Mandell won an Academy Award for Best Film Editing for the picture, which was also nominated for awards in the following categories: Best Picture; Gary Cooper for Best Actor; Teresa Wright for Best Actress; Best Cinematography (black and white); Best Original Story; Best Adapted Screenplay; Best Music Score (drama or comedy); Best Art Direction; Best Sound Recording; and Best Special Effects. Cooper recreated his role for a Lux Radio Theatre broadcast on October 4, 1943, co-starring with Virginia Bruce as Eleanor. A 1978 TV movie about Gehrig's life, entitled A Love Affair: The Eleanor and Lou Gehrig Story, starred Edward Herrmann as Gehrig, Blythe Danner as Eleanor and Patricia Neal as Gehrig's mother.