DVDs from TCM Shop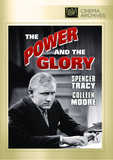 The Power and the Glory A man rises to run a railroad... MORE&nbsp> $12.95 Regularly $19.98 Buy Now
NOTES
DVDs from TCM Shop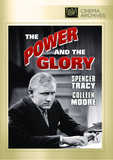 The Power and the Glory A man rises to run a railroad... MORE&nbsp> $12.95
Regularly $19.98 buy now
According to news items, Irene Dunne and Mary Astor were considered for the female lead. Colleen Moore, who had not appeared in a film since 1929, was loaned by M-G-M, as was Helen Vinson. Hollywood Reporter noted that Spencer Tracy and director William K. Howard were transfered to this film after Fox postponed production on Marie Galante. According to Film Daily, four former film directors appeared in the film: Phillips Smalley, E. H. Calvert, Frank Beal and Thomas Ricketts. News items noted that some scenes were shot at the Santa Susana Pass in CA and that the largest locomotive in the West was used in the film. According to information in the Twentieth Century-Fox Records of the Legal Department at the UCLA Theater Arts Library, the locomotive was leased from the Southern Pacific Company and the exact location of its use was the Hasson, CA station beyond the Santa Susana Pass. Other locations included the Iverson Ranch in Chatsworth, CA, according to a shooting schedule in the Preston Sturges Papers at the UCLA Library Special Collections Department. Los Angeles Times stated that 400 extras were used in the railroad roundhouse scene. New York Times noted that the film included a replica of New York's Little Church Around the Corner. An ad in New York Mirror noted that the film was shot on Eastman Supersensitive Panchromatic "1359" sound recording film.

According to information in the legal records, Philip Maxwell brought an action against Fox in the Superior Court of California for $50,000 for alleged damages suffered because of the dubbing of the voices of his boys choir, the Maxwell Choristers, who were photographed for the film, but whose voices were not used. He claimed that the choir had a contract to furnish the recording and that their reputation was damaged because Fox used another choir on the soundtrack. A Daily Variety news item stated that Maxwell claimed the dubbed chorus included sopranos over basso profundo voices, which caused the audience to "guffaw, titter and make uncomplimentary remarks." He stated that the song "Nearer My God to Thee" was dubbed over his group, who, in fact, were singing "Ave Maria." Later, Maxwell asked to have the suit dismissed, according to the legal records. Shots of the choir are not included in the print viewed.

Production was originally set to begin in late February 1933, but was postponed a number of times, according to news items. When shooting was completed, Hollywood Reporter reported that it looked so good that Fox "has practically decided to withhold it from release until September." When he learned this, Tracy protested, as he had been cast to play the lead role in The American (which was released as The Man Who Dared: An Imaginative Biography, ), and he wanted his work in The Power and the Glory to be seen first. Tracy asked for his release from Fox, but they refused; however, after he objected to appearing again as an old man in The American because he feared he would be stamped as a character actor, he was replaced in that film by Preston Foster. The Power and the Glory had a preview in Los Angeles on June 17, 1933. Information in the MPAA/PCA Collection at the AMPAS Library (discussed at length below) indicates that re-shooting took place both before and after the preview following complaints from the Hays Office about certain scenes. According to Hollywood Reporter, writer Preston Sturges worked as a dialogue director on the film for no pay. New York Times, in an unidentified news item from May 1933 in the Sturges Papers, reported that Sturges, formerly a playwright, was "on stage constantly, suggesting, working, advising much as he would with a play in rehearsal." Sturges, who would later become one of Hollywood's top directors, hoped that the experience working on this film would allow him to direct his own screenplays, according to his autobiographical writings. However, he was not given the opportunity until the 1940 film The Great McGinty.

In autobiographical writings, Sturges states that the story for The Power and the Glory was inspired by his second wife's grandfather, C. W. Post, founder of Postum Cereal Company, which later became General Foods. Although Post rose from humble beginnings and committed suicide, like the main character in the film, Sturges wrote that the final film bore no resemblance to Post's life. Sturges stated that he wrote the screenplay as a freelance project after Universal did not pick up their option to renew his contract. According to a letter dated November 17, 1932 in the Preston Sturges Collection, Sturges by that time, had told the story to Jesse L. Lasky, who had his own production unit at Fox. In the letter, Hector Turnbull, working for Lasky, asked Sturges how soon he could send a rough treatment. According to a Hollywood Reporter news item, Sturges refused to deliver a treatment, but instead wrote a complete shooting script, and Lasky, after a meeting with his production forces, could not find anything in the script to cut. In his autobiography, Lasky stated, "It was the most perfect script I'd ever seen," and in Newsweek, Lasky remarked, "I believe Mr. Preston Sturges is the first author to avail himself of the full resources of the new medium."

According to an unidentified news item in the Sturges Papers, dated November 21, 1932, Lasky then made a deal with Sturges to buy the script for a small advance plus a percentage of the profits. According to information in the studio's legal records, the terms of the purchase were that Sturges was to receive $17,500 upon signing, 3 1/2% of the first $500,000 in receipts, 5% of the next $500,000, and 7% of all receipts over $1,000,000. (In a letter in the Sturges Papers, Sturges states that he first offered the script to Lasky for the outright price of $62,475.) Fox publicity for the film stated, "It was conceived as a complete motion picture (that is, it was written in full and never in synopsis form) and thus was the first original screen story to be presented just as a finished play is given a theatre manager for production-on a royalty basis." Hollywood Reporter commented that the deal was the first of its kind ever made between an author and a motion picture producer. By February 1933, Hollywood Reporter reported that several producers were planning to cut down their story department costs by demanding complete screenplays from authors.

The uproar that the Sturges-Lasky deal caused in Hollywood led Paramount producer B. P. Schulberg to write an article, published in Hollywood Reporter February 27, 1933, in which he cautioned the industry not to follow Lasky's example. Schulberg noted that he and M-G-M production head Irving Thalberg, constituting the committee of the Production Branch of AMPAS, worked out the Producer-Author Code of Ethics with the Authors Committee of AMPAS, who made the point "that better writing would result and more pride in and respect for their work accrue to authors if a single author were permitted to write a script and have a voice in transferring it to the screen intact." Schulberg took issue with this view and stated that his own experience taught him that "neither transferring a single author's work to the screen, untouched and unchanged, nor giving a percentage of doubtful profits in place of a flat advance payment will, alone or together, make for better screen product." In Schulberg's opinion, better films were more likely to come as the result of a collaboration between as many as eight writers because films, in their attempt to appeal to a wide audience, must include low comedy, high comedy, heart appeal "and many other elements of intellectual or emotional stimulation." He reasoned that few writers could excel in the various types of writing needed for film. In addition, Schulberg stated that playwrights often require six months to write a play and then time to rewrite it. This would be impossible to accommodate in film production, he wrote, so "the next best alternative is to have four writers work eight weeks each for a combined result instead of one writer working-to cover the same ground-thirty-two weeks." Schulberg went on to criticize the percentage deal by pointing out that "more pictures return a minimum or no profit than pictures that return big profits" and that it was the "fixed yearly income" that brought even successful Broadway writers to Hollywood.

In a draft letter to the editor of Hollywood Reporter in response to the Schulberg article, Sturges wrote, "I am not trying to blaze a trail or lead my brother writers into the light....I am trying this because I like to gamble and because this same method worked out well for me in the theatre." In another draft, he spoke to Schulberg's "warning to authors against sharing in 'doubtful profits.' He will be relieved to learn that my arrangement calls for a percentage of the gross." Concerning Schulberg's contention that "from two to eight authors working together on a single script are better than one," Sturges responded, "I for one can think of no surer way of stamping out originality, initiative, pride of achievement, and quality. You can't play football with a thought." About Schulberg's argument that writers cannot excel in all types of scenes needed in a film to attract a wide audience, Sturges wrote, "Entirely apart from the fact that writers transmit emotions through words and that sad emotions are no more difficult to transmit than funny ones, there is the other fact that, without a sense of humor, a writer's sad scenes might easily become ludicrous and, without a sense of pathos, his funny scenes would not be very funny."

In his autobiographical writings, Sturges stated that he decided to structure the film in a non-chronological fashion because he found that hearing the incidents in Post's life related non-chronologically by his wife added to the interest of the story. Fox publicity played up the manner of storytelling in the film and called it "the first major experiment in screen dramatics." Publicity for the film stated, "Wanting to do something new, Sturges decided to go beyond the most modern pattern of literature and this brought him to the conclusion that while a story might be possessed of a beginning, a climax and an ending, there was no great need in presenting them in that order." The studio coined the word "narratage" to describe the manner of presentation of the narrative, which involved a narrator, in this case "Tom Garner's" friend "Henry," who introduced the scenes throughout the film and in some scenes described the visual occurrences as they took place, even to the point of speaking dialogue as characters mouthed the words. "Narratage" was also used in an independent film of 1933, The Sin of Nora Moran (see below), and film historians suggest that Orson Welles May have been influenced by The Power and the Glory in his first film Citizen Kane, which also told its story in a non-chronological manner. Concerning this way of presenting the events in the film, Nation, in their review, commented, "A mixture of dramatic action and recited narrative, the result has much in common with the earliest Greek plays, in which the leader of the chorus had much the same function as the narrator in the film. But 'narratage,' as the Fox Company has dubbed the method, has a closer parallel in the variety of novel technique perfected long ago by Henry James and illustrated in its more popular mutations in the fiction of Joseph Conrad." Hollywood Reporter stated, "Devotees of Conrad are acquainted with the style in novels, but picture patrons have never seen anything like it before." Variety remarked, "All these flashbacks are skillfully introduced. It's never mechanical or creakily artificial. The montage is smooth and natural. The camera illusions with the soft fade-outs visibly command the mind's eye to what Morgan is telling to his wife.

According to Hays Office records, James C. Wingate, director of the AMPP Studio Relations Committee, wrote to Fox official Colonel Jason Joy about the script after having conferred with Joy, Lasky and Sturges. Wingate expressed concern about the situation in the script in which the son of the main character has a child by his stepmother. Wingate wrote, "There can be few more repellant subjects than that which is portrayed in the present story, namely, an ambitious and attractive young woman marrying a widower to save her father's position; then, in their own home, arousing the sexual interest of his own son, her stepson, having illicit sexual relations with him, and bearing a child from such sexual relations." He advised that it would be a "serious mistake on the part of the industry particularly at the present moment when we are undergoing a severe storm of criticism" to include that situation in the film. Fox President Sidney Kent responded to concerns of MPPDA President Will H. Hays, "If there is in this story a sex relation such as Mr. Hays mentions, it will have to come out. I think the quicker we get away from degenerates and fairies in our stories, the better off we are going to be and I do not want any of them in Fox pictures." In June 1933, Wingate reported to Hays that he had several conferences with Fox officials, "the result of which was that the element has been considerably toned down in the picture. We are, however, not confident that it has been toned down enough, and have suggested some further trims before clearing the picture under the Code." On June 22, 1933, according to a Hays Office memo, "Colonel Joy reported that considerable re-editing and re-shooting is being done on it." In August 1933, because of a strike on the Fox lot, the film was shipped to New York for developing and printing, so the MPPDA New York office was asked to review it, and they passed the film.

The film was highly praised by reviewers. Hollywood Citizen-News stated, "I think it came very close to being one of the best talking pictures ever made in America." Nation called Tracy's performance "one of the fullest characterizations ever achieved on screen." Sturges won the 1933 Hollywood Reporter Award of Merit for Best Original Story, and, according to Hollywood Reporter, his script was published in book form in 1934 by Harcourt-Brace as an example for students. Modern sources note that outside of the New York area, the film did poorly at the box office, which May have been a reason that Sturges was not given the opportunity to direct immediately after the film. According to the legal records, by the end of 1940, the film had grossed $563,323.88 and Sturges' share had acceded his $17,500 advance by only close to $2,000. In a letter to Darryl Zanuck dated in November 1957 in the Sturges Papers, Sturges stated that the film grossed just around a million dollars. Also in the letter, Sturges stated he heard that the negative and master lavender of the film had burned in a New York fire.