DVDs from TCM Shop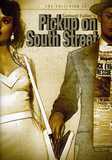 Pickup on South Street A petty thief accidentally... MORE&nbsp> $19.47 Regularly $29.95 Buy Now
NOTES
The working title of this film was Blaze of Glory. According to a February 1952 Hollywood Reporter news item, Fred Kohlmar was originally set to produce the picture. September 1952 Hollywood Reporter news items reported that Shelley Winters was originally set for the role of "Candy," but due to her pregnancy, was to be replaced by Betty Grable. Grable refused the role, however, and was placed on suspension by Twentieth Century-Fox. An September 11, 1952 Hollywood Reporter news item noted that Grable "felt she was not adapted for the straight dramatic role," while a modern source adds that Grable believed the role would not be received well by her fans. A September 12, 1952 item in Hollywood Reporter's "Rambling Reporter" column speculated that Anne Baxter and Linda Darnell, as well as Jean Peters, were under consideration to play Candy. Although Hollywood Reporter news items include Stacy Harris and Bud Wolf in the cast, their appearance in the completed picture has not been confirmed.
According to the film's file in the MPAA/PCA Collection at the AMPAS Library, a August 23, 1952 version of the screenplay was deemed unacceptable "by reason of excessive brutality and sadistic beatings, both of men and women." A September 5, 1952 screenplay was also rejected due to the "brutal beating" of "Candy" by "Joey." The screenplay was approved later in Sep, however. Although a "Rambling Reporter" item on November 19, 1952 asserted that the studio was forced to shoot retakes because "the scene wherein Jean Peters and Dick [Richard] Kiley frisk each other for loot was too frisky for the Breen office," no mention of retakes was found in the PCA file.
Thelma Ritter received an Academy Award nomination as Best Supporting Actress, and Samuel Fuller was awarded the Bronze Lion at the Venice Film Festival for his direction of the picture. On June 21, 1954, Ritter co-starred with Terry Moore and Stephen McNally in a Lux Radio Theatre presentation of the story. According to a June 1982 item in Village Voice, Pickup on South Street was retitled Porte de la Drouge for release in France and was re-edited "to tell a story about drug smugglers" in order "not to offend the French Communist Party." Twentieth Century-Fox remade the picture in 1967 as The Cape Town Affair, which was directed by Robert D. Webb and starred Claire Trevor, James Brolin and Jacqueline Bisset.