DVDs from TCM Shop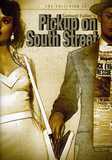 Pickup on South Street A petty thief accidentally... MORE&nbsp> $19.47 Regularly $29.95 Buy Now
Home Video Reviews
FBI Agent: "If you refuse to co-operate, you'll be as guilty as the traitors that gave Stalin the A-bomb."
Pickpocket: "Are you waving the flag at me?"
In the middle of the Red Scare of the 1950's, director Samuel Fuller found a way to update a Communist spy ring story for jaded audiences. An A-movie from 20th Century-Fox with the speed and grit of a B-movie,
Pickup on South Street
(1953) presents a still powerful look at the humanity within the lowlifes of the American underworld. Now viewers can dive into this world with the new Criterion Collection DVD edition of it.
Richard Widmark plays Skip McCoy, a pickpocket. Why is he a pickpocket? "How did you get to be what you are? Things happen that's all." He gives no excuses for his life, seeing himself as a professional who puts his nimble fingers to his own good use. However, when he lifts the wallet of some dime-a-dozen woman on the subway, he finds his fingers have gotten him into a lot more trouble than just another stretch in the pen. Her wallet contains microfilm because the woman was an unwitting courier for a Communist agent. Now McCoy is caught between federal agents out to break the spy ring and the Communists out to retrieve the microfilm. McCoy doesn't care who gets it, as long as he makes the maximum profit and gets away clean.
Naturally such a story with American citizens refusing to see their patriotic duty to fight the Commies brought down some heat on director Fuller and producer Zanuck. Both had a meeting in Washington with FBI director J. Edgar Hoover as Fuller recalls in an interview included on the DVD: "[Hoover said] I don't want an American in this Cold War to say to anyone, especially the cops, 'Don't wave that flag at me.' And Zanuck said, 'That's his character. That stays.'" It is this consistency of character that makes the movie seem so powerful. During World War II similar films were made with Humphrey Bogart, in which he would play a gangster who goes up against the Nazis and discovers his patriotism in the last reel. Widmark's pickpocket never softens or breaks character from the first reel to the last, which makes the picture's action far more believable.
Widmark is wonderful in this role, never asking the audience for sympathy by even the tiniest glance or gesture. He is matched and surpassed, however, by Thelma Ritter as the local stool pigeon, Mo. Even when she informs on the pickpocket he understands. "Mo's all right. She's gotta eat." Ritter bravely plays her part without makeup; her mottled skin and the wrinkles around her eyes adding volumes of backstory to this information peddler. Joe McDonald's cinematography is another highlight and it is flawlessly presented on Criterion's DVD with rich, high-key blacks. It is difficult to believe that this shadow-filled New York waterfront was actually shot on sets in Los Angeles.
In addition to the film presentation, Criterion also supplies two on-camera interviews with hard-as-nails action director Samuel Fuller, a selection of trailers and posters for many of his films, a critical essay and remembrances from Richard Widmark. The reality of the characters and their world presented in
Pickup on South Street
has kept it alive as a cult favorite long after the other Red Scare films of the 1950's have been dismissed as a product of the political hysteria of their time.
For more information about
Pickup on South Street
, visit
Criterion Collection
. To order
Pickup on South Street
, go to
TCM Shopping
.
by Brian Cady