DVDs from TCM Shop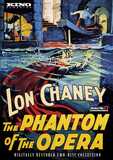 The Phantom of the Opera In this silent film, a... MORE&nbsp> $20.97 Regularly $29.95 Buy Now blu-ray
Trivia
Edward Sedgwick directed a few scenes after director Rupert Julian walked off the set after heated arguments with cast and crew.
Ben Carre was called in to design the sets, and although he had worked at the Paris Opera House, he had already been living in California for some time doing sets.
The Phantom of the Opera was re-released in sound in 1929 using Vitaphone/Western Electric sounds disks. 40% of the film was re-shot in synchronous sound and the rest had a music/sound track added or was dubbed over. The Kino edition (and all except for a few) are a silent version of the 1929 cut, a common practice at the time for theaters that did not have sound systems installed. In the sound edition, Lon Chaney was not available, and contractually, Universal was not allowed to have mouth synchronization of the Phantom. However, they wrote third-person lines to be dubbed over shots of the Phantom's shadow. The voice to these lines are unacredited, but is probably that of Universal regular, Phillips Smalley.
Chaney devised his own make-up.
The print restored by the Kino company is a 1929 re-release version that was re-edited, eliminating some scenes and inserting new material shot after the 1925 version was finished. These included a sound sequence with opera star Mary Fabian singing in the role of Carlotta. In the re-edited version, Virginia Pearson, who played Carlotta in the silent 1925 version, is credited and referred to as "Carlotta's Mother" instead.