DVDs from TCM Shop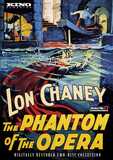 The Phantom of the Opera In this silent film, a... MORE&nbsp> $20.97 Regularly $29.95 Buy Now blu-ray
Alternate Versions
The 1995 Kino Video version contains an original score composed by Gabriel Thibaudoux, and includes an operatic solo by soprano Claudine Cote.

The Kino Company has restored and released a 1929 re-edited version of this film which includes footage shot in 1929 to replace original scenes deleted from the 1925 version. Kenneth Brownilow finished a complete restoration of the 1925 original edit in 1996 with an original score by BBC composer Carl Davis, but this film has only been shown twice in live performances and is not available commercially or on video. Restoration completed by Richard Lloyd (1999); transfer from D1 supervised by Kevin Phelan (Digital Film at The Moving Picture Company)

Also available in a computer colorized version.

The original cut featured extra scenes between Christine and Raoul (one just after the Phantom starts visiting her and an epilogue, both in a garden), and much of the business between the owners of the opera house changing hands and the first few murders are sequences that appear to have been switched for the 1929 recut.

There was also a sound reprint done in 1930 featuring some of the actors from the original movie.