DVDs from TCM Shop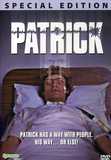 Patrick After the shocking bathtub... MORE&nbsp> $14.95 Regularly $19.95 Buy Now blu-ray
Home Video Reviews
Anyone searching for some mind-over-matter weirdness should look into Richard Franklin's
Patrick
(1978), which is now available as part of Elite Entertainment's
The Aussie Horror Collection
; a trilogy of films by producer Antony I. Ginnane that also includes
Thirst
(1979) and
Strange Behavior
(1981). In Phil Hardy's
The Overlook Film Encyclopedia for Horror
, Phil Hardy writes how "Ginnane, the prolific producer of fantasy potboilers, entrusted the direction of this
Carrie
(1976) derived story to Franklin, a sexploitation director who studied at U.C.L.A." John Stanley (
Creature Features Movie Guide Strikes Again
) is kinder in his introduction of Franklin, preferring to describe the director as "a Hitchcock aficionado who went on to direct
Roadgames
and
Psycho II
" - not to mention
F/X2
(1991). Franklin (on the dvd commentary) freely admits to cribbing his idea of a matricidal character haunted by his crime from
Psycho
(1960), while loosely building on "the semi-true" (ie: heard second-hand) story of a guy who turns into a quadriplegic after walking in on his wife during an affair. The big question that remains is: how scary can a guy in a coma be?
Richard Thompson, who got more dialogue with a walk-on role in
Thirst
than he does here, plays the role of Patrick; a young man with "issues." The pre-credit sequence fills the viewer in on Patrick's pre-coma disposition - and pre-meditated violence is definitely in the air. These first three minutes show a great flair for composition and camera movement, as we move from Patrick's blinking eye to a bedknob reflection of his mother having sexual relations with a man that refers to Patrick as her "lunatic son." As that same bedknob rhythmically bangs the wall that Patrick is leaning his unexpressive head against, we then cut to Patrick moving down the hall with extension cord in tow and a space heater. Patrick's mom and her suitor, having moved into the bathtub, suddenly find themselves playing hot-potato with the space-heater, which leaves grid marks on mom, burns her hair, and ultimately lands in the water. The backstory succinctly established, the opening credits roll, and our expectations are neatly set up. From here on out, however, the film establishes Patrick as having been in a coma for years and the proceedings switch over for the slow boil - with mixed results. The idea, as presented by the neurosurgeons in the film, is that when one sense is cut off, others compensate. Since Patrick is in a vegetative state, his sixth sense goes into a hyperdrive of over-compensation, especially when a new nurse (played by Susan Penhaligon) gives him enough T.L.C. to kick his electrodes up a notch. Telepathic maneuverings are first acted out on a nearby typewriter but soon include force-fields that can withstand axe beatings and end up being strong enough to manipulate elevators.
A few years after its release, there was an unofficial Italian sequel called
Patrick is Still Alive
(1980), wherein our psychotic and comatose protagonist (with a different actor in the title role; Gianni Dei) branches out to have criminals do his dirty deeds with messy results as people are decapitated, boiled, and torn apart by dogs - which is certainly grislier material, but is it necessarily more effective than, say, forcing a doctor to eat a dead frog (as seen in the original)? Such things are for the audience to answer.
The Elite Entertainment dvd of
Patrick
features the film in its original widescreen 1.78:1 transfer, a theatrical trailer, cast & filmmaker filmographies, dubbed soundtracks in both French and Spanish, and a commentary track with director Richard Franklin, an amiable and good host who is also quick to point out his influences. The score was by Brian May, who also worked on
Road Warrior
(1981).
For more information about
Patrick
, visit
Image Entertainment
. To order
Patrick
, go to
TCM Shopping
.
by Pablo Kjolseth