DVDs from TCM Shop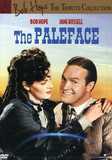 The Paleface An inept dentist must rescue... MORE&nbsp> $11.95 Regularly $14.98 Buy Now
NOTES
DVDs from TCM Shop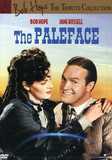 The Paleface An inept dentist must rescue... MORE&nbsp> $11.95
Regularly $14.98 buy now
In the film's closing scene, after Jane Russell is dragged off, Bob Hope says to the camera, "What do you want, a happy ending?" According to a Paramount News item, Paramount negotiated with representatives of Howard Hughes, who at the time of production had Russell under personal contract, to obtain the actress for this film. Information in the Paramount Collection at the AMPAS Library reveals the following information about the production: The filmmakers originally considered Barbara Stanwyck for the part of "Calamity Jane." The wagon chase scene was shot on location in Chatsworth, and other scenes were shot at China Flats, the Conejo Airport and the Iverson Ranch in Chatsworth, all in CA. Hollywood Reporter news items include the following actors in the cast, but their appearance in the final film has not been confirmed: Clint Dorrington, Speed Hansen, Ethel Greenwood, Marion Gray, Victor Travers, Al Stewart, Harry Ansel, Elmo Lincoln, Jack Ford, Tex Driscoll, The Cirillo Brothers-Michael, Charles and Tony-Robert Espinoza, James Archuletta, Richard Numena and Chief Sky Eagle.
Songwriters Jay Livingston and Ray Evans won an Academy Award for Music for their song "Buttons and Bows." Although Paramount News reported in October 1947 that the Robert Mitchell Boychoir had been signed to sing "Buttons and Bows" in Paleface, the song was performed in the film as a solo by Bob Hope. A recording of the song was released prior to the film's opening, and several reviews mention that it became a hit without the aid of the film. A reported three million copies of the record and 700,000 copies of the sheet music were sold as of 1949, when orchestra leader and songwriter Freddie Rich filed a plagiarism suit over the song. Paramount, Jay Livingston and Ray Evans, Decca, Famous Music, RCA Victor, Columbia Records and Capital Records were named as defendants in the half-million-dollar suit. After "Buttons and Bows" was used in the film's 1952 sequel, Son of Paleface, Rich, who claimed portions of the song were taken from his score for Paramount's 1942 film Wildcat (see below, added $250,000 to his estimate of damages. According to various sources, twenty-two to thirty-two bars of "Buttons and Bows" were in question. A jury turned in a verdict in favor of Paramount, and Rich lost a later appeal in February 1955.
As noted above, in 1952, Hope and Russell starred in a sequel to The Paleface called Son of Paleface, directed by Frank Tashlin. In 1968, The Paleface was remade into The Shakiest Gun in the West, with Alan Rafkin directing and Don Knotts and Barbara Rhoades starring. Among the many other films featuring Martha Jane Canary, popularly known as "Calamity Jane," are: the 1923 Famous Players-Lasky film Wild Bill Hickock, directed by Clifford S. Smith and starring Ethel Grey Terry and William S. Hart (see AFI Catalog of Feature Films, 1921-30; F2.6360); the 1936 Cecil B. DeMille film The Plainsman, starring Gary Cooper and Jean Arthur (see AFI Catalog of Feature Films, 1931-40; F3.3472); the 1949 film Calamity Jane and Sam Bass, directed by George Sherman, and starring Yvonne de Carlo and Howard Duff; and the 1995 United Artists film Wild Bill, directed by Walter Hill, and starring Ellen Barkin and Jeff Bridges.