DVDs from TCM Shop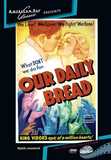 Our Daily Bread When he inherits a small farm,... MORE&nbsp> $10.95 Regularly $10.99 Buy Now blu-ray
NOTES
DVDs from TCM Shop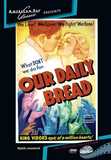 Our Daily Bread When he inherits a small farm,... MORE&nbsp> $10.95
Regularly $10.99 buy now
The title frame of the viewed print included the qualifier: "Inspired by the Headlines of Today." Director King Vidor describes the genesis of the picture in his autobiography: "I wanted to take my two protagonists out of The Crowd [a 1928 silent film directed by Vidor] and follow them through the struggles of a typical young American couple in this most difficult period [the Depression]. I started by clipping every article relating to the subject from the local newspapers. Then I read a short article by a college professor in Reader's Digest. It proposed the organization of co-operatives as a solution to the unemployment problem." (According to a publicity item included in the copyright records, the article was titled "The Agricultural Army.") Not under contract to any studio, Vidor first took his idea to Irving G. Thalberg at M-G-M, according to Vidor's autobiography, and although Thalberg was enthusiastic about the concept, he was unable to sell it to his studio and told Vidor that it was not "an appropriate subject for M-G-M." Vidor says: "The fact that my characters were unemployed and down to their last few pennies seemed to scare the studios. They seemed intrigued by the story...but all the major companies were afraid to make a film without glamor, even though admitting that the struggle depicted was a heroic one."
Modern sources and Vidor's autobiography describe how the production progressed: In the summer of 1933, Vidor took his idea to Merian C. Cooper at RKO Radio Pictures and offered to forego his directorial salary in exchange for a production deal. Cooper was more than agreeable and instructed RKO's legal department to draw up a one-picture contract in which Vidor would receive $25,000 in advance against a 50% equity in the gross receipts after double negative costs. In exchange, Vidor was expected to post a $50,000 bond for the any production cost over the studio's $250,000 budget. While his contract was being written, Vidor and his wife, screenwriter Elizabeth Hill, began working on a script based on the articles. RKO hired various writers, including John Bright, a Chicago journalist and screenwriter, to assist them. Bright contributed the character of "Sally" to the story. In addition, Vidor's good friend, Charlie Chaplin, offered story suggestions. (According to New York Times review, Vidor got the idea for the character of "Louie" from Chaplin.) By the end of November 1933, however, RKO's New York legal department concluded that because the terms of Vidor's contract could result in the director earning more profits than the studio, the deal was untenable. For the next few months, Cooper fought the decision of the New York office but got nowhere. Finally, after being turned down by all the major studios, Vidor decided to finance the picture himself and formed Viking Productions on February 9, 1934, with himself as president and sole stockholder.
Before any banks would lend him production money, however, Vidor had to find a distributor. He appealed to Chaplin, one of the owners of United Artists, for support. Although with Chaplin's help, Vidor secured a tentative releasing agreement with United Artists, he still was unable to get a bank loan because "when a banker reads a script in which a bank forces a sheriff to make a foreclosure sale which a disreputable-looking group of neighbors won't permit, he doesn't feel kindly toward your venture."
Despite his lack of financial backing, Vidor started production work in mid-March 1934 and advanced $89,628 of his own money to the effort. According to a mid-March 1934 Hollywood Reporter news item, Vidor moved his cast and crew from General Studios, where he had preparing for two months, to United Artists' Studios. To save money on location shooting, Vidor rented part of an abandonded golf course in Tarzana, near Los Angeles, and erected tents to house the cast and crew. According to copyright materials, some of the farm scenes in the film were shot at Edgar Rice Burrough's 160-acre ranch, "Tarzana." Several weeks into filming, Vidor finally received a $125,000 loan from Bank of America, with the proviso that he mortgage his remaining assets.
Because he saw the picture as a continuation of The Crowd, Vidor's first impulse was to cast James Murray, the star of The Crowd, in the lead. However, when he discovered that Murray had slipped deeply into alcoholism, he gave up on the idea and cast Tom Keene, an actor he thought resembled Murray. In addition to choosing a Murray look-alike, Vidor also gave Keene's and Karen Morley's characters the same first names as their equivalents in The Crowd. According to a February 1934 Hollywood Reporter news item, Arline Judge was under consideration for a role in the film. Modern sources claim that Adele Thomas also was tested for a role. Hollywood Reporter production charts include Henry Burroughs in the cast, but his participation in the final film has not been confirmed. Although Harry Holman is credited in many contemporary and modern sources as playing the part of "Uncle Anthony," Lloyd Ingraham actually appeared in the role.
In his autobiography, Vidor describes his technique for shooting the final ditch digging sequence: "We dispensed with all sound-recording equipment and used instead a metronome and a bass drum. The picks came down on the counts of one and three, the shovels scooped dirt on count two and tossed it on four. Each scene was enacted in strict 4/4 time with the metronome's speed gradually increasing on each cut. When the increased speed of the metronome resounding through the bass drum had driven the diggers to their most feverish pitch, we then resorted to decreasing the camera speed gradually, which in turn further increased the tempo of the workers." This sequence took ten days to stage and photograph. When the production ran over schedule, somes scenes were changed to cut costs. The total cost of filming was a modest $102,811, and the negative cost was $150,339. Vidor recalls that he eventually recouped his initial investment but never made significant money on the picture. A late May 1934 Hollywood Reporter news item claimed that Vidor hired a 35-person "synchronizing and editing staff" and spread them over a 24-hour work schedule in order to ready the film for its release.
A August 1, 1934 Film Daily news item notes that the picture had its premiere in Chicago at the "Century of Progress" exhibition. The opening was attended by 15,000 people, including international celebrities, area civic and industrial leaders, newspapermen and the governors of Illinois, Massachusetts, Mississippi, Rhode Island, Vermont and South Carolina. In early October 1934, the picture had a special White House screening, which President Roosevelt attended, according to Film Daily. The Daily Variety running time of ninety minutes suggests that the film was cut by at least ten minutes before its general release. It is possible that some of the above-listed supporting actors were cut from the final film.
According to Vidor's autobiography, the film won second prize in the annual film exhibition in Moscow, and also won a League of Nations award "for its contribution to humanity." In 1935, the film was distributed under the title The Miracle of Life, according to AMPAS records. Although United Artists distributed the film in its initial release, Astor Pictures Corp., which was credited on the viewed film, eventually took over distribution. Modern sources note that Astor sold the picture as an exploitation film and retitled it Hell's Crossroads.