DVDs from TCM Shop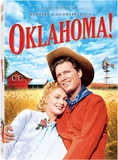 Oklahoma! Pride and a lecherous ranch... MORE&nbsp> $11.95 Regularly $14.98 Buy Now blu-ray
NOTES
DVDs from TCM Shop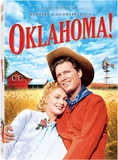 Oklahoma! Pride and a lecherous ranch... MORE&nbsp> $11.95
Regularly $14.98 buy now
The original Broadway musical Oklahoma! opened on March 31, 1943, and had a record-setting run of five years on Broadway, closing on May 29, 1948. Hailed by critics as the preeminent American musical because it was the first to seamlessly combine dance, music and story, Oklahoma! also marked the first collaboration between Richard Rodgers and Oscar Hammerstein II, who were awarded a special Pulitzer Prize in 1944 in recognition of their achievement. The 1943 musical was directed by renowned film and theatrical director Rouben Mamoulian, with choreography by Agnes De Mille, who subsequently choreographed the film. The opening night cast included Alfred Drake as "Curly," Joan Roberts as "Laurey," Howard Da Silva as "Jud Fry" and Celeste Holm as "Ado Annie Carnes." Oklahoma! continued as a roadshow production for approximately ten years. The musical continues to be an American favorite: Its initial long run has been followed by three Broadway revivals to date, some of which were nominated for or won the American Theatre Wing Tony award (established in 1947). A highly successful London revival, produced by Trevor Nunn, opened in January 1999 before going to Broadway and being telecast on PBS on November 22, 2003. An article in the March 29, 2002 edition of Entertainment Weekly noted that the Rodgers & Hammerstein Organization issued permission to 526 regional theaters for productions of Oklahoma! in 2001 alone.
Although the film was shot in two different formats, the viewed print of the film was in CinemaScope. The opening title credits read: "Rodgers & Hammerstein present Oklahoma!, produced in Todd-AO, developed by The American Optical Company." The dancers were individually listed in opening credits following the choreography credit for De Mille (whose surname was spelled onscreen as de Mille), under the title "The Dancers." Dancers James Mitchell and Bambi Linn were also listed in the end cast credits with their respective character names, "Dream Curly" and "Dream Laurey." The song, "Out of My Dreams" segues into the "Dream Ballet, in which Mitchell and Linn are featured. The 1955 film featured all the musical's original songs with the exception of "Jud's" solo "Lonely Room" and "It's a Scandal, It's an Outrage!"
According to various news items, purchase of the film rights to the musical play Oklahoma! was being negotiated as early as 1943, shortly after the play opened on Broadway. A April 30, 1943 New York Times news item noted that Rodgers and Hammerstein were in discussion with The Theatre Guild about a film production with either United Artists or Columbia Pictures as distributors. In addition, Hollywood Reporter reported on December 29, 1943 that Arthur Lyons of Producing Artists, Inc. was interested in buying the film rights. Although The Theatre Guild is not credited on the film, later news items indicate that The Theatre Guild sought an alliance with several of the potential early film productions. Among the interested parties in 1944 were producer David Lewis and actor James Cagney and his producer-brother William Cagney. Producer Harry Sherman also considered buying the property in 1944, with Mamoulian slated as the film's director. Modern sources add that Metro-Goldwyn-Mayer optioned the musical, but sold the property rights to Rodgers and Hammerstein. The New York Times reported in a September 27, 1961 article that, when finally sold for the 1955 movie, the film rights cost over $1,000,000. However, a modern source contradicts some of this information and reports that Rodgers and Hammerstein purchased the film rights directly from The Theatre Guild for $850,000.
Hollywood Reporter news items reported that the film version was originally slated to be financed and distributed by Twentieth Century-Fox, using their lot for shooting as well. However, according to a January 19, 1954 Hollywood Reporter news item, the production company, Magna Theatre Corp., which was formed to be the sole producer of films featuring Todd-AO, disagreed with some of Fox's stipulations. As reported in the next day's issue of Hollywood Reporter, Joseph M. Schenck then took over the financing, and Magna chose to produce the film independently. The January 1954 news items noted that use of the Todd-AO process May have constituted a conflict of interest for Fox, which was affiliated with CinemaScope, and added that Warner Bros. also had a tentative interest in the production. A few months later, as noted in an article dated March 25, 1953, Schenck resigned from Twentieth Century-Fox and became chairman of Magna. Magna's board of directors included George P. Skouras, Arthur Hornblow, Jr., as vice-president in charge of production, as well as Michael Todd, Lee Shubert, Edward Small, Rodgers and Hammerstein, among others. The Todd-AO Corp. was also created at the same time to distribute and lease the equipment manufactured by American Optical. Further news items in May 1954 reported that National Theatres invested $1,000,000 in the film production, and that American Optical invested another $500,000. In addition, United Artists Theatre Circuit invested over $1,000,000 in Magna Theatre Corp., whose first film was Oklahoma!.
The information below derives from contemporary Hollywood Reporter news items, unless noted otherwise. Oklahoma! features the first use of the Todd-AO widescreen process, which was conceived by producer Todd, in conjunction with scientist Dr. Brian O'Brien. Although Todd was not directly affiliated with the film production of Oklahoma!, his influence was instrumental in bringing the film version to fruition, as well as the Todd-AO process. "Todd-AO" represents a combination of Todd's surname and the American Optical Company, which developed the panoramic "bug-eye" lens under O'Brien's leadership, with Dr. Hopkins of the Institute of Optics at the University of Rochester. In addition, as Box Office noted in a October 15, 1955 special section specifically about Oklahoma!, Westrex and Ampex created a six-channel sound system to complement Todd-AO. In late March 1953, the film Far West, then to be produced by Hornblow and directed by Edward Small, was reported to be the first production to use Todd-AO. However, Magna never released a film under that title, and it has not been determined if the property was ever produced under another title or by another entity.
As opposed to competitors such as CinemaScope, Cinerama and VistaVision, which required multiple cameras and projectors, Todd-AO used a single wide-angle camera and one-strip 65mm negative film (the final print used 70mm film to accommodate the six sound tracks) and required a single projector to screen. The special "bug-eye" lens, which measured 128 degrees, enhanced the panoramic image. New cameras were constructed to accommodate the special lenses and larger film stock. The article in Box Office reported that Todd and cinematographer Schuyler A. Sanford shot the first test footage of the process, and screened it in June 1953 in Buffalo, New York. The article added that director Fred Zinnemann and cinematographer Harry Stradling then created more test footage, which was screened on August 14, 1953. Contemporary and modern sources affirm that the early test footage was screened for Rodgers and Hammerstein in New York, and that the producers then agreed to sell the film rights to Oklahoma! and use the Todd-AO process for the picture. Modern sources add that Todd had initially introduced the idea of Oklahoma! as the ideal Todd-AO debut production to Rodgers and Hammerstein several months before their test screening, which May have been produced specifically to sway them in favor of the film production. Rodgers and Hammerstein reportedly had long resisted a film version of their musical. Some contemporary sources indicate that they were waiting for the right vehicle to highlight the musical on film appropriately. In an article written by the producers-composers in Box Office, Rodgers and Hammerstein confirmed that they waited to sell the film rights because they felt proprietary about Oklahoma!, and because they wanted "...something that would make the motion picture Oklahoma! again a first in [their] experience." Like their groundbreaking first theatrical production of Oklahoma!, the movie version was their first motion picture production. In the Box Office article they added that "...when we first saw a demonstration of the Todd-AO process we realized what we had been waiting for. Unconsciously we had been groping for some way to give our story the visual scope, the big outdoor feeling it needed." Modern sources conjecture that they May have feared that a film production would reduce the audience attendance for the numerous ongoing roadshow productions of the play.
Although an April 1954 Hollywood Reporter news item noted that Oklahoma! might be shot simultaneously in VistaVision, CinemaScope was used instead. In his autobiography, director Zinnemann noted that using both Todd-AO and CinemaScope was a precautionary measure, as Todd-AO was still in the testing stages and only one bug-eye lens existed at the time. American Cinematographer featured several technical articles about the new Todd-AO process, and noted in its April 1955 issue that simultaneous shooting with both cameras was used for only about ten scenes, because the width of the Todd-AO camera was prohibitive. Modern sources add that the bug-eye lens was used for just four scenes of the final film.
According to a Hollywood Reporter news item dated September 9, 1954, Consolidated Film Laboratories made 35mm reductions of the 65mm film for the standard prints. Oklahoma! was ultimately released in Todd-AO, CinemaScope and standard 35mm prints because few theaters could afford to retrofit for the Todd-AO projectors and extended, curved screens. Approximately forty American theatres were renovated to accommodate the larger curved screen necessary for Todd-AO, according to the September 9, 1954 news item. New York City's Rivoli Theatre, for example, was renovated to introduce the new screen which, according to Box Office, measured "66 feet long along the arc, but only 50 feet wide along the chord, indicating the extent of the curvature." With the screen and special equipment, the overall seating capacity was reduced by over 300 seats. Modern sources add that the Rivoli served as New York's flagship theater for Todd-AO films for many years.
Hollywood Reporter news items noted the following information about the cast and crew: Singers were auditioned as early as April 1953, although Magna had not yet confirmed their purchase of the musical's film rights. Actress Sharon Dexter auditioned for the role of "Ado Annie." M-G-M, which rented its studio lot to an outside production company for the first time, also loaned the services of cinematographer Robert Surtees, film editor Gene Ruggiero, music editor Ralph Avseev and music coordinator Robert Helfer. In August 1954, makeup artist Don Roberson returned to Los Angeles from location shooting due to appendicitis. It is unclear whether Ben Lane, who is credited onscreen as the makeup artist, replaced Roberson or if Roberson was one of several makeup artists in the crew. According to a October 12, 1954 news item, cinematographer William C. Mellor temporarily replaced Surtees when the director of photography fell ill. In addition, an December 11, 1954 news item noted that location auditor Ralph Leo resigned to work on the Cinerama production Seven Wonders of the World (see below). A September 29, 1954 news item indicated that Hammerstein had intended to make his onscreen debut in this film, but withdrew because of a scheduling conflict.
Various news items include the following actors in the cast: Gloria Moore, Allene Roberts, Norma LaRoche and Jeanne Wood. News items also add the following dancers to the cast: Randy Rayburn, Anne Morgan, Patricia Parvin, Raimonda Orselli, Charlyne Baker, Christy Peterson, Sheila Hackett, Nancy Kilgas, Cecile Rogers, Alicia Krug, Erin Martin, Dolores Starr, Sally Sorvo, Paul Olson, Maurice Kelly, Bill Chatham, Jerry Rush, Eddie Weston, Loren Hightower, Jerry Dealy, Bob Calder, Dick Landry, Bob Hanlin, Cary Leverette, Alex Rodin, Donna Pouget, Robert Cole, Fred Hansen and Sally Whalen. The actors' and dancers' appearances in the final film have not been confirmed. Although the pressbook for the film notes that Charlotte Greenwood appeared in the original Broadway production of the play, she was not listed in the opening night cast. Some modern sources indicate that the role of "Aunt Eller" was created for Greenwood, but that she never appeared in the Broadway production. Dancer Bambi Linn appeared in several roles in the original Broadway production. Modern sources add the following information about casting: James Dean was tested for the role of "Curly." In his autobiography, Zinnemann recalled that Dean tested with a version of "Curly's" song "Pore Jud." Shirley Jones, who made her motion picture debut in this film, was discovered while performing in one of the many theatrical roadshow productions of the musical.
Although producers initially intended to film Oklahoma! on location in that state, by August 3, 1953, a Hollywood Reporter news item noted that they were leaning toward Ohio as a better location. In his autobiography, Zinnemann commented that Oklahoma had too many oil wells that would disrupt the skyline. A Hollywood Reporter news item later in August 1953 noted that Hornblow and Zinnemann shot backgrounds and process shots in Claremore for use in the film. In July 1954, when Oklahoma's then-Representative Victor Wickersham learned that the musical was to be filmed in Nogales, Arizona, rather than his state, he protested in writing to the producers, and publicly in the House of Representatives in Washington, D.C. Nevertheless, location filming began in July on 1,000 acres in Nogales where, according to an July 8, 1954 news item, corn and wheat fields had been planted specifically for the production. The pressbook adds that the corn field was located on a farm in the small town of Amado, and that agricultural expert Edward B. Clark was hired to supervise the corn's growth because the producers were forced to shorten the normal growing season. The pressbook also noted that the "Kansas City" dance scene was shot at a railroad station in Elgin. On August 20, 1954, Hollywood Reporter followed up on their earlier report about Victor Wickersham and observed that the "feud" with the producers of Oklahoma! was apparently concluded, as then-Governor Johnston Murray was scheduled to visit the Nogales set. Box Office reported the total negative cost of the production as $6,800,000.
As noted above, Oklahoma! was considered ground-breaking musical theater. The film version maintained the music and style of the new standard set by Rodgers, Hammerstein and De Mille, in which songs and dances achieved character development and often furthered the plot. De Mille's choreography for the theatrical version, and later in the film, was lauded by critics as introducing a new era in musicals, and combined classical ballet techniques with modern dance. In the "Dream Ballet" sequence in the film, for example, during which Laurey dreams about an unintended marriage to Jud, Laurey's disturbing dream leads her to conclude that Jud would be the wrong romantic choice for her. In this dance sequence, the characters Curly and Laurey are portrayed respectively by professional dancers Mitchell and Linn, rather than the lead actors MacRae and Jones. However, Rod Steiger continued to portray Jud in this sequence, despite the fact that he was not a trained dancer. Furthermore, neither Steiger nor actress Gloria Grahame were known to be singers, although they sang in the movie.
A press and film industry preview of the Todd-AO process was held at M-G-M on August 16, 1955. An article in Harrrison's Reports dated July 3, 1954 noted that the screening included footage of a roller coaster ride, and observed that it "...gave one a very noticeable feeling of audience participation." The footage also included scenes of gondolas in Venice, Italy, a bullfight in Spain and footage from Oklahoma!. A modern source adds that this footage featured the film's opening shot of "Curly" riding along the cornfield. A September 15, 1955 Hollywood Reporter news item indicated that a 35mm print of the completed film was also screened at the National Theatres convention in Colorado Springs, CO. The world premiere of Oklahoma!, featuring the Todd-AO process, was held in New York City. According to an article dated October 11, 1955, some confusion occurred about which date was the official world premiere, as Magna held invitational screenings at the Rivoli Theatre over the course of three days. The article stated that Magna considered October 13, 1955 to be the official public premiere, despite the fact that the film already had been screened twice on two preceding days. Additional news items noted that the New York and Los Angeles premieres were sponsored by the state of Oklahoma, and attended by the state's then newly-elected governor, Raymond Gary. Tickets for the special engagements of the Todd-AO version at the Rivoli carried a then-high price ranging from $1.75 to $3.50.
There was no official national release date for Oklahoma!; the premiere was followed by twice-daily roadshow screenings at theaters throughout the country. The Motion Picture Herald Prod Digest review declared that the "cinematic Oklahoma! is...big in beauty, big in conception and execution, magnificently big, bright and beautiful." The Variety review praised the film and noted that "Oklahoma's most valuable asset on the screen is the very same that cued its successful 10-year run on Broadway....That's the music-which listens as fresh as a spring shower at each hearing even though heard over and over again." While some reviewers appreciated that the broad movie screens for the Todd-AO prints were lacking the noticeable seams that appeared during Cinerama screenings, they did remark on flaws remaining in the Todd-AO images. According to the Daily Variety review, "...the finished picture evidences in number of instances some photographic `bugs' inherent with any brand new camera and lens." The New York Times review noted that "...the generous expanse of screen is fetching, but the system has disconcerting flaws." Nevertheless, the review continued that "...the flaws in mechanism do not begin to outweigh a superlative screen entertainment."
Magna distributed the Todd-AO version of the film, and RKO Radio Pictures distributed the CinemaScope version until 1956. Twentieth Century-Fox took over distribution of the film when RKO suffered financial setbacks (independent of this film). As reported in Hollywood Reporter in November 1955, Todd sold his interest in Magna Theatre Corp. and Todd-AO Corp. following the film's successful release, and retained a position as a consultant. Todd next produced Around the World in Eighty Days, which was the second film to feature the Todd-AO process.
Oklahoma! won Academy Awards for Best Sound Recording and Best Scoring of a Musical Picture, and was nominated for color cinematography and film editing. The next Rodgers and Hammerstein musical to be converted to film was Twentieth Century-Fox's 1956 feature Carousel, in which MacRae and Jones co-starred.