DVDs from TCM Shop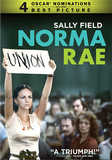 Norma Rae A young single mother and her... MORE&nbsp> $7.46 Regularly $9.98 Buy Now blu-ray
Articles
SEE ALL ARTICLES
Norma Rae (1979)
After years as a teen star on television, Sally Field shot to film stardom and won respect as a dramatic actress with her turnabout performance in the title role of this 1979 drama about the fight to unionize textile workers in the South. It seems strange today that nobody appreciated her acting talents during her early years on the series Gidget and The Flying Nun. Those shows were so identified as lightweight juvenile fare, however, that even industry insiders didn't take note of her fine work. When the latter folded after three seasons, Field fell on hard times. A shortlived sitcom in which she played a young bride with ESP, The Girl with Something Extra, even earned her the unkind label "The Girl with Nothing Extra."

Things started turning around when Joanne Woodward insisted she be given an audition for the title role in the two-part television movie Sybil in 1976. She won an Emmy as a woman with 16 personalities in a performance that finally made people notice how good she was. It took a while, however, for that credit to extend to film work. After an un-credited walk on in Disney's Moon Pilot (1962), Field had made her official film debut in The Way West (1967), a poorly received Western starring Kirk Douglas. After that, most of her film work was in comedies like Stay Hungry (1976) and Smokey and the Bandit (1977). Though the latter was a big box-office hit, it took her casting in Norma Rae to establish her as a major film star, a position cemented when she won the Oscar® for her work. She would win a second Oscar® for Places in the Heart (1984), a nomination for Lincoln (2012) and two more Emmys, for a guest appearance on ER and the drama series Brothers & Sisters.

The film also marked another major collaboration for director Martin Ritt and husband-and-wife screenwriters Irving Ravetch and Harriet Frank, Jr., marking their sixth of eight films together. Dissecting the American dream seems to have been their primary interest as a writing-directing team, starting with The Long, Hot Summer (1958), a provocative depiction of the modern South. They also took on the decline of the American West in Hud (1963) and Hombre (1967), racial issues in Conrack (1974) and literacy issues with Stanley & Iris (1990), their last film together.

Norma Rae was also one of the first major American films to deal sympathetically with the labor movement. During Hollywood's Golden Age, the union movement was considered too controversial for extensive screen coverage. Although many movies, particularly the women's films of the '30s, dealt with working conditions, unions were treated somewhat more circumspectly. The labor movement in Warner Bros.' Heroes for Sale (1933) is equated with the rise of Communism, while the Oscar®-winning On the Waterfront (1954) focuses on corruption within the dock workers' union and The Pajama Game (1957) reduces labor issues to comedy, albeit very entertainingly. The most sympathetic treatments of the labor movement came in independent films like Salt of the Earth (1954), about a miners' union in New Mexico. Ritt had attempted to provide a more even-handed view of labor disputes with The Molly Maguires (1970), which dealt with the 19th-century battle to unionize coal mines in Pennsylvania. It wasn't until later in the decade, however, that the major studios took a chance on more positive depcitions of labor like Bound for Glory (1976) and Blue Collar (1978). Both of those films offered other points of interest, however, leaving it to Norma Rae to blaze the path for later pro-labor films like John Sayles' Matewan (1987), Hoffa (1992), starring Jack Nicholson as the famous union organizer, and Robert Townsend's 10,000 Black Men Named George (2002).

Ritt was inspired to make the film when he read a New York Times article about the real life efforts of Crystal Lee Sutton and union organizer Eli Zivkovich to unionize workers at the J.P. Stevens Mill in Roanoke Rapids, NC, and the book on her, Crystal Lee, a Woman of Inheritance, by Henry P. Lieverman. The scene in which Fields holds up a "Union" sign at the plant and another in which she tells her children about their fathers were drawn from Sutton's life. Though Ritt had a great subject, however, most major Hollywood studios wouldn't touch it. Paramount and Columbia declined to make the film, but finally Alan Ladd, Jr. at 20th Century-Fox picked it up, though he only gave Ritt a budget of $4.5 million.

Field was not the first choice for the title role. It was offered first to Marsha Mason, Jane Fonda, Faye Dunaway and Jill Clayburgh, all of whom turned it down. Shirley MacLaine wrote in one of her memoirs that she campaigned heavily to land the role. Ritt had met Field at an anti-nuclear rally, however, and had been impressed by her commitment and intelligence. Nobody at Fox believed she could pull off the performance, but he persisted until he wore them down. He would tell the press, "In my opinion, she's going to be one of Hollywood's biggest stars; she's sexy, funny, photogenic, zany, bouncy and tough -- possibly another Carole Lombard." (Ritt, quoted in Mason Wiley and Damien Bona, Inside Oscar®: The Unofficial History of the Academy Awards®)

To research the role, Field worked in a textile factory alongside co-star Beau Bridges, who played her husband. Her commitment to the role impressed everybody, particularly an actor playing a policeman trying to arrest her. She struggled so hard to keep them from loading her into a police car, she broke one of his ribs.

Ritt wanted to shoot the film in Georgia, but when word got around that he was making a pro-union film in the right-to-work state, no factory owners would allow him to film on their property. At the time, Governor George Wallace was trying to attract film production to Alabama, and he used his considerable influence to help Ritt secure shooting permits in Auburn, Opelika and Waverly. Even with the governor's suppport, Ritt had trouble finding a mill in which to shoot, eventually paying $100,000 to secure a location.

Norma Rae opened to strong reviews and good box office. Variety praised the picture as "an intelligent film with heart" and pointed out that union films rarely did well at the box office. Vincent Canby of the New York Times hailed Field for her performance in "the plum role of her career, an opportunity to demonstrate once and for all that she is an actress of dramatic intelligence and force, someone who no longer needs to be referred to in terms of her television credits." Eventually the picture grossed $22 million in the U.S. More important than any reviews, however, were the letters of thanks Ritt received from union leaders grateful to see the cause of organized labor so sympathetically represented.

Field's triumph was cemented during awards season, when she was named best actress by the Golden Globes, the American Movie Awards, the Cannes Film Festival, the Kansas City Film Critics, the Los Angeles Film Critics Association, the National Board of Review, the National Society of Film Critics and the New York Film Critics Circle. The big pay-off, of course, was the Academy Awards®, where she won her first Oscar® for Best Actress. As thrilled as she was to win the award, she couldn't help riffing on her earlier career when she told the press, "I do feel like the Academy® is slacking off in the class quotient -- after all, I won. It's like the Groucho Marx line about I wouldn't want to be in a club that would have me as a member." (Field, quoted in Wiley and Bona) The film also won Best Song for "It Goes Like It Goes" and was nominated for Best Picture and Best Adapted Screenplay.

FUN FACTS FOR THE FILM BUFF on NORMA RAE (1979)


The mill in which they shot many key scenes was so noisy, director Martin Ritt couldn't hear the actors' lines. Fortuantely, he knew the script so well after working closely with screenwriters Irving Ravetch and Harriet Frank, Jr. that he could direct the scenes just by watching.



Students from Auburn University appeared as extras, while the casting director drew on talent pools throughout the South for smaller roles. Among those cast were Grace Zabriskie, at the time based in Atlanta, who would build a solid career as a character actress in films like The Big Easy (1986) and Drugstore Cowboy (1989) and the TV series Twin Peaks and Big Love.



This was the first film soundtrack to feature a vocal by Jennifer Warnes, who sang the Oscar®-winning "It Goes Like It Goes." She would go on to introduce two other Best Song-winners, "Up Where We Belong" from An Officer and a Gentleman (1982) and "The Time of My Life" from Dirty Dancing (1987), along with the Oscar®-nominated "One More Hour" from Ragtime (1981)



Ritt appears in a brief cameo as an unhappy textile worker.



One person unhappy with Norma Rae was its inspiration,Crystal Lee Sutton. She felt the film would have worked better as a documentary.



Two years after the film's release, Cassie Yates took over the title role in a TV movie of the same name, co-starring Gary Frank as the union organizer and Barry Corbin as Norma Rae's father..



By Frank Miller
back to top
---
Norma Rae (1979)
Sally Field had become famous as a teenager, playing the role of Gidget on television, followed by another perky role as The Flying Nun. In 1977, she won an Emmy Award for playing a schizophrenic in the television film Sybil (1976), but for most people in the late 70s, she was still seen as Gidget, the Flying Nun or Burt Reynolds' costar in Smokey and the Bandit (1977). That image was erased forever when she won the Academy Award for Best Actress in the title role of Norma Rae (1979).

Director Martin Ritt first conceived the idea for the film when he read a New York Times article by Henry P. Leifermann, who had written a book, Crystal Lee, a Woman of Inheritance; it was based on Crystal Lee Sutton's struggles in trying to unionize the J.P. Stevens Company textile mill in Roanoke Rapids, North Carolina. Ritt later said, "I've known a lot of women in my life, most of them much more educated and sophisticated, who would not have had the balls that she had." After reading the book, Ritt knew that here was a story just waiting to be told, so he quickly bought the film rights. The problem was trying to convince Hollywood studios to back him and it wasn't easy. "I was trying to make a labor film with teeth, in Hollywood, where it has never been easy to make an affirmative statement about the working class." Paramount and Columbia turned Ritt down and it was beginning to look like no one was interested, when Alan Ladd, Jr. at Twentieth Century-Fox agreed to greenlight the film.

With a budget of only $4.5 million, Martin Ritt had to find a group of people who would work for less than their usual salary. Faye Dunaway, Jane Fonda, Marsha Mason and Jill Clayburgh are all said to have turned down the role. Sally Field had not worked with Martin Ritt before the two met at an anti-nuclear weapons rally and became friends, yet Ritt had a feeling that she would be right for the part, even if the studio didn't. "Sally was at a transition in her career. I didn't pay her very much money and she became a big star. One of the reasons the picture didn't cost that much is that I didn't have to pay big salaries to her, myself, or the writers." The script was completed in only six weeks with Ritt working closely with the husband and wife team of screenwriters Harriet Frank, Jr. and Irving Ravetch, old friends with whom he had worked on Hud (1963) and The Long, Hot Summer (1958)

Although Field and Ritt were friends, she was still intimidated when they began to work together. "His first signal that he sends out is, 'Don't be late or I'll bite your head off.' And I was afraid I was going to make a mistake." Shooting was scheduled to take place in Georgia, but word got around that Ritt wanted to find a textile mill for location filming and the state's textile commission is said to have sent out letters advising mill owners not to let him on their premises. Eventually, the situation became difficult enough to force the production to move to Alabama, where Governor George Wallace was actively trying to encourage Hollywood production in his state. Wallace invited the cast and crew to dinner which Field did not want to attend because of Wallace's racist past, which he later renounced. Ritt told her to stop acting like a child and she went to dinner. Field later said that while meeting Wallace did not change her opinion, she now felt that he was only a pawn. Wallace later visited the set of Norma Rae and posed for a photograph with Field, calling her "a very beautiful young lady and was very gracious to me in allowing me to have her picture made with me."

Despite the move to Alabama, things were no better there with mill owners refusing Ritt permission to film in their factories. Two owners wrote to Ritt to say that they didn't agree with the movie's point of view but they didn't want to be told what to do by any commission, either. One of them eventually dropped out of negotiations, but the other, in Opelika, finally agreed, although he claimed that he would be killed if the other owners found out he'd let Ritt use his mill. Apparently, Ritt's upping the payout from $25,000 to $100,000 helped, and filming finally took place. The mill was a difficult location with the noise of the machines drowning out the dialog so that Ritt could not hear the actors. He later said, "I've already worked very carefully on the script, I never hear what an actor says when he's playing a scene, he or she. I'm watching them."

When Norma Rae was released, Ritt received letters of thanks from several unions, including the Amalgamated Clothing and Textile Workers Union and the United Automobile Workers. Crystal Lee Sutton wasn't as happy with the film, which she felt should have been more of a documentary, but Norma Rae was a smash with the critics. The Seattle Times compared it to The Grapes of Wrath (1940) and New York Times film critic Vincent Canby stated that Norma Rae "provides Sally Field with the plum role of her career, an opportunity to demonstrate once and for all that she is an actress of dramatic intelligence and force, someone who no longer need be referred to in terms of her television credits. [...] Miss Field gives a performance that is as firm and funny as the set of her glass jaw -- and just as full of risk. It's a role loaded with the kind of sentimental temptations that might side-track a lesser performer. Miss Field, though, has found its tough truth and stuck to it. The performance, which gives dimension to the film, may well be the one that those of other actresses are measured against this year."

Canby was prophetic. Field was nominated for an Academy Award, along with David Shire and Norman Gimbel for Best Original Song ("It Goes Like it Goes"), Ravetch and Frank for their screenplay and the film itself was up for Best Picture. Field, Shire and Gimbel won their awards, but surprisingly, Martin Ritt was not even nominated for Best Director, an oversight that Field felt compelled to comment on in her acceptance speech, saying "Martin Ritt is Norma Rae." Ritt and Field won awards at the Cannes Film Festival, but his lack of recognition from the Academy continued to sting. The relationship between Ritt and Field continued after Norma Rae and the two would work together again on Back Roads (1981) and Murphy's Romance (1985). Field said, "The man has had a tremendous influence on me as a professional and as a human. The only other people in my life who had that kind of impact are my mother and family."

Producer: Tamara Asseyev, Alex Rose
Director: Martin Ritt
Screenplay: Harriet Frank, Jr., Irving Ravetch
Cinematography: John A. Alonzo
Art Direction: Tracy Bousman
Music: David Shire
Film Editing: Sidney Levin
Cast: Sally Field (Norma Rae), Beau Bridges (Sonny), Ron Leibman (Reuben), Pat Hingle (Vernon), Barbara Baxley (Leona), Gail Strickland (Bonnie Mae), Morgan Paull (Wayne Billings), Robert Broyles (Sam Bolen), John Calvin (Ellis Harper), Booth Colman (Dr. Watson).
C-114m.

by Lorraine LoBianco

SOURCES:
Canby, Vincent. "Film: 'Norma Rae,' Mill-Town Story: Unionism in the South." The New York Times 2 Mar 79.
Donahue, Deidre "Director Martin Ritt Throws Moviegoers a Curve by Pinch-Hitting as an Actor in The Slugger's Wife." People , May 6, 1985.
Jackson, Carlton Picking Up the Tab: The Life and Movies of Martin Ritt
Miller, Gabriel Martin Ritt Interviews
http://www.notstarring.com/movies/norma-rae
back to top
---