DVDs from TCM Shop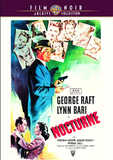 Nocturne A police detective refuses to... MORE&nbsp> $17.56 Regularly $21.99 Buy Now
Home Video Reviews
George Raft meanders through
Nocturne
(1946) with barely a ruffle to his suit, but this RKO film noir, newly released on DVD by Warner Archive, nonetheless succeeds as an intriguing mystery brimming with hard-boiled, lively dialogue.
Raft plays a detective who responds to the death of a pianist playboy. We know he was murdered -- while composing a tune, no less -- but the murderer has made it look like suicide. To the rest of the cops, it's an open-and-shut case, but Raft has a feeling that there's more to the incident, and he starts to uncover glimmers of evidence that might prove it. The pianist had a string of brunette ex-girlfriends, all with photos on his wall... and all of whom he called "Dolores." One of the photos is missing, that of Lynn Bari, who quickly becomes a primary suspect. But then there's also Bari's sister, played by Virgina Huston, as well as a sassy housekeeper, a suspicious nightclub worker, and another pianist all involved somehow. As Raft tracks them all down and interrogates them, he gets a little too aggressive, shoving around innocent citizens. This lands him in hot water with his captain, and soon he has to turn in his badge. Eventually, there's a virtual dragnet out to bring him back in as Raft presses on alone, roughing folks up while getting closer to solving the crime.
Nocturne
never really explores the reasons for Raft's steadfast determination. This is not the brutal detective of Dana Andrews in
Where the Sidewalk Ends
(1950), or Robert Ryan in
On Dangerous Ground
(1952), two cops with real psychoses. Raft comes nowhere near their level of viciousness (outer or inner), and as a result
Nocturne
is a quieter, gentler kind of film noir. Perhaps Raft is closer to Dana Andrews in
Laura
(1944), another mystery with a tune and a portrait at its center. But those are mere surface comparisons. (There's another:
Nocturne
also has a turn from Queenie Smith, who played Gene Tierney's maid in
Laura
. In fact, one can imagine that this
is
the maid from
Laura
, at home when she's not working at Tierney's!)
In
Nocturne
, one can only assume that Raft is obsessive about this case because he's good at his job. The lack of a substantial subtext keeps
Nocturne
from approaching the mastery of the afore-mentioned other films, but it's still an absorbing picture -- and it's certainly film noir, with Raft operating in a night-time world full of danger, shadows and paranoia.
He also travels all over Los Angeles, and there's plenty of enjoyable location work on view. The best is a scene where Raft enters the gates of the actual RKO Studios, to further interrogate Lynn Bari on the set of a film her character is working on! It's in this sequence that Bari tells off Raft in one of
Nocturne
's best lines: "Who do you think will wind up behind the eight-ball? Me, or a cop who just got himself suspended? Now why don't you hop on your scooter, sonny boy, and blow? I've got to emote!"
Making the line even funnier is the fact that George Raft certainly does not emote much at all throughout this movie. He does get his own share of great lines, however, including this classic: "He had money... Dolores... a nice house. Only he apparently decided he needed a little more ventilation. So he put a hole through his head."
Raft speaks that line to his mother (Mabel Paige), with whom he lives and shares details of his casework. It's a weirdly entertaining part of the film, and reminiscent of the movies of Alfred Hitchcock, who loved mother characters. In one very delightful scene that just brims with Hitchcockian dark humor, Paige tries to solve the case with a lady friend as they discuss murder while preparing tea.
There actually is a Hitchcock connection to
Nocturne
: the presence of producer Joan Harrison. Harrison produced many of Hitchcock's movies and television shows, and she contributed -- credited and uncredited -- to his films' screenplays. She may well have had a hand in
Nocturne
's script, which is otherwise credited to Frank Fenton and Rowland Brown for the story, and to Jonathan Latimer for the screenplay. Latimer was one of the great film noir screenwriters, with such credits as
The Glass Key
(1942),
They Won't Believe Me
(1947),
The Big Clock
(1948), and
Alias Nick Beal
(1949).
Nocturne
was directed by Edwin L. Marin, who begins the film with a truly extraordinary opening shot: a long traveling shot toward a house and through a window to a man playing the piano. There must be an optical dissolve in there somewhere, but this viewer couldn't detect it. It's an amazing achievement for the era.
Warner Archive has provided no extras on the DVD, but the film, while not remastered, looks and sounds perfectly acceptable.
By Jeremy Arnold