DVDs from TCM Shop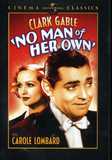 No Man of Her Own A card sharp on the run falls... MORE&nbsp> $10.65 Regularly $14.98 Buy Now
Home Video Reviews
No Man of Her Own
(1932), which has nothing to do with the better-known 1950 film of the same title, deserves, well, to be better known! Universal Home Entertainment's new DVD should help in that department. It's strictly a no-frills affair, with just an added introduction by Robert Osbourne, but that introduction explains how this picture was the only one on which Clark Gable and Carole Lombard ever worked together. With Gable at MGM and Lombard at Paramount, it never happened again.
In the film, Gable plays a con man with a smooth system of bilking unsuspecting suckers of their dough via fixed card games with his con artist friends. He's also strictly a love-'em-and-leave-'em kind of guy, much to girlfriend Dorothy Mackaill's dismay. When a suspicious cop turns up the heat, Gable decides to hide out in a small town until things cool off. There he discovers Carole Lombard as the town librarian, bored to death and yearning for adventure. ("Oh boy, is she a handful," a magazine vendor says of her.) Their flirtatious banter in the library is the movie's high point of sexy romantic comedy. Everything clicks in this scene, most of all the two stars' chemistry. Lombard suggests a book by Shakespeare, and Gable responds, "Some nights you just don't FEEL like Shakespeare..." When he asks her to climb a ladder to get a book for him, and he takes the opportunity to look up her skirt, we know we're in serious pre-Code territory. The whole movie is worth watching for this hilarious sequence.
Before we know it, Gable has taken Lombard as his bride back to Manhattan, where he tries to keep private his shady way of making a living. (His apartment's fantastic fold-out bar must also be mentioned!) At the one-hour mark, the movie definitely loses some steam as it turns into more of a drama, but Lombard's heartfelt performance does much to maintain our interest. Unfortunately, the movie does suffer from an unsatisfying final fadeout.
Still, the majority of
No Man of Her Own
is a delightful, sexy, funny romp that should please fans. Pre-Code chances to show the stars in their underwear are not wasted (in Lombard's case she's also wearing high heels), and one sequence in a church creates fine comedy entirely from a series of glances - most impressive.
Gable and Lombard are so good together that it is truly a shame they were never paired on screen again. The future lovebirds were each married at the time they made this and by all accounts did not engage in any hanky-panky on the set. By the end of the decade, of course, they'd be married to each other. It's undoubtedly just the magic of the movies, but it seems plain why they ended up together when, in this film, Gable says to Lombard, "That twinkle in your eye. Wrap it up for me, will you?"
Universal's DVD has a few light scratches now and again, but nothing too bad. Sound is fine.
For more information about
No Man of Her Own
, visit
Universal Home Entertainment
. To order
No Man of Her Own
, go to
TCM Shopping
.
by Jeremy Arnold