DVDs from TCM Shop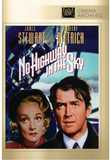 No Highway in the Sky An engineer fights to prove... MORE&nbsp> $18.36 Regularly $19.98 Buy Now
Articles
SEE ALL ARTICLES
No Highway in the Sky (1951)
If nothing else, No Highway, Nevil Shute's 1948 source novel for No Highway in the Sky (1951), deserves credit for predicting future airline crashes. Starting in 1952, the de Havilland Comets, the first commercial jet airliners, began to crash due to metal fatigue not unlike how Shute described in his book. The British author Shute drew upon his own experiences in 1922-1924 working for the de Havilland Aircraft Company as a stress and performance calculator. While at de Havilland, Shute worked on the R.100 airship; the R.101, a rival model built by the British government, crashed in 1930. That event weighed heavily in Shute's mind throughout his life, and he often mentioned it in later years. Theodore Honey, the novel's protagonist, was modeled after Sir Alfred Pugsley, an engineer who had done some work on metal fatigue in military planes. The novel's Reindeer aircraft line is fictitious, but the Royal Aircraft Establishment and the British Overseas Airways Corporation were real organizations.

Although No Highway in the Sky stars James Stewart and Marlene Dietrich, the film is in fact one of Fox's British productions. Apart from the musical score, the entire film was produced in England. This was not only because of the British setting and supporting cast, but was also necessary in order to use funds which were frozen in England. Shooting took place at Denham Studios, with location shooting at the Blackbushe Airport. One of the key British crew members was the cinematographer Georges Prinal; the director Henry Koster recalls: "He was a wonderful cameraman, always grouchy. When I said to him, 'Good morning, Georges,' he would answer, 'Uggh.'"

According to Koster, it was Darryl F. Zanuck who suggested that he read the novel. Initially Koster hadn't thought of Stewart for the role, despite having just directed him in a similar role for Harvey (1950); casting Stewart was Zanuck's suggestion as well. In the middle of shooting, Stewart fell ill with appendicitis and had to be hospitalized for a week. Koster recalled of Dietrich: "...my idea was to make an atmosphere of pleasant friendship and relaxation and humor. I couldn't get it with her, because there was a tension coming from her." He further speculated that she may have felt a rivalry with the younger actress Glynis Johns, who plays Stewart's romantic interest. Off the set, Koster found Dietrich "one of the most charming women I ever met," and a "great cook."

In Britain, the film was released under No Highway, the novel's original title; No Highway in the Sky was used for the American release. Variety proclaimed it "one of the best films to come from a British studio for some time." The reviewer further praised Koster's "expert touch" and his "sharp sense of suspense, comedy and drama." The New York Times critic Bosley Crowther appreciated Koster's "sly construction of an unusual plot and wry suspense, and Edwin Schallert of the Los Angeles Times said that Stewart "has one of his better, if not his best roles." For Koster, his proudest moment was when Charlie Chaplin personally phoned him to express how much he enjoyed the film. In 1952, Lux Radio Theatre broadcast a radio dramatization of the film, with James Stewart and Marlene Dietrich revisiting their roles.

Producer: Louis D. Lighton
Director: Henry Koster
Script: R. C. Sherriff, Oscar Millard and Alec Coppel, based on the novel No Highway by Nevil Shute
Director of Photography: Georges Perinal
Art Director: C. P. Norman
Film Editor: Manuel del Campo
Cast: James Stewart (Theodore Honey), Marlene Dietrich (Monica Teasdale), Glynis Johns (Marjorie Corder), Jack Hawkins (Dennis Scott), Janette Scott (Elspeth Honey), Elizabeth Allan (Shirley Scott), Ronald Squire (Sir John), Jill Clifford (Peggy Miller). BW-99m.

by James Steffen

Sources:
"No Highway." Variety, July 4, 1951.
Crowther, Bosley. "The Screen in Review." New York Times, September 22, 1951, p.8.
Eliot, Marc. Jimmy Stewart: a Biography. New York: Harmony Books, 2006.
Henry Koster. Interviewed by Irene Kahn Atkins. Metuchen, N.J. and London: Directors Guild of America and Scarecrow Press, 1987.
Shute, Nevil. No Highway. New York: William Morrow, 1948.
Schallert, Edwin. "Highway Engrossing; Queen for a Day Shows." Los Angeles Times, September 15, 1951, p.A7.
back to top
---