DVDs from TCM Shop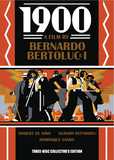 1900 Set in Italy, the film follows... MORE&nbsp> $22.46 Regularly $29.95 Buy Now blu-ray
Home Video Reviews
Filmed from an original screenplay by Franco Arcalli and Giuseppe & Bernardo Bertolucci,
1900
is a sensual delight. In contrast to the cool art deco opulence of Bertolucci's
The Conformist
, the film presents a convincing agrarian society of masters and servants. The Berlinghieri manor house is a showcase of fine living, while just a few feet away the peasants live in hovels from the Middle Ages. The word 'earthy' doesn't begin to describe the country people's relationship with dirt, with animals, with manure -- and an economy organized to keep the workers poor, filthy and uneducated. The film's epic length allows the story to unfold at a proper place, pausing for detail and atmosphere. Important days are packed with dramatic events, such the big country wedding with its surprise appearance by Ottavio followed by the discovery of a terrible murder. Although the story frequently skips ahead, ellipsing years at at time, the character stories are easy to follow.
Director Bertolucci's vision of history in motion creates one striking scene after another. The peasants that reject a primitive hay-raking machine, end up toiling like ants around a larger baling mechanism powered by a steam tractor. Little Olmo collects frogs and threads them around his head, forming a wiggling green crown. He and Alfredo examine their private parts, forming a brotherly bond that eventually sees them visiting a prostitute together as young adults. When Alfredo's father joins with fascist sympathizers to plot against the rebellious workers, Alfredo and his Uncle Ottavio retreat to the pleasures of the city and excursions to fancy hotels. One impressive set piece sees Alfredo bringing his new conquest Ada to a local peasant celebration, where they briefly dance alongside Olmo and Anita. The capricious Ada patronizes the farmworkers, and then overdoes her apologies.
Bertolucci smoothly introduces the growing menace of fascism. Donald Sutherland reportedly could not bear to watch his performance in this movie, which may represent the best acting of his career. Attila Mellanchini is an intolerably sadistic menace. He kills a cat in public to prove his fascist mettle (apparently a documented fact), and scapegoats Communists when he murders for profit. Attila's villainy is all the more powerful for being so blatantly obvious -- it's as if Alfredo is in denial about his foreman's activities, fearing a larger fascist backlash if he acts.
The end of the war shows the fascists defeated. But the newly liberated peasants are far too ready to accede to whatever authority comes along. Even as they're waving their giant quilt-banner of communist flags, they surrender their arms to the first truck of partisans that demands them. The ever-passive Alfredo is put on trial, while Olmo delivers a Communist speech directly to the camera. He blames the abusive and selfish landed
padrones
for everything, as their neglect of social justice made room for the fascists to take power. Olmo may be voicing director Bertolucci's beliefs but the film invites us to judge events and personalities for ourselves. The writer-director celebrates the peasant victory, yet affirms that they seem wholly incapable of forming a viable democracy.
The cast forms an impressive ensemble, not a group of guest performances around the leading star. As he plays such an indecisive character, Italian-American Robert De Niro does not dominate the proceedings. He seems content to simply survive the century's chaotic events. The film's real conscience is Gérard Depardieu's salt-of-the-earth Olmo, who stays true to his convictions from the first to the last. We see Dominique Sanda's Ada evolve from an carefree playgirl into a frustrated country wife, who can't understand why her husband doesn't intervene against Attila's horrible crimes. Burt Lancaster and Sterling Hayden launch the film with grand portraits of ancient patriarchs locked into predetermined roles, while the fine Romolo Valli (
Duck You Sucker
) finds his only calling in life when he becomes a fervent supporter of Mussolini's fascism. Also making strong contributions are Laura Betti as Attila's equally horrid wife Regina, Anna Henkel as Olmo's spirited daughter, Alida Valli as a woman swindled by Attila and Regina, and Maria Monti as Olmo's patient mother.
Although some of its sex content will make it too strong for casual audiences,
1900
is a worthy epic to stand beside Bertolucci's subsequent
The Last Emperor
. An all-absorbing experience, it is one of few large-scale multigenerational epics not to lose itself in narrative tangents or meaningless spectacle.
Olive Films' Blu-ray of
1900
is a beautiful transfer of this marathon film experience, that required special handling for theatrical exhibition. In Italy it was shown as two separate releases (
Atto Uno
and
Atto Due
). Olive's presentation bears a choice of international dub tracks, none of which can be singled out as the 'original'. Although the Italian mono track may be the one supervised by Bertolucci, only the English 2.0 stereo mix gives us De Niro, Lancaster and Sutherland speaking with their own voices. The English dub is quite well done. Ennio Morricone's music score is most effective in scenes promising menace.
Olive presents
1900
on two separate Blu-ray discs. A third DVD disc contains
Reflections on Cinema
, an RAI TV documentary from 2002 on Bernardo Bertolucci's career from his early poetry writing (we see Pier Paolo Pasolini lauding him at an awards ceremony) through his decades of film successes. The box art reproduces the film's original American poster, now a collector's item.
For more information about
1900
, visit
Olive Films
. To order
1900
, go to
TCM Shopping
.
by Glenn Erickson