DVDs from TCM Shop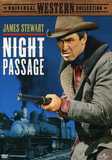 Night Passage A disgraced railroad employee... MORE&nbsp> $11.21 Regularly $14.98 Buy Now
NOTES
DVDs from TCM Shop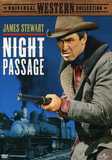 Night Passage A disgraced railroad employee... MORE&nbsp> $11.21
Regularly $14.98 buy now
Brandon deWilde's opening credit reads: "and Brandon deWilde as `Joey.'" As reported in a July 1956 Los Angeles Times article, Anthony Mann, who had directed James Stewart many times, was originally hired to direct Night Passage. In February 1956, however, a Hollywood Reporter news item stated that Mann withdrew from the film in order to finish editing the Security Pictures film Men in War. Modern sources add that Mann worked on the film's pre-production chores, but quit only days before the start of shooting due to disagreements over the script. Mann and Stewart never worked together again, and modern sources suggest that this was due to their disagreements over Night Passage.
An August 1956 "Rambling Reporter" item in Hollywood Reporter reported that Marianne Cook was cast in a leading role in Night Passage but withdrew after becoming pregnant. In addition, a September 1956 Hollywood Reporter article stated that Dorothy Malone had been cast, but left the production after she was denied "preferred billing."
Although an October 1956 New York Times article reported that the film's plot would include Stewart's character, "Grant McLaine," being beaten and dumped in a river, and would end with Grant shooting "The Utica Kid," in the finished film Grant remains relatively unscathed and The Utica Kid is killed by "Whitey Harbin."
Although many reviews asserted that Night Passage was the first feature to be shot in Technirama, a widescreen process developed by Technicolor, the first film shot using the process was The Monte Carlo Story (see entry above for more information on Technirama). A February 1956 Hollywood Reporter item described a new roving camera boom that head grip Virgil Summer developed for this production, which allowed the camera to remain level on uneven surfaces, such as loose sand.
According to Hollywood Reporter news items and Universal press materials, much of the film was shot on location in Silverton, Animas Canyon and Durango, CO, and Colorado governor Ed Johnson appeared in the film. Other 1956 Hollywood Reporter items add Boyd Morgan, Harry Jackson and Miss Universe runner-ups Marina Orschel and Ingrid Goude to the cast, but their appearance in the final film has not been confirmed. Modern sources add Kenne Duncan, Jack Lowell, John Davis, Paul Spahn and Herman Pulver to the cast.