DVDs from TCM Shop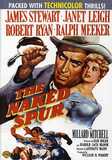 The Naked Spur A captive outlaw uses... MORE&nbsp> $15.79 Regularly $19.98 Buy Now
Home Video Reviews
The Naked Spur
, released in 1953 and available on DVD from Warner Home Video, stands at the midway point in the partnership of director Anthony Mann and actor James Stewart on a cycle of remarkable westerns, starting with
Winchester '73
in 1950 and ending with
The Far Country
in 1955. That group of movies also falls at a midway point, marking the 1950s transition from the larger-than-life westerns of directors like John Ford and Howard Hawks, which had dominated the genre in popularity and influence, to the far darker visions of Sam Peckinpah and Sergio Leone, more interested in human failings and social chaos than in the frontier-taming and nation-building celebrated by more traditional westerns.
The title of
The Naked Spur
refers to a piece of gear worn by the main character, introduced during the credits with an abrupt pan from picturesque mountains in the distance to a jarring closeup of the spur. With the flair and economy that distinguish Mann's best movies, this prepares us for both the setting of the story-it starts and finishes on mountain heights--and its emphasis on the characters' intense, sometimes brutal emotions.
The plot centers on Howard Kemp, a former rancher who's hunting down Ben Vandergroat, a nasty galoot with a $5,000 price on his head. Unable to climb a steep mountainside and capture Ben at the top, Howard accepts help from two strangers who happen to cross his path: Jesse Tate, a gold prospector with rotten luck, and Roy Anderson, recently kicked out of the Union army for his "unstable" character. They soon get hold of Ben and his reluctant girlfriend, Lina Patch, and all five characters start a trek to Kansas, where the three "good" guys plan to turn Ben in and split the reward.
Ben does everything he can to get them fighting among themselves, of course, and the tension grows thicker when we discover that Howard isn't the bounty hunter we've assumed him to be. Quite the opposite, he's an ordinary guy who's been consumed by grief and rage ever since his fiancée stole everything he had while he was away on military service. But he's acting like a bounty hunter even if he doesn't feel like one, and his awareness of this is tearing him apart. His growing attraction to Lina doesn't simplify matters, either.
Mann's westerns have received much praise for their unusual psychological complexity and their recognition of violence as both destructive and self-destructive, not just a stylized vehicle for action-movie thrills. The psychology in
The Naked Spur
isn't just complicated, it's downright ornery, with a self-hating "hero" and a villain more good-humored and easy-going than his three captors put together. This is supplemented by some of the most jolting violence in any '50s western--from an Indian battle, where Howard kills a foe with his gun-butt, to a showdown, where Howard positively begs Ben to draw on him, even though Ben's hands are crippled from being tied together.
The Naked Spur
earned high grosses in 1953. The screenplay by Sam Rolfe and Harold Jack Bloom garnered an Academy Award nomination, and in 1997 the movie was added to the National Film Registry's list of culturally important pictures. This and the other Mann westerns helped consolidate Stewart's transformation from the swell-guy roles of
Mr. Smith Goes to Washington
(1939) and
The Philadelphia Story
(1940) to the conflicted-guy roles of
Vertigo
(1958) and
The Man Who Shot Liberty Valence
(1962), which stand with the finest accomplishments of his career.
The success of
The Naked Spur
paved the way for three more Mann-Stewart collaborations, two of which are westerns, and for two more Mann movies starring Robert Ryan, whose devil-may-care portrayal of Ben provides some of the film's most unsettling undercurrents. The story's sole woman is solidly played by Janet Leigh, still warming up for the triumphs of
Touch of Evil
and
Psycho
, and Ralph Meeker, an extremely busy actor in the '50s, plays the soldier with an understated strangeness that clearly conveys what we'd now call a borderline personality. Millard Mitchell brings out the dark side of the prospector, making him refreshingly different from the clichéd comical sidekicks played by the likes of Gabby Hayes and Walter Brennan.
Another much-lauded aspect of Mann's westerns is their expressive camerawork, and William Mellor's cinematography for
The Naked Spur
shows why, etching sharp Technicolor contrasts between the emotional impact of facial close-ups and the ambiguity signaled by the mountainous terrain, filled with beauty yet looming with danger. The film also makes imaginative use of Bronislau Kaper's music, boldly omitting it during much of the action-filled climax. Too bad it isn't omitted during the romantic finale, though, when strains of "Beautiful Dreamer" push sentimentality into gloppiness.
In its psychologically acute screenwriting, its against-the-grain performances by Stewart and Ryan, and its attentiveness to mental and physical suffering,
The Naked Spur
embodies Hollywood's effort during the '50s to compete with television by offering grittier and truer visions than small-screen entertainment-or movies of previous decades-could provide. It also shows Mann at the peak of his powers, carving out a unique niche between the thrillers and noirs that he'd honed his talents on and the expansive epics that concluded his career in the 1960s.
Warner's crisp-looking DVD edition supplements the feature with sparkling MGM examples of the "extras" seen by moviegoers in '50s theaters: a funny Pete Smith Specialty short called
Things We Can Do Without
, detailing the downsides of modernistic houses, and
Little Johnny Jet
, a colorful Tex Avery cartoon. That's entertainment!
For more information about
The Naked Spur
, visit
Warner Video
. To order
The Naked Spur
, go to
TCM Shopping
.
by Mikita Brottman and David Sterritt