DVDs from TCM Shop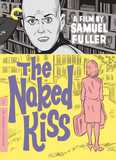 The Naked Kiss After killing her pimp, a... MORE&nbsp> $19.47 Regularly $29.95 Buy Now blu-ray
Home Video Reviews
Samuel Fuller was a maverick in Hollywood even before he left the studios and struck out in a series of independent, low-budget productions in the late 1950s. But with the freedom afforded him outside the studio system, combined with the challenges of working on smaller budgets and tighter schedules and his own tabloid journalist and pulp fiction instincts, Fuller's filmmaking became downright jagged and jarring and confrontational in films like
Verboten!
,
Underworld U.S.A.
and
Shock Corridor
. These were critical portraits of American hypocrisy and social injustice within lurid pulp stories and Fuller turned familiar genres--the war movie, the gangster film, the detective story--inside out with a mix of searing social commentary and startling cinematic devices that would be picked up by the directors of the French New Wave.
The Naked Kiss
is arguably the most aggressively defiant film of his career.
Fuller opens the film by literally battering the audience to attention: a furious woman (Constance Towers) assaults the camera head-on, with reverse shots revealing the man on the other end of the blows. She's a prostitute, he's her pimp and as her wig slips off, we get a startling image that explains her fury. Fuller knows how to begin a movie, to be sure, but he also immediately tells the audience exactly what kind of world our mad-as-hell heroine lives in. Two year later, Kelly (Towers) arrives in a small town with a luxurious head of blonde hair, a smart suit and a monogrammed suitcase: the wares of a traveling sales woman hawking California champagne, which local cop Griff (Anthony Eisely) see right through. She's a pro and he happily pays her fee and samples her wares before booting her out of town. But instead of heading across the river (where the local bordello, Candy's, is allowed to operate and apparently gets many of its referrals from Griff) she remakes herself as the angel of the children's ward of an orthopedic hospital, a tough-but-tender nurse who runs her ward like a pirate ship and mother hen to the young candy stripers struggling in the face of all the pain and suffering around them. Beloved by all (except Griff, who thinks she's just working an angle), Kelly wooed by the town millionaire Grant (Michael Dante), the generous, cultured scion of the town's founding father. Then she discovers his "secret" ("We're both abnormal," he smiles, attempting to equate her past with his sickness) and is arrested for murder.
Fuller was a proud American who showed his patriotism by exploring and criticizing the failures of American society in pulp movies with a vivid, visceral style and making his points with the cinematic equivalent of tabloid headlines.
The Naked Kiss
has been called a portrait of hypocrisy but it actually presents a culture where the moral lines are drawn in boundaries and the vice is simply segregated from the good people of this "upstanding" town. Griff, a tough-but-tender cop in his own way, sizes up new arrivals quickly, lends a helping hand to good kids facing hard times, sends the shady one their way and then heads over the river to Candy's place to sample her stable of Bonbons, as her girls are called. His suspicions of Kelly may have more to do with his own attraction to her and his prior claim to her. Meanwhile the town is so enthralled with Grant's good manners and charitable contributions to the town that any suggestion of criminal (let alone predatory) behavior on his part is beyond serious consideration.
Fuller directs the film like a tabloid melodrama rather than a crime thriller or a film noir, mixing familiar conventions (calendar pages blow away to mark time passing) with unconventional imagery. After Grant shows Kelly his home movies of Venice and his gondola journeys through the canals, they recline on his divan and drift away in their own fantasy, the divan a private gondola floating in a sea of black. Every time that Kelly sees a child or peeks into a baby carriage, the screen is filled with a close-up of her face in a grotesquely overacted smile: the headline type, so to speak, that communicates her maternal desires. And when Kelly walks in on Grant at the film's turning point, the discreet revelation of a little girl in his mansion, the disconnected close-ups and the dislocated cutting throws the scene so off-balance it's not quite clear what's actually going on but it's like the world is suddenly pulled out from under us. Towers is the film's weakness, delivering a stiff, confrontational performance with smarmy, unreal smiles and turning dialogue into dramatic speeches, but it's quite possible that she's giving Fuller the performance he wanted. She co-stared in his previous film,
Shock Corridor
, and Fuller promoted her to star billing and the central role for this film. He surely knew what he wanted but we can never warm to her because she's so removed and exaggerated, and at times she's so arch it's simply hard to take.
There's no attempt at Hollywood realism here. Cinematographer Stanley Cortez, who previously shot Welles'
The Magnificent Ambersons
and Charles Laughton's sole directorial feature
The Night of the Hunter
(as well as a number of low-budget exploitation films), he strips away detail and turns the camera into a microscope peering through the bland surfaces of small town America. There's no glamour here beyond the dreamy fantasy of being transported to the canals of Venice. It's all contrived and unreal, a weirdly disconnected small town that, aside from a few location shots, seems designed to look artificial. The dialogue is similarly exaggerated and unnatural and Fuller's use of music--Beethoven's "Moonlight Sonata" is the film's cue for romantic aspirations and Grant plays Beethoven's Fifth Symphony to celebrate his marriage (an ominous counterpoint for such a happy moment)--is prominent in the soundtrack, drawing attention to itself is ways similar to what Godard was doing in France at the time.
An audacious mix of cynicism, sleaze, sentimental gooeyness and social commentary,
The Naked Kiss
is bizarre and at times an assault on the senses (the tone-deaf children's choir is a weird mix of cutesy sentiment and off-putting awkwardness) but there's nothing else like it. Fuller gives us an ugly, tawdry America hiding its guilt under a surface of normalcy.
Criterion released the film on DVD years ago, in its early days in the DVD market (the spine retains its #18 release number), in an edition with minimal supplements. It's been freshly remastered for its DVD rerelease and Blu-ray debut and it looks superb--clean and sharp, with a solid gray scale--and the mono soundtrack is clean and clear. The supplements are solid, mostly archival interviews, notably excerpts from a 1983 episode of
The South Bank Show
dedicated to Fuller and two archival interviews with Fuller from French TV (one from 1967 and the other from 1987). The images quality is true to the limitations of the era of broadcast TV. New to this edition is an excellent in-depth interview with actress Constance Towers conducted by Charles Dennis in 2007. She is forthcoming about her career and the film and discusses working with Fuller in detail, and is curiously much more engaging and warm in person than she is in the film. The disc is accompanied by a booklet with an original essay by critic Robert Polito and an excerpt from Fuller's autobiography
A Third Face: My Tale of Writing, Fighting and Filmmaking
that reaches back to his early days as a young New York reporter, where he regularly came into contact with prostitutes and befriended a few working girls, and how these relationships shaped his portrait of Kelly in
The Naked Kiss
. The new package features original line-art drawings by comic/graphic novel artist Daniel Clowes (of "Ghost World" fame).
For more information about
The Naked Kiss
, visit
The Criterion Collection
. To order
The Naked Kiss
, go to
TCM Shopping
.
by Sean Axmaker