DVDs from TCM Shop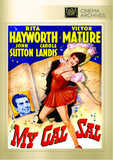 My Gal Sal A chronicle of songwriter Paul... MORE&nbsp> $14.91 Regularly $19.98 Buy Now
NOTES
DVDs from TCM Shop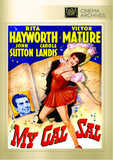 My Gal Sal A chronicle of songwriter Paul... MORE&nbsp> $14.91
Regularly $19.98 buy now
The film's opening title cards read: "Twentieth Century-Fox presents Rita Hayworth, Victor Mature, John Sutton, Carole Landis in Theodore Dreiser's My Gal Sal." The film is based loosely on the life of Paul Dresser, the older brother of writer Theodore Dreiser. Dresser, who was born Paul Dreiser in Terre Haute, Indiana on April 2, 1857, wrote more than 400 songs in his lifetime and was a popular performer in musical comedies. He died on January 30, 1906 from heart disease. Pat Howley and Fred Haviland were Dresser's partners in a music publishing company.
According to the Twentieth Century-Fox Records of the Legal Department, located at the UCLA Arts-Special Collections Library, the studio purchased from Dreiser the rights to the story of Dresser's life and sixty of his songs for $35,000. The legal files also note that the studio purchased from Dreiser and his wife, Helen Richardson, an "original, unpublished, uncopyrighted" story about Dresser, which was used as the basis of the final screenplay. Although a March 5, 1941 Hollywood Reporter news item stated that Dreiser had published a biography of his brother entitled My Gal Sal, Dreiser did not write such a book. The legal records indicate that Eugene Thackrey worked on an early draft of the screenplay, and March 1941 Hollywood Reporter news items noted that Sam Hellman had been assigned to work on their screenplay. The extent of their contributions to the completed film has not been determined.
A March 5, 1941 Daily Variety news item indicates that Columbia and RKO were initially interested in the project, but "sales were stymied in both cases by Dreiser's asking price." According to Hollywood Reporter news items, Twentieth Century-Fox purchased the story as a vehicle for Alice Faye, and Fritz Lang was originally assigned to direct the picture, with first Fred Kohlmar and then Robert T. Kane assigned to produce. Studio press releases noted that Faye was replaced by Rita Hayworth, who was borrowed from Columbia for the production, when Faye temporarily retired from the screen to have a baby. Lang was taken off the project in order to direct Moontide. (Moontide was ultimately directed by Archie Mayo, however.) Co-stars for Faye, announced in Hollywood Reporter news items, included George Montgomery and Don Ameche. A December 15, 1941 Hollywood Reporter news item stated that Ameche was replaced by Victor Mature because "the studio decided it might not be good box-office to have Ameche play a composer again after having played Stephen Foster in Swanee River a few years ago." According to studio records, Stuart Erwin was originally assigned the role of "Pat Howley," and Jonathan Hale was signed to play "Mr. Dreiser."
According to information in the MPAA/PCA Collection at the AMPAS Library, the film's December 22, 1941 screenplay was rejected by the PCA because "the lead, Paul, has indulged in various sex affairs without the proper compensating moral values." The PCA warned the studio that it was "essential that the present characterization of Paul be changed from that of a man who frequently indulges in sex affairs." A later version of the screenplay was approved by the PCA. According to the legal records, the studio prepared a one-reel short entitled Movie Going Millions to advertise My Gal Sal and three other Twentieth Century-Fox productions: This Above All, Moontide and Ten Gentlemen from West Point. My Gal Sal won an Academy Award for Achievement in Art Direction. For his work on the film, Alfred Newman received an Academy Award nomination for Achievement in Music (Scoring of a Musical Picture), but lost to Max Steiner and Heinz Roemheld (Yankee Doodle Dandy). On January 18, 1943, Mary Martin and Dick Powell starred in a Lux Radio Theatre version of My Gal Sal.