DVDs from TCM Shop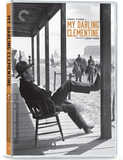 My Darling Clementine When the Clantons steal his... MORE&nbsp> $19.47 Regularly $29.95 Buy Now blu-ray
Home Video Reviews
Classic movie fans can rejoice over Fox Studio Classics' new DVD release of
My Darling Clementine
. Director John Ford's 1946 western masterpiece has been given an exceptional treatment on this double-sided DVD laden with fascinating extras. On one side is the release version we have all known and loved over the years, in an impressively sharp transfer from a restored print. On the flip side is an alternate pre-release version that contains six minutes of extra footage scattered throughout the movie. It also contains alternate scoring in places, including sequences in which the score has been removed altogether.
The extra footage is part, but not all, of the longer cut that Ford originally preferred but which Darryl Zanuck, the head of 20th Century Fox, deleted. It's hard to argue with Zanuck's cuts, of course, because the ultimate release version is unarguably one of the greatest films in history, but the extra footage is often undeniably rich in atmosphere and deeper characterization. Ironically, perhaps the most notable change was a shot that was added to the release version but absent from Ford's cut: the kiss that Fonda plants on Cathy Downs' cheek at the end, just before he shakes her hand awkwardly and rides away. Originally, Ford shot only the awkward handshake. Zanuck preferred the handshake by itself, too, but he felt the need to respond to preview audiences who felt that the scene had been building toward a kiss - and felt cheated when none came. Fonda and Downs were called back months after principal production to film the kiss in a soundstage.
Aside from the complete versions of the two cuts, the DVD includes a 41-minute featurette in which UCLA archivist Robert Gitt compares the differences. This is an excellent use of the DVD medium in which we see the same scenes repeated in their different versions so that we can examine every detail that was changed, side by side. Excellent commentary on the standard release version is provided by Ford biographer Scott Eyman, who provides a scene-specific analysis and shares a good deal of knowledge about the film's production and the story's historical background. (For example, Doc Holliday actually lived through the shootout, and he and Wyatt Earp were briefly jailed for it.) Wyatt Earp III also contributes to the commentary. Final extras on the disc are a trailer and production stills.
And what of the film itself? It was Ford's 2nd feature after a five-year break devoted to WWII combat documentaries, and his first western since
Stagecoach
(1939). It's the story of the feuding Earps and Clantons in Tombstone, Arizona, and their famous shootout at the OK Corral. Much of it as shown is myth, but the spirit of it is true and the picture's place in Hollywood history and American culture has been established by its magnificent pictorialism and memorable characterizations by Henry Fonda, Victor Mature, and Walter Brennan among others.
Perhaps it's best just to say that
My Darling Clementine
fully fits John Ford's own definition of a successful movie: "When a motion picture is at its best, it's long on action, short on dialogue. When it tells its story and reveals its characters in a series of simple, beautiful, active pictures, and does it with as little talk as possible, then the motion picture medium is being used to its fullest advantage. I don't know any subject on Earth better suited to such a presentation than a western."
To order
My Darling Clementine
, go to
TCM Shopping
.
by Jeremy Arnold
John Ford's
My Darling Clementine
(1946) finally gets a video release with a bit of respect, after languishing in poor VHS transfers for decades. It's considered one of the great American Westerns, but it remains clouded by an unfortunate history. There is no doubt it has become an important antecedent to countless great Westerns in the following decades (especially Peckinpah's
The Wild Bunch
). The film is a beautifully rendered Western, more folk poem than shoot-out, and it borrowed liberally from the Film Noir genre in vogue during the mid-40's, creating beauty in the bleakness of the wide open lawless prairie.
The film, as a director's work, is full of controversy. John Ford made the film under contract to Darryl F. Zanuck in 1946. For many Western fans, it's always been a point of substantial disgust that Zanuck took Ford's original cut, chopped out 30 minutes, tested the hell out of it with preview audiences, and then re-edited the film as this producer routinely did. The result? Still a pretty good film - but for anyone who has been awed by Ford's best work (e.g.,
The Searchers
(1956)) - the question has always remained: How good was the first cut? That answer seems obvious - probably one of the greatest westerns ever made.
For this release, Fox and the UCLA Film and Television Archives have unearthed a pre-release version of the film which contains a handful of scenes not found in the film's original theatrical release (the same version which subsequently circulated in poor prints on television and video), and indicates a small sample of what was left on Zanuck's cutting room floor. This pre-release version is available on the DVD along with the original release version.
So anyone is likely to ask: is this pre-release version significantly different from the original version? Unfortunately, no. The pre-release print that has surfaced represents a version that was clearly quite far-along in the re-cutting process by Zanuck. It varies only slightly from the final version of the film released to theaters. Further, the changes are quite slight, in the form of music cues and the smallest of scene alterations. Nevertheless, there is enough material here to engage fans about this lost cut, and hint at directions Ford's original cut may have pursued.
In a supplement on the DVD, Robert Gitt, the Chief Preservation Officer of the UCLA Film and Television Archive who restored the film, provides a video study comparing the two versions of the film.
Here is a complete breakdown of the new or altered scenes contained in the pre-release version he discusses:
-Chihuahua (Linda Darnell) meets Billy Clanton (John Ireland) outside the Saloon as a stagecoach arrives in Tombstone. This new scene helps establish the romantic connection between Chihuahua and Billy Clanton, providing some logical explanation for the final reel of the film where she is caught protecting Billy from Earp's inquisition over the death of Earp's brother.
Also, it should be noted here that Gitt takes unusual liberties with this pre-release version of
Clementine
that are not entirely warranted or prudent. In an attempt to reconstruct the Chihuahua and Billy Clanton scene to it's fullest, Gitt physically duplicates a scene from later in the film (of a stagecoach arrival) and inserts it here, adding some technical processing to make the scene pass for a night setting, and cropping the image to boot. The result is a poor looking day-for-night shot, and while Mr. Gitt's intentions remain honorable, it's hard to see the merit of this tinkering. It adds very little, and runs the risk of having any viewer or student ponder the director's meaning and its obfuscation. Better to leave some things untouched.
-Wyatt Earp (Henry Fonda) exchanges a brief comment with Holliday (Victor Mature) about their Champagne toast at the bar. This scene only hints at what other material Ford likely shot to develop a report between these two mythic characters. The scene is superfluous, but for a film which needs to establish a bond between these two figures - why remove it?
-At the Tombstone town theater, scenes of the crowd ordering tamales and beer, and Earp and Holliday discuss Holiday's recent shave at the barber. A group of scenes which Ford uses to add atmosphere and spell out the rivalry for Clementine's affections between the leads. It's a nice comic piece that lightens the film. Zanuck would later cut perfectly acceptable scenes like this - only to add unnecessary music orchestrations later in his attempt to add back levity into the film.
-An extended scene, with the absence of music, of Clementine's (Cathy Downs) arrival to Tombstone via stagecoach. This scene, in its original form, is a wonderful, masterful touch by Ford that was unnecessarily muddied by Zanuck in the release version. In the pre-release version, the scene comes to life with Ford's skill at building a connection between characters, a slow-burn process that was one of his trademarks. The scene now breathes like the fulcrum it was meant to be, with ambient sound the poignant soundtrack, letting the psychology of the scene unfold - a pivotal point where Earp's destiny is set. Cut from the release version was Earp's lazy saunter and bored routine of setting-up his chair on the porch as he awaits the stagecoach arrival - creating engaging counterpoint to the entrance of Clementine. Zanuck would later cut most of this and add a highly manipulative and unnecessary orchestration, reducing the scene to flat melodrama.
-Brief dialogue between Holliday and Clementine on an outside balcony of the Saloon, with Holiday elaborating on his fate. In this scene, Holiday clarifies to the audience and Clementine that he is doomed and "dead," further distancing himself from the love of Clementine. Although the scene may appear superfluous, it's another small piece which telegraphs that there is no future for Clementine and Doc.
-Brief footage of townsfolk arriving for a Sunday church meeting and dance, with a different soundtrack. A small addition which helps establish the importance of Clementine's and Earp's dance, but also the progress of Tombstone since Earp has taken the job of Marshall.
-The absence of music when Chihuahua dashes across town after witnessing Doc's stagecoach rush out of Tombstone. Ford shot this without music - Zanuck added overly-dramatic orchestration. It's pretty clear - the music is unnecessary.
-Some new scenes of Holliday's operation on Chihuahua. Here, a new scene sees Holiday bark "Mrs. Carter!" while Clementine coldly retorts "Yes Doctor" Also, there is a shot of Earp in deep silhouette as he watches the exchange. It's clear Ford wanted this scene to help establish (and provide some closure) to the fact that Clementine had accepted Doc's refusal of her, and that his love has been clearly placed toward Chihuahua - an important scene if the audience is to sympathize and logically understand that Clementine will be willing to receive Earp's love. These shots must add about 20 seconds to the film - to cut these scenes is baffling. It appears Zanuck never believed it was necessary to establish that Clementine had psychologically shed, or needed to shed, Holliday in order to fall in love with Earp.
-The final sequence in the film, in which Earp says goodbye to the townsfolk, acknowledges Chihuahua's passing, and heads out of town. On the outskirts of town, he meets Clementine, shakes her hand, and promises to return. This final sequence is perhaps the best part of the pre-release version. It establishes several important elements: that Ford probably explored much more back-story concerning Chihuahua and Holliday in the footage that is missing. Earp's reverent glance at Chihuahua's window would likely have had greater resonance if this were the case. Also, that Clementine is waiting for Earp at the outskirt of town, not within it, making their meeting more significant. She has clearly made the effort to see him alone. And that, most importantly, Earp only shakes Clementine's hand, rather than kissing her on the cheek (in the Zanuck version).
The ending to Clementine remains perhaps the best example of the difference between Zanuck and Ford. Ford looked at Earp as a folk hero, a man of propriety, of depth. Within Earp's eyes were the lingering sorrow of Holliday and Chihuahua's deaths, their human tragedy. It was important to leave the audience with this understanding of the character. For Zanuck,Earp was a melodrama trope. It was easy to insert a kiss (that doesn' even match the shot); it was just business.
The sleeve of Fox's DVD states an audio commentary by Wyatt Earp III. In reality, this should state an audio commentary by Scott Eyman, author of the fine book on Ford
Print the Legend: The Life and Times of John Ford.
Although Earp does speak occasionally, it is Eyman who provides the vast majority of comments, and walks the viewer through a number of fascinating facts and observations, switching between historical clarifications as well as pointed facts on Ford's craft and his legacy.
To order
My Darling Clementine
, go to
TCM Shopping
.
by Richard Steiner